Danai Gurira Biography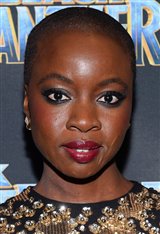 Born: February 14, 1978

Danai Gurira
Date of Birth: February 14, 1978
Danai Gurira is a Zimbabwean-American actress and accomplished playwright. She was born in a small town in Iowa called Grinnell and is the youngest of four children. Her parents were both originally from Zimbabwe, but moved to America for university and graduate school. Danai lived in Grinnell until the age of five, at which point her family moved back to Zimbabwe after the country had gained independence.
Danai later returned to America at the age of 18, earning a B.A. in psychology from Macalester College in Minnesota. She attended graduate school at N.Y.U. and obtained a Master of Fine Arts in acting. It was at this time, in 2005, that Danai co-wrote and co-starred in the play,
In the Continuum
, a production that sought to eliminate stigma and humanize women living with aids. It was named one of the ten best plays of the year in 2006 by the
New York Times
.
Following the success of
In the Continuum
, Danai appeared in various film and television roles, including briefs stints on
Law & Order: Criminal Intent
,
American Experience
, and
Lie to Me
. In 2012, Danai achieved television fame with her role as the katana-wielding character, Michonne, on
The Walking Dead
. She's earned several notable accolades, including a Saturn Award for Best Supporting Actress on Television in 2016.
In 2013, Danai stared as one half of a struggling Nigerian couple in the Nigerian drama film,
Mother of George
, a role which earned her a Black Reel Award for Best Actress. In 2017 she returned to the silver screen with the film
All Eyez on Me
, offering a powerful performance as
Tupac Shakur
's mother, Afeni.
Danai has seen incredible success on the stage as well as on television and in film, using her writing to tell stories from an African female perspective.
In 2016, she had two plays running simultaneously in New York.
Eclipsed
featured on Broadway and told the story of female sex slaves in Liberia during the Liberian civil war. It made history as the first Broadway play with an entirely female cast, writer, and director.
Eclipsed
was nominated for a Tony Award in 2016 for Best Play.
Her other theatrical work at this time,
Familiar
, was about a family from Zimbabwe living in Minnesota, which Danai explained was deeply inspired by her own family.
Most recently, Danai features in the 2018 action-superhero film,
Black Panther
, in which she plays Okoye, the head of an all-women army. The picture is making headlines, not only for its representation of black liberation, but also for its celebration of female empowerment. Danai's dramatic role has earned her significant status online as well after a clip of a scene in which her character disarms a team of henchmen with just a wig and a spear went viral.
Danai reprised her role as Okoye in
Avengers: Infinity War
(2018).
Photo by Sam Santos/Getty Images, courtesy of Walt Disney Pictures. Biography by Caitlyn Clancey.