Fred Savage Biography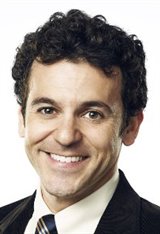 Born: July 09, 1976

Date of Birth: July 9, 1976
Child actor Fred Savage rose to stardom on the popular sitcom, The Wonder Years, playing the lead role of Kevin Arnold. Born in Illinois, Fred was living with his parents and siblings, Ben and Kala, in Chicago. Opportunity came knocking in his community when a director arrived looking for a young actor for a commercial.
"The auditions were near our house and it sounded like fun. So mom and I went over. I didn't get it and six months later the same director held another audition. I didn't get it again. Six months later, the director called and I was cast in a Pac Man vitamins commercial."
With his first gig complete, Fred went on to work in commercials for the next two years. By the ripe old age of four, he made his first film appearance in Dinosaur (1980). He then landed a regular role on the short-lived series Morningstar/Eveningstar. After a supporting role in Disney's feature film The Boy Who Could Fly (1986), he won a major role as a grandson listening to the story The Princess Bride (1987), read to him by his grandfather. The role won him his second Young Artist Award, the first being for his performance in The Boy Who Could Fly.
A year later, Fred returned to TV, this time taking the role of Kevin Arnold in the hit series The Wonder Years. It lasted six years, garnering the young actor two Emmy and Golden Globe award nominations for Outstanding Lead Actor.
Though the series tied up much of his time, he did continue to work on other projects such as telefilms and feature work like Little Monster (1989) playing Brian, and The Wizard (1989), playing Corey. When The Wonder Years came to an end, Fred decided to take a break from acting to focus on his education. Graduating from Brentwood School in 1994, he attended Stanford University to study English. After completing his degree, he returned to the world of entertainment.
He was immediately cast as the star of a new TV series, Working in 1997, which ran for two seasons. He also made his debut as a director on the show, which led to work on two episodes of his younger brother Ben's series, Boy Meets World, as well as directing episodes of youth-oriented shows such as Even Stevens, That's So Raven, Zoey 101, Hannah Montana, Unfabulous and Phil of the Future. He made his feature film directorial debut with Daddy Day Camp (2007), starring Cuba Gooding Jr.
Since then, Fred has been busy not only directing episodes of popular TV series such as 2 Broke Girls and Fresh Off the Boat, but also starring in several of his own series, including the ABC sitcom Crumbs, in which Fred played a gay Hollywood screenwriter, and the hilarious Fox sitcom The Grinder, co-starring Rob Lowe as his brother.
Currently, he stars in the Netflix comedy series Friends from College, alongside Keegan-Michael Key and Cobie Smulders.
Fred and his wife, Jennifer, have three children together. They live in the Los Angeles area.