Katie Holmes Biography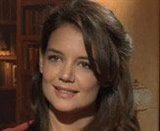 Born: December 18, 1978

For Katie Holmes, the saying "burst" onto the scene can be taken quite literally. With only a few auditions under her belt, she became the hottest young thing to hit Hollywood in years.
Born the youngest of five in Toledo, Ohio, she took up acting and soon learned to love it, appearing in numerous school plays. Living in the Midwest, Holmes never thought she had a real chance of becoming a star, but when she and her mom attended a modeling convention in New York in 1996, it touched off a chain of events that would lead her to stardom.
A talent scout encouraged Holmes to travel to L.A. for another convention, this one for television's pilot season. While there, she auditioned for several casting directors, one of whom was about to start work on a new independent film by Ang Lee called The Ice Storm. The casting director was impressed with Holmes and offered her the small role of Libbets Casey, Tobey Maguire's love interest.
The following year, Holmes was invited back to audition for more casting directors but she passed on the chance in order to appear in her highschool's senior play. At the same time, she had submitted an audition tape to Warner Bros. for a role on Dawson's Creek. When she was called back for an in-person audition, she declined so that she could fulfill her obligations in her plays' opening night. Luckily, the directors were understanding and rescheduled the audition to accommodate Holmes. She would eventually land the coveted role of Joey Potter on the series.
Dawson's Creek became a hit and so did Holmes. Writer Kevin Williamson was so impressed with Katie's portrayal of his character that he cast her in his directorial debut, Teaching Mrs. Tingle.
Holmes also appeared in Disturbing Behavior, a teen slasher film in which Holmes got to shed the girl-next-door image she had so beautifully crafted on Dawson's Creek. She also appeared in Doug Liman's Go, a critically loved but unsuccessful film which attempted to raise the bar on teen films with a newfound level of depth and sophistication. When Dawson's Creek ended, she began concentrating on her film career with starring roles in big budget films such as Phone Booth (2002), First Daughter (2004) and Batman Begins (2005). She starred in Woman in Gold (2015), Touched With Fire (2016) and Dear Dictator (2018), alongside Michael Caine.
In 2020, she starred in the horror film Brahms: The Boy II, which was filmed in Victoria and Vancouver, British Columbia. She also starred in The Secret: Dare to Dream (2020), based on the 2006 best-selling self-help book The Secret.
In 2005, her personal life began to overshadow her career when she began dating Tom Cruise and became pregnant with their daughter Suri, who was born April 18, 2006. They were married in a lavish wedding that took place at an Italian castle on November 18, 2006. In July 2012, she filed for divorce while Tom was out of the country working on a film.