Maggie Cheung Biography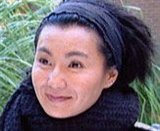 Born: September 20, 1964

Date of Birth: September 20, 1964
Born in Hong Kong, Maggie Cheung immigrated with her family to England when she was eight. After completing her secondary school education, she returned to Hong Kong, where she began a modeling career. The next year, at the age of 19, Cheung was first runner-up for Miss Hong Kong 1983. This led to a contract with TVB (the television arm of the Shaw Bros. Studio).
Soon after, she broke into the film industry, doing a number of weak comedies with titles like Prince Charming (1984), Happy Ghost 3 (1986) and Love Hungry Suicide Squad (1988). She got her big break when Jackie Chan decided she should be cast opposite him in Police Story (1988), which also produced a couple of sequels. She played May, Chan's long-suffering girlfriend. While it meant a lot of exposure, she also became typecast in the roles of comics or weak, clumsy women. Realizing this, Cheung wanted to break away by seeking more dramatic roles. She got this opportunity when Wong Kar-Wai cast her in As Tears Go By (1988) and then again in Days of Being Wild (1991).
In 1989, Cheung won two best actress awards: the Taiwan Golden Horse Award for Full Moon in New York (1989) and the HK Film Award for A Fishy Story (1989). In 1991, she became the first Chinese performer to win a Best Actress Award at the Berlin Film Festival for her work in Stanley Kwan's The Actress (1992), in which she played a silent film star. Eventually, Cheung's busy schedule of filming several movies a year and the incessant hounding of Hong Kong tabloids took its toll. In 1994, she took a break to travel across Europe. She returned to film in Olivier Assayas's Irma Vep (1996), starring as herself, an actress caught up in the chaos surrounding a filmmaker's attempts to make a tribute to Louis Feuillade's classic Les Vampires (1915). She went on to marry Assayas in 1998, but they divorced in 2001.
In 1997, Cheung made her first English-language film with Chinese Box (1997) starring Jeremy Irons. She co-starred in Hero (2004) with Jet Li, which received a wide North American release. Cheung reunited with Assayas for Clean (2005), and won the Best Actress Award at the 2004 Cannes Film Festival for her performance.
In 2007, she was given the honor of being chosen as a Member of the jury at the Cannes Film Festival.