Max von Sydow Biography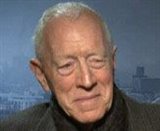 Born: April 10, 1929
Died: March 08, 2020
Birth Name: Carl Adolf von Sydow
Date of Birth: April 10, 1929
Known for his deep voice, Max von Sydow was born in Lund, in southern Sweden, where he was raised in a middle-class family. A shy child, he chose acting as a way to better communicate with people. By the time he was 15, he and a friend attended the theatre to watch a production of A Midsummer's Night's Dream. Inspired by the performance, the two formed an amateur theatre group and performed a number of plays.
After high school, von Sydow spent a year in mandatory military service, and then attended Stockholm's Royal Dramatic Theatre from 1948 to 1951. While still a student, he made his feature film debut as Nils in Only a Mother (1949). Following that experience, von Sydow returned to theater work and performed on stage for the next few years, occasionally making appearances in Swedish films.
In 1955, von Sydow was given the lead role in the feature, The Seventh Seal(1957). Playing the part of a young knight who returns from the Crusades only to find his homeland dying from the plague, the film was a hit and over the years became a classic.
Over the next two decades, von Sydow continued to impress audiences in Europe with strong, solid performances and although he had been in a few North American films, including playing Jesus in The Greatest Story Ever Told (1965), it wasn't until the 1973 horror film, The Exorcist, that American audiences sat up and took notice. Playing Father Lankester Merrin, von Sydow once again presented a solid performance and found himself in a popular film turned classic.
The versatile actor continued to work steadily in film for both European and American markets until the end of the 20th century and the beginning of this one. Some of his most memorable performances include playing Emperor Ming in Flash Gordon (1980), King Osric in Conan the Barbarian (1982), James Bond's nemesis Ernst Stavro Blofeld in Never Say Never Again (1983), Frederick in Woody Allen's Hannah and Her Sisters (1986) and his Oscar-nominated turn as Lassefar in Pelle erobreren (1987). Von Sydow received his second Academy Award nomination for his supporting role in Extremely Loud and Incredibly Close (2011).
In his more than 50 years in film, von Sydow performed in over 130 film and television productions. Married twice, he had two sons from his first marriage which ended in 1996, and two sons from his second marriage. He lived in many countries around the world including the U.S., Italy, and France.
Von Sydow was 90 when he died at his home in Provence, France on March 8, 2020.