Nick Searcy Biography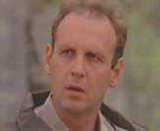 Born: March 07, 1959

Date of Birth: March 7, 1959
Born in Cullowhee, North Carolina, Nick Searcy began acting in elementary school. Whenever the local university needed a kid to appear in a college play, they'd call on Searcy. Upon graduating high school, Nick briefly attended the North Carolina School of the Arts and then went on to graduate from the University of North Carolina - Chappel Hill with a degree in English.
From 1982 to 1989, Nick lived in New York where he did off-Broadway plays. Some of these included Guys and Dolls, Cabaret and Jesus Christ Superstar. When he moved back to North Carolina, he began to act in features that were shooting locally. Small parts in Days of Thunder and Prince of Tides lead to the role of the malicious Frank in Fried Green Tomatoes.
Nick has appeared in several television series. He had a recurring role on Thunder Alley, was a series regular on American Gothic and guest starred on Murder One and Nash Bridges with Don Johnson. He has also starred in several TV movies, including In the Best of Families: Marriage, Pride & Madness (1994), Stolen Innocence (1995) and Le Jeu de l'oie (1980).
In the summer of 1996, Nick produced, directed and acted in his first independent feature, Paradise Falls (1997), and won a Hollywood Discovery Award for Best Feature Film (Under $1 Million). Since then, he has been working his way up the Hollywood ladder with roles in films such as Cast Away (2000) starring Tom Hanks, One Hour Photo (2002) starring Robin Williams, Runaway Jury (2003) starring John Cusack and The Assassination of Richard Nixon (2005) starring Sean Penn. His latest role is in the film Three Billboards Outside Ebbing, Missouri (2017).
In the last decade, Nick has enjoyed success on TV, starring as Art Mullen on the FX Network's long-running crime series Justified alongside Timothy Olyphant from 2010 to 2015, and playing Deke Simmons on the Hulu network mini-series 11.22.63 alongside James Franco in 2016.
Nick resides in Southern California with his wife, actress Leslie Riley, and their two children.