Oprah Winfrey Biography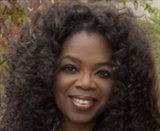 Born: January 29, 1954

Date of Birth: January 29, 1954
When Oprah talks about a book, sales soar; when Oprah's displeased about something, everyone knows it. Oprah Winfrey's public influence is undeniable.
The number of honors attached to her name is endless: She's an Academy Award nominee, a Jean Hersholt Humanitarian Award recipient and the first African-American woman to make Forbes' billionaire list. She's even won so many Daytime Emmy awards that she withdrew herself permanently from competition.
Although she now holds the titles of the richest African-American of the 20th century and one of the most famous people in history, nothing ever came easy for Orpah. She wasn't born into a life of privilege, so she had to pay her dues to get to the top.
Before she became the international humanitarian, actor and entrepreneur she is today, Oprah was just a girl from Kosciusko, Mississippi. Her childhood was spent living in poverty on her Bible-thumping grandmother's farm. She later moved to Milwaukee as a preteen to live with her mother under whose roof she was sexually molested several times by male relatives; giving birth at 14 to a premature baby who died shortly thereafter.
Finally, she ended up living with her father in Nashville, a barber and businessman who provided the discipline sorely lacking in his daughter's life and instilled in her the value of education. That strict focus on education influenced Oprah, who found success in high school. She attended Nashville East High School, where she was elected school president and had the honor of meeting president Richard Nixon.
While rehearsing with her drama class one day, Oprah was scouted by WVOL, a local radio station. She was offered a job as a news reader for the station. This led her to competing in a public speaking contest, where she earned the grand prize of a scholarship to Tennessee State University. She majored in Speech Communications and Performing Arts.
While still in college, Oprah was offered a job as a co-anchor for a CBS television station. She decided to drop out of college and accept the position. Unfortunately, she didn't last long and was fired. But soon she got another job as a host of People Are Talking, a morning talk show. After seven years, she moved on.
In 1981 Oprah was landed a job as a host for A.M. Chicago. In 1985 she changed the title of the program to The Oprah Winfrey Show.The show became an international phenomenon and made Oprah the undisputed Queen of Daytime TV television for 25 seasons, until it ended in 2011. With the success of her talk show, Oprah expanded her brand to include a monthly magazine and her own cable network called OWN (The Oprah Winfrey Network).
In addition to conquering the world of television, Oprah has also dabbled in acting. Her most notable role to date was actually in the 1985 film, The Color Purple, playing a troubled housewife. The role earned her an Oscar nomination for Best Supporting Actress. She then starred in Lee Daniels' The Butler (2013) where she acted alongside Forest Whitaker and John Cusack. She most recently lent her voice to the animated film The Star (2017) and took on the role of Mrs. Which in Disney's fantasy adventure A Wrinkle in Time (2018), based on the classic novel by Madeleine L'Engle.
When she's not expanding her brand, Oprah is an international humanitarian giving back to the less fortunate—specifically girls from troubled backgrounds. In December 2006, she opened the Oprah Winfrey Leadership Academy for Girls, an all-girls high school in South Africa. The students were all specifically chosen and came from poor backgrounds.
At the launch of her school, Oprah explained: "I want somebody who already knows that education is empowerment, and who wouldn't have had the chance to fulfill the great possibilities of her life had this not happened. I want to change the trajectory of a child's life."
Oprah's selflessness and ability to connect to others has given her a place in history as one of the most influential and powerful celebrities in the world.