Penélope Cruz Biography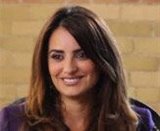 Born: April 28, 1974

PENELOPE CRUZ (Photo Gallery)
One of Spain's leading ladies of the 1990s, Penélope Cruz has managed to make her mark on international audiences as well. Born in Madrid, Spain, Penélope was one of three children of a merchant and a hairdresser. After years of intensive study in ballet and jazz, she broke into acting in 1992 with starring roles in major Spanish films such as Jamn Jamn and Belle Epoque. The former cast her as the desperately poor daughter of a village prostitute, while the latter featured her as one of four lusty daughters of a wealthy man in pre-Franco Spain. Belle Epoque proved to be a huge success, winning nine Goya Awards (the Spanish equivalent of an Academy Award) and an Oscar for Best Foreign Film.
Its success gave Penélope a dose of international recognition, and, after starring in a number of Spanish films, she enhanced this recognition in 1997 with the Sundance entry Abre los Ojos. That same year, she had a brief but memorable role in Pedro Almodvar's Carne TrTmula.
In 1998, Penélope had her first starring role in an English language film playing Billy Crudup's Mexican-American love interest in Stephen Frears' The Hi-Lo Country. She had another go at English later that year in the Spanish-British romantic comedy Twice Upon a Yesterday, which cast her as a Spanish barmaid living in London.
In 1999, she returned to Spain to collaborate once again with Almodvar on All About My Mother, a wildly acclaimed film that premiered at Cannes that year and later won on Oscar for Best Foreign Film. In Vanilla Sky (2001), Penélope starred alongside Tom Cruise, who in February 2001, publicly declared his marriage to Nicole Kidman was over. Penélope and Cruise were seen as a couple until January 2004 when they ended their relationship. She then dated Matthew McConaughey for a year from 2005 to 2006.
In 2006 she shared a Best Actress award at the Cannes Film Festival with the rest of the female ensemble cast for Volver (2006), and in 2007, she received a Best Actress Oscar nod for her work in Volver (2006).
In 2009, Penélope won her first Academy Award, for her supporting role in Vicky Cristina Barcelona. She was nominated for a third Academy Award in 2010, this time for her performance in the musical Nine (2009).
More recently, she starred in ma ma (2015), Zoolander 2 (2016), The Queen of Spain (2017), Murder on the Orient Express (2017) and Pablo Escobar (2018), opposite Javier Bardem.
In 2022, she received her fourth Academy Award nomination, for Parallel Mothers/Madres paralelas (2021). The same year, she starred in The 355 (2022) opposite Jessica Chastain, another contender for Best Leading Actress at the Oscars in the same year.
In July 2010, Penélope married fellow Oscar winner Javier Bardem after two years of dating. Their son, Leo Encinas Bardem, was born January 22, 2011. She has been an avid supporter of several different campaigns and charities and in 2012, she posed for an ad supporting PETA's anti-fur efforts.