Sebastian Stan Biography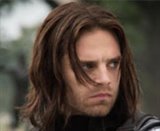 Born: August 13, 1983

Date of Birth: August 13, 1983
Sebastian Stan was born in Constanta, Romania. He moved to Vienna with his mother at age eight and four years later relocated to Rockland County, New York. Stan got his first taste for acting when he attended Rockland Country Day School. While there he starred in many stage productions such as Harvey, Little Shop of Horrors, Over Here and West Side Story. He also attended Stagedoor Manor summer camp where he was cast in many of the camp's productions. As his interest in acting grew, he decided to take it more seriously by applying to several universities with acting programs.

Sebastian was then accepted to Rutgers University where he had the opportunity to spend a year abroad in London, England studying at Shakespeare's Globe Theatre. He graduated with a Bachelor of Fine Arts.
Sebastian's professional acting debut came in 2003 when he guest starred as Justin Capshaw on the NBC series Law & Order. He went on to play reprising roles in other popular television shows, including as Jack Benjamin in Kings, the Mad Hatter in Once Upon a Time and as TJ Hammond in Political Animals. Stan is best known for his role as Carter Baizen on Gossip Girl, in which he starred alongside Leighton Meester and Blake Lively.
Though television was where Sebastian got his first professional acting experience, he was easily able to transition over to film. While still attending university, he was cast in small roles in independent films like Tony 'n' Tina's Wedding (2004) and Red Doors (2005). Following his university graduation in 2005, he was cast in The Architect (2006) starring Anthony LaPaglia, Viola Davis, Isabella Rossellini, and Hayden Panettiere. That same year, he landed a lead role as Chase Collins in the film The Covenant (2006) with Chace Crawford and Taylor Kitsch. He performed all his own stunts in the film.
Sebastian can also be seen in films such as Rachel Getting Married (2008) with Anne Hathaway, Hot Tub Time Machine (2010) with John Cusack and Rob Corddry, Black Swan (2010) with Natalie Portman and Mila Kunis, Captain America: The First Avenger (2011) with Chris Evans, and Gone (2012) with Amanda Seyfried.

Sebastian starred in The Apparition (2012) opposite Ashley Greene and reprised his role as Bucky Barnes in Captain America: The Winter Soldier (2014), Captain America: Civil War(2016) and Avengers: Infinity War (2018). He stepped away from the role momentarily to play Jeff Gillooly, Tonya Harding's ex-husband, opposite Margot Robbie as Tanya in the award-winning drama I, Tonya (2018).
Sebastian is currently single.