Taika Waititi Biography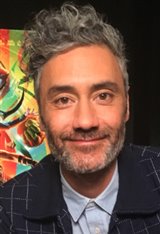 Born: August 16, 1975

TAIKA WAITITI

Date of Birth: August 16, 1975

Triple-threat Taika Waititi was born in the Raukokore area of the East Coast of New Zealand and has become one of the country's most beloved exports, boasting an impressive career in directing, screenwriting and acting. He is well known for his quirky comedies and his unique sense of humor, readily present in any of his films.

During his childhood, Taika dreamed of becoming a painter or a deep-sea diver before a high school drama teacher introduced him to the world of acting. He was part of a five-person comedy ensemble titled "So You're a Man" while he attended Victoria University and he toured around New Zealand and Australia with the group before graduating with his degree in Theater and Film.

He and fellow actor Jemaine Clement made up the comedy duo "The Humourbeasts," which ultimately earned them the Billy T Award, New Zealand's highest comedy honor.

At the beginning of his film career, Taika primarily acted on screen. He had a small role in the film Scarfies (1999), which earned him a New Zealand Film Award nomination for Best Actor. He featured in the film Snakeskin (2001) and also appeared on the TV series The Strip.

The majority of roles Taika received at this time were as the comic relief character, which he soon grew tired of. He decided to create his own films, thereby creating his own roles. He soon began winning various awards for his comical shorts he directed and acted in as part of the 48 Hour film contest and received greatest critical success for his short film, Two Cars, One Night (2004).

At the 2005 Academy Awards, the short was nominated for Best Live Action Short. His name became most well-known after he feigned sleep when his name was announced at the ceremonies after attempting to persuade other nominees to do the same.

Taika's father is Maori from the Te Whanau-a-Apanui tribe, a heritage which Taika is proud of and featured most prominently in his early years of filmmaking. He went on to release more critically acclaimed films, included the short Tamu Tu (2004) and his first feature-length film, Eagle vs Shark (2007).
His film Boy (2010) centered around an 11-year old boy (James Rolleston) reuniting with his estranged, ex-con father, played by Taika himself. The picture was a huge critical success, winning a place at the 2010 Berlin Film Festival and then being awarded Grand Prize in the Generation section. Notably, Boy was one of only 14 films chosen for Sundance Film Festival's "World Cinema" section.

While he continued acting in comedy shorts, Taika's true passion for filmmaking was steadily taking over. A short film he and old friend Jemaine Clement had made in 2006 titled What We Do in the Shadows was made into a feature-length film in 2013. The movie, focused on modern-day vampires sharing an apartment together in Wellington, New Zealand, won several awards and has spawned an American TV series, the plans for which were announced in 2018.

Taika produced, wrote, and directed the film Hunt for the Wilderpeople (2016), which featured Julian Dennison as a young foster boy who goes on the run in the bush with his cantankerous foster dad, played by Sam Neill. The film was a critical success and broke records for its opening day in New Zealand.

Most recently, Taika made his Marvel Universe directorial debut with the film Thor: Ragnarok (2017), which smashed at the box office and earned him the highest praise for his unique filmmaking style. He also featured in the film, lending his voice to the rock-alien Korg.

Taika then wrote and directed the World War II comedy, Jojo Rabbit (2019), which won the People's Choice Award at the 2019 Toronto International Film Festival. It was also nominated for several Golden Globes, BAFTAs and Academy Awards, with Taika winning the two latter prizes in the Best Adapted Screenplay category.