Tcheky Karyo Biography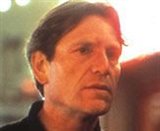 Born: October 04, 1953

TCHEKY KARYO
Date of Birth: October 4, 1953
Tcheky Karyo
has made a name for himself in Hollywood playing character roles and villains. Born in Istanbul, Turkey, Karyo grew up in Paris and studied acting at the Cyrano Theatre. He spent many years on the stage, perfecting his craft by taking on both classical and modern roles as a member of the Daniel Sorano Company, and later at the National Theatre of Strasbourg. When he decided to make the leap to film, he did it in a big way, appearing in four releases in 1982. One of them,
Le retour de Martin Guerre
, was such a big hit that Hollywood remade it several years later as
Sommersby
(1993), starring
Richard Gere
and
Jodie Foster
. Karyo's performance in another of his first films,
La Balance
(1982) earned him a Cesar award nomination for Most Promising Actor. He continued to work non-stop in French films, but gained noticed in America when he played Bob, Nikita's spy recruiter in the original, French-language version of
Nikita
(1990).
One of his first English-language films was A Grande Arte (1991), starring Peter Coyote. Karyo also appeared in 1492: Conquest of Paradise (1992) with Gérard Depardieu and Sigourney Weaver, the HBO-TV movie And the Band Played On (1993) with Alan Alda and the box office hit Bad Boys (1995) with Will Smith.
Other memorable performances include playing Meg Ryan's ex-boyfriend in the comedy Addicted to Love (1997) and Major Jean Villeneuve, the French ally of Mel Gibson's character in The Patriot (2000). When his Nikita director, Luc Besson, also successfully made the transition to Hollywood, Karyo gladly agreed to play the part of Dunois in Besson's feature film release Messenger: The Story of Joan of Arc (1999). Karyo continues to work both in American and French films, with major roles in The Core (2003), starring Hilary Swank, Flyboys (2006), alongside Jean Reno and The Way (2011), with Martin Sheen. He has appeared in over 80 films since his debut in 1982.