Thomas Dekker Biography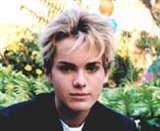 Born: December 28, 1987

Date of Birth: December 28, 1987
Born in Las Vegas, Nevada, Thomas Dekker has also lived in Canada and now resides in Southern California. He got into acting through his parents, a set designer/singer/actor and an actress/singer/acting coach. Dekker's first acting job came at age five when he landed the recurring role of Phillip Chancellor on the daytime soap opera The Young and the Restless. Not long after, he made his feature film debut in Star Trek: Generations (1994), playing Thomas Picard. Next, he played a lead in John Carpenter's Village of the Damned (1995). He has also done plenty of guest appearances on hit TV series such as The Nanny, Seinfeld, ER, Star Trek: Voyager, Caroline in the City and Family Affair.
In 1997 Dekker landed a recurring role on the TV series Honey I Shrunk the Kids: The TV Show, playing the role of Nick Szalinski for the next three seasons and winning a Young Artist Award for his work. In 2001 he portrayed Donny Osmond in the ABC-TV movie Inside the Osmonds. Dekker has also done quite a bit of voice work, playing Little Foot in several of the Land Before Time videos and Fievel the mouse in two American Tail videos, winning two more Young Artist Awards for "Best Performance in a Voice-Over: TV/Film/Video - Young Actor" for An American Tail: The Mystery of the Night Monster (1999) and Land Before Time IX: Journey to the Big Water (2002). His stage debut was in the musical Oliver!, playing one of Fagin's boys, and he has also performed in the stage musical Carousel.
Back on television, he starred as John Connor on the Fox TV series Terminator: The Sarah Connor Chronicles, which ran from 2008 to 2009. In 2008 he won a Young Hollywood Award as "One to Watch" and was nominated for a Teen Choice Award as Choice TV Breakout Star - Male. For his work in the small budget flick From Within, he won "Best Actor" at the Solstice Film Festival. Other film credits include My Sister's Keeper (2009) with Cameron Diaz and Abigail Breslin, the remake of A Nightmare on Elm Street (2010) and most recently, the drama Foreverland (2012). He also stars as Adam Conant in the television series The Secret Circle.
Dekker, a vegan, loves animals and has two dogs and a rabbit. He enjoys reading, drawing, swimming and playing tennis. He made his debut as a writer and director with the small budget film Whore (2008).