21 & Over - User Reviews
Thank you for rating this movie!
Read your review below. Ratings will be added after 24 hours.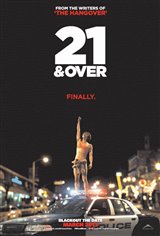 ---
Please rate movie 1 to 5 stars
Showing 1 to 19 of 19
June 23, 2013
Honestly, it's a 3.5-4 star movie. But I gave it a five to bring up the rating because all the 1-star ratings are BS. This is a hilarious movie. Yes, there's a lot of swearing. If you have a problem with this, it's your fault for not researching it first. Rating R doesn't mean it's a kids movie.
April 20, 2013
I wanted to rate 0 stars. Very stupid and trying to copy Hangover with Asian guy. I couldn't wait for it to be over.
April 20, 2013
This is kind of a bore. Not very funny.
April 01, 2013
Ok is there a -stars arae, if there was I would rate this with theat horrd movie a few years back The Duks of Hazz. There was so much unnessassary bad language to start off with that I could hardly bear to wacth in fact, we walked out after 45 minutes & knew we wasted our money & Time. The one star, is the acting was ok.
March 26, 2013
To be honest, 18 Again was better.
March 15, 2013
worst movie I have ever seen. Don't know how it made the big screen. Don't waste your time.
March 11, 2013
I'm a 49 year old woman and I loved this movie....very funny....will become a cult classic....right amount of balance between humour and concern for the characters. Awesome!!
March 10, 2013
Movie was funny, and for others who said its just another movie about booze, partying and popularity, well DUH!Read the title
March 10, 2013
I feel like I have Changnesia after watching this movie. Please help me find my parents.
March 08, 2013
crazy funny, and first time an East Asian American 'born local' is included as a peer friend, not an outcast/dupe/comic relief only character, but 'one of us' than 'one of them'; includes unseen 'kiss/touch a white girl' first, even if in party fun, and not romantically. challenging old stereotypes: thumbs up; and a step in the right direction better representing America than not. (2 other same-aged characters were East-Asian Americans males and had talking parts, rather than as background 'silent extras'.) now the cast look realistically rounded w/ a 'Jeff Chang'! than peculiarly 'all-caucasians' with the odd black guy. worth the see.
March 07, 2013
this movie was awesome. you could definetly relate.. haha
March 07, 2013
It was pretty good... I laughed quite a lot. I myself dont drink ever - but this was still pretty funny.
March 05, 2013
If your 21 you can relate. Sit back, watch and let your feelings relate. Friends are your number 1.
March 04, 2013
21 and Over was hilarious. It is a partying type movie so if your not a fan of those films, as a previous poster commented, then this is definitely not the movie for you. This movie is definitely fun, entertaining and overall a laugh-out-loud film. I would definitely recommend it.
March 04, 2013
Sooo funny! Definitely one of the funniest movies since The Hangover.
March 01, 2013
Awful. Another crappy party movie with booze and partying and a bunch of misfits that ultimately become popular... I feel like I've seen this same movie 100 times and it keeps getting worse.
February 28, 2013
Hilarious movie!!! This film is very much like Hangover movie.
February 28, 2013
Yeah...movie...good...action...party!
February 02, 2013
21 & OVER WILL BE SUPER HIT BECAUSE ITS trailer is very funny and remind us about HANGOVER.