22 Jump Street - User Reviews
Thank you for rating this movie!
Read your review below. Ratings will be added after 24 hours.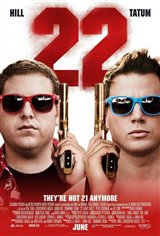 ---
Please rate movie 1 to 5 stars
Showing 1 to 50 of 63
March 21, 2018
very entertaining movie
November 19, 2014
Highly entertaining. Full of laughter and some good action sequences.
November 18, 2014
hilarious - great chemistry between Tatum and Hill
November 16, 2014
I would give this -5 stars if I could.
November 06, 2014
Very funny movie to watch.
November 04, 2014
Very good movie. Funny!
November 03, 2014
Funny movie, very entertaining...
November 03, 2014
Very good movie.
November 03, 2014
Very good movie to watch.
November 03, 2014
Very nice movie to watch.
October 24, 2014
The first one wasn't funny and this one is less so.
October 13, 2014
It's cool. I liked it a lot. I loved the first one "21 jump street " and now I finished watching the second "22 jump street" and it was like Omg so good. I really liked the movie 10/10 Like always.
September 21, 2014
good story line and very funny. i might watch it again.
August 10, 2014
Crap bullshit
August 06, 2014
Do you want the classic Monkees or The New Monkees???
August 05, 2014
what is funny about this
August 01, 2014
It was very funny great movie
July 19, 2014
The fun continues as the boys go undercover to a University to find out who has killed one of the students. Very entertaining.
July 16, 2014
Well I love the characters that helps the rate and I found it very funny and entertaining and ya
July 13, 2014
Awesome!!!!!
July 12, 2014
Really funny worth watching if you like a action/comedy movie
July 12, 2014
I'm generally quite critical of comedies because most of them I just don't find that funny. But with this one, I laughed pretty hard at some of the parts, and the movie overall was pretty entertaining. Not for people who can't handle frequent "F" bombs, but if you have no problem with that (like I don't), then you'll probably enjoy it. You can tell the people who made this movie had a lot of fun.
July 11, 2014
sooo funny!
July 08, 2014
It was hilarious
July 06, 2014
I agree with the one below me. Trolls are writing that it was bad. They are just jealous the J Hill is going to make like 50-100 mill off this flick. Well done kid from Superbad. Funny as hell.
July 06, 2014
It is blatantly obvious that most of the 1* ratings were written by the same person. The tool who said "it's 21 jump street not 22" obviously has no idea what a sequel is. Very funny and full of laughs. Don't listen to the trolls who say they walked out, because I guarantee they didn't. It's the same couple people who give all movies bad reviews because they have no life.
July 05, 2014
Completely stunk
July 05, 2014
I thought it was halarious. I just couldn't stop laughing. I'm not the type who like that kind of language but other than that I loved. One of the best movies ever
June 30, 2014
this movie is the best
June 28, 2014
The language in this movie is uncalled for. Who ever talks like this should have a bar of soap in their mouths
June 26, 2014
A complete disappointment.
June 24, 2014
Not very often that the sequel is equal to yet alone better than the 1st as this was! A Must See !!
June 24, 2014
better be a 23 jump street ! You will be laughing out of our seat ! Honestly , I think the people beside me thought I was crazy , but who cares ? I enjoyed the movie (;
June 23, 2014
it was really good and funny
June 21, 2014
I laughed so hard through this one; it was almost better than the first one!! Great movie; so glad I decided to go see it!!
June 20, 2014
Pathetic movie. I walked out half way through it and should have dome it much sooner.
June 20, 2014
Offensive; the tv series wasn't this dumb.
June 19, 2014
This movie had me laugh throughout the whole movie lmfao :) way better than the second one
June 19, 2014
Please don't make 23.
June 18, 2014
Funniest movie of the summer!!!! I could watch it over and over again; and I'm going to!!!
June 18, 2014
An insult to fans of the series. The show was called 21 JUMP STREET, but the producers of this turkey can't even get that right...
June 18, 2014
If you see one movie this summer, don't make it this one.
June 18, 2014
funny and must see better than all that i have seen
June 17, 2014
Funniest movie ever!!
June 17, 2014
Painfully bad, and nothing like the tv series on which it's purportedly based.