88 Minutes - User Reviews
Thank you for rating this movie!
Read your review below. Ratings will be added after 24 hours.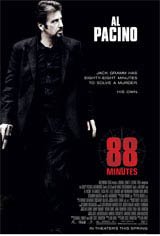 ---
Please rate movie 1 to 5 stars
Showing 1 to 21 of 21
September 18, 2008
A 10+! I can't recommend it enough!!!!
August 31, 2008
Pacino's best since Simone.
August 15, 2008
wow a great thriller. 4.5 stars for sure. Look for more of my reviews. E.B.A.
August 04, 2008
SPLENDID!
July 11, 2008
Pacino's best since SIMONE.
July 07, 2008
Not what I expected.
July 06, 2008
Pachino is good in anything.
June 20, 2008
great movie kept me in suspense the whole way through
June 14, 2008
5-star awesomeness!!!!! This movie deserves to be remembered at Oscar time!
May 19, 2008
Aweful, im seriously shocked on how pacino agreed to do this movie, the acting was worst then paris hiltons previous roles, the plot was retarded and the movie just feels SO LOW BUDGET!!! 1 star ( and i love pacino )
May 15, 2008
it was horrible and they should make a 0 star for it. =(
April 30, 2008
I wish the movie was called 20 minutes. Bad acting, predictable plot and a director's inability to create true suspense.
April 27, 2008
interesting....flowed well...kept me interested through the entire movie...no boring parts
April 26, 2008
it was a littebit hazy,it kept you thinking and the suspense was on.It was realistic and very good acting.
April 22, 2008
I am the biggest Al Pacino fan....however, this movie makes me want to punch him in the face. Why did he do this movie?!?!! The acting was absolutely horrible. His character...a supposed FBI Forensic Master is dumber then Jessica Simpson. The acting by all actors and actresses were just....horrible. HORRIBLE HORRIBLE HORRIBLE.
April 21, 2008
Watched last summer!!! Was released on DVD in other countries last year!!! Nothing special!
April 19, 2008
What is it with movies lately where they don't even try to make the characters seem intelligent anymore? Pacino's char seeing the guy in the leathers around for the first 3/4's but not "clueing in" to his suspicios nature until way to late. I don't care how many twists there are, this movie insults one's intelligence.
April 19, 2008
Great movie!! Thriller, mystery movies keep you thinking, kept you in suspense for the most part. Unfortunalty I guessed who the killer was and i was right a quarter through the movie
April 19, 2008
Nothing, special... we've seen it all before. The movie i guess wasn't that bad... critics were i guess a,little too harsh. The only problem that I have with this movie is that there is no sense of ergency per say. Al Pacino seems so relaxed the whole film, he acts as if he has frigin a year to live. 2.5 stars... since that's not an option i was leniant and gave it 3... Rent It
April 18, 2008
Awesome movie, keeps you guessing... Pacino is absolutely brilliant!!!!!!!!