A History of Violence - User Reviews
Thank you for rating this movie!
Read your review below. Ratings will be added after 24 hours.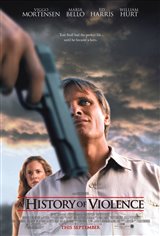 3.83 / 5
User Rating
Based on 1750 votes and 120 reviews
---
Please rate movie 1 to 5 stars
Showing 1 to 50 of 120
July 14, 2018
I loved this movie. It was very entertaining and quite well done. I cant believe some people didn't get it. Top rate flick and great acting
November 11, 2008
This was an amazing movie...Well done and well acted...Good actors
July 20, 2007
Thats's absolutely unbelievable how people can say this movie is pathetic and how it is "Garbage". And in fact it was a deep and exciting film which in the end finished quite nicely. 4 Stars.
June 25, 2006
I can`t believe it took me so long to watch this movie, it a must have in my own private collection!
April 24, 2006
wow... pathetic. going in to this i expected a deep, intellectual, and entertaining movie. Turned out to be the biggest waste of my money. This movie is absolutley horrible, and completely pointless. it felt... unfinished. like the directors skipped a whole hour of filmming and said "whatever, they wont notice". very disapointed
April 01, 2006
Garbage! I can`t believe some people actually liked this movie. It was the worst I have seen in a long time. The acting was pathetic, the plot was predictable, it was sooo slow except for the few minutes of sex and violence. When the fikm was over you felt like... `Well is that it"
March 25, 2006
very well done. gore but tolerable. I heard Bello didn`t get an Oscar nod due to sex scenes, whoever, I scene more explicit sex on HBO shows. All actors were excellent.
March 20, 2006
This was actually not as bad as I thought it would be. It was pretty interesting. But the sex on the stairs scene was inexcusable. It did nothing to forward the storyline, nothing was resolved as a result, no one changed as a result, it was just a cheap addition to the film because the director wanted to shock. It was obvious that the director is incredibly self indulgent -- I`ve heard he likes to pay homage to his previous films but you know what guy? This was the first film I`ve seen of yours and I`m not the only one, so that stuff may be amusing to you as an in-joke, but if it`s not needed to tell the story, why don`t just pay attention to
March 15, 2006
this movie makes me braf
March 14, 2006
Classic Cronenberg
March 13, 2006
a sensational film. what don`t you people get about the sex scene on the stairs? random? are you kidding me? it was perfectly appropriate and tastefully done. i cannot believe this film is not up for any genie awards. what a crock. and NOT because of the film or lack of canadian content. something to do with the canadian gov`t not being happy with financing? please.
March 11, 2006
A modern Western in an urban setting, and a great movie! Go see it. Enjoy.
March 08, 2006
this is stupid
March 03, 2006
this movie was about as intersting as snow! its true what they say... never tell them! who can you bet on? ME! love and violence are the core of this movie.
February 21, 2006
instantly ranks one of my top 10 films of all time... brilliant
January 16, 2006
outstanding.best movie i have seen in the last five years and i watch a lot of movies.
January 11, 2006
oohhhh!bravooo. Ilive in TURKEY.Everybady loved a history of viole nce.I enjoyed it.thank you.
January 08, 2006
Never in my life have I ever seen such crazy sex. Way too violent for the audience.
January 06, 2006
It wasa pretty good movie, actually, IT SUCKS!! me n my bro could make a better movie
December 23, 2005
one of the most original movies of our time
December 22, 2005
CRAZY MOVIE!!!!!!!!!!!!!!!!!!!!!!!!!!!!!!!!!!!!!!!!!!!
December 08, 2005
Please, this movie is one of the most poignant social commentaries of the year; violence breeding violence no matter the intent, the escalation of vengeance and confict, superbly subtle character development illuminating the effects of the sins of the parent influencing the lives of the children. REAL issues that people should be more aware of. A brilliant examination of the effect of perception (personal, public, and media) on a person`s life, and the resulting chaos ripple into every aspect of that life. Plot: fresh and new, Acting: stellar, Char Development: wonderfully subtle, yet complete (after the third time seeing it, you can take t
December 08, 2005
A great movie which explores the uncommon dynamic between a family, a small town, and the past. Unapologetically violent and amazingly acted, this is one of the only must-see films released in 2005.
December 02, 2005
- Just an all-round brilliant effort by Cronenberg thats sure to be noticed at the Oscars. Saw it twice and just cant say enough good things about it .... definately go see it!!
November 20, 2005
this movie was just palin bad.
November 15, 2005
18A????? no... this should have been R. SO wrong.
November 13, 2005
This movie was so awful that I don`t even want to comment.
November 09, 2005
Horrible, typical Canadian movie director, and I like art films. Boring, dry, lacking any style.
November 08, 2005
What to make of this film? Could have been soo much better if only the production value had been greater. It felt like I was watching a made for network T.V. movie....only with crazy sex scenes & violence. Vigo puts in a great performance...but the dialogue at times was god awfull. The director dumbed this movie down too much. A shame, it could have been great!
November 03, 2005
Clearly one of the best films of the year.
November 02, 2005
96 mintutes I will never get back. Completely inapporpriate sex scenes..I understood the movie...I just wish I could I have done something else with my time...like watching water boil...that would have bee more satisfying
November 02, 2005
I thought it was a verry good movie the sex sean was too tastfullly done after reading some peoples comments i thought it would be a full on porno but it was not. It was good
October 31, 2005
This movie was terrible. I`m surprised at the high percentage of 5 star ratings on this site. The actress who played the wife was horrible. Her crying scenes were very fake. The sex scenes were dragged on for TOO LONG. Please rent this movie when it comes out on DVD because it`s not worth a trip to the theatre.
October 29, 2005
Easily the best movie of the year!! In many ways, a low budget effort, but with Ed Harris & Vigo, you can`t go wrong. A lot of gratuitous violance a la "Pulp Fiction" or "Get Shorty", but agreta movie nonetheless.
October 26, 2005
Learn how to think and stop waiting for the film to spell it out for you. Great advice if you want to appreciate this film.
October 24, 2005
I thought the theme of the movie was good. I coldn`t believe the sex that was displayed in the movie. It was soooooo graphic. What is happening now days. I went into the movie expecting a good story and find out that I was actually watching a porn. I was sickening, I really felt sick as I set there watching. I would NEVER see this movie again and will NOT tell others to watch it. I feel so ashamed that I watched it. NOT GOOD!!!!!!!!!!!!!!!!!!!!!!!
October 23, 2005
Uh, the sex scene on the stairs was about using violence for control, and the first sex scene was supposed to be a comparison. It fit with what the film was going for, which is about violence (the title is A History of Violence after all.) Good film, but I was surprised how simplistic and obvious it was with its themes, especially for Cronenberg. Probably will have to watch it again on video.
October 21, 2005
i have to admit when i saw the previews i thought OMG this movie is gonna be sikkkkk. but it wasn`t sik. it was average. i found myself laughing at times. the violence was good but there wasn;t nearly enough of it. and the sex scene on the stairs was so random and it didn`t fit. the ending was good and anyone who says otherwise doesn`t knwo wut they are talking about. overall 3/5 (a definite rental)
October 20, 2005
I have never posted here before but I simply can`t keep quiet!! Honestly people!! What didn`t you get about the ending? This was a very simple straight forward plot. Extremely well acted, Written, directed, etc... How far dumbed down do you want your movies?? I LOVED IT!!!
October 19, 2005
It didn`t fit with the movie?? You obviously have not seen other movies by the same director as it fits perfectly well with Cronenberg`s work. A definitely guy movie. Excellent.
October 19, 2005
First of all, just because it has a high rating it doesnt mean the movie was good. it means ppl like you (adults?) thought it was good. it wasnt about the violence and sex scenes being too much. it was the fact that it DIDNT GO WITH THE REST OF THE MOVIE. it was the stupidest movie ever this year and the real problem is that it didn`t flow as a movie. as in, it didn`t fit with the movie. the acting was as if they gotten a bunch of amateurs and said here say these lines and look pretty. acquired taste for idiots maybe. worst film ever and all these reviews that make it sound good? shudve listened to the others before i wasted money a
October 18, 2005
First of all, look at the high percentage of 5 star ratings, as most reviews of this film on here suck. As a Cronrnberg fan, i think its his most accessible film yet. The problem with all these young kids is they are too used to the videogame as babysitter/entertainment, that a story which unfolds languorosly (sp. ?) with violence which seems to erupt and be brutal when it hits, is too slow for them. For adult viewers, its worth seeing for sure. It may be an acquired taste, thats all.
October 16, 2005
This movie is so bad, it`s funny ...problem is, it wasn`t *meant* to be a comedy. If you`re tempted to see it because of the starring actors, think again (Ed Harris must be hanging his head in shame).
October 16, 2005
it was good i guess but the ending...wait for part2 i guess
October 16, 2005
Very slow and boring, occaisonally pierced by the stacco of sex and violent scenes, after which it returns to slow and boring. The end leaves you completely unsatisfied and nothing is wrapped up. There is no character development to speak of, or plot worthy of watching. Basically this movie is a huge waste of time and money.
October 16, 2005
For all of you who hated this movie I suspect you thought you were going tinto Elizabeth Town because you think orlando Bloom is the second coming of Marlon Brando.... I though this movie was very well crafted and suspenseful from beginning to end... some have problems with the end of the movie but you could write another whole movie on the outcome so he left it to you..... very well acted, not profound, but an intense, well acted western.... WATCH IT, sorry there`s no flying aliens in it for those with no patience...grrrrrr...lazy people make me mad
October 15, 2005
the first and last scene are like 5 mins long w/ absolutly no talking. it doesn`t explain who the ones in the first scene are very well, but other than that, it`s totally predictable. such a bad movie. not at all what the previews make you think. don`t go see it.
October 15, 2005
very well acted and entertaining.
October 15, 2005
Not as gripping as you would think. Definitely a DVD Rental, don`t know if it`s necessary to go to the theatre to see this one.