A Mighty Heart - User Reviews
Thank you for rating this movie!
Read your review below. Ratings will be added after 24 hours.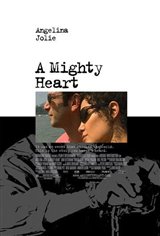 2.88 / 5
User Rating
Based on 2514 votes and 16 reviews
---
Please rate movie 1 to 5 stars
Showing 1 to 16 of 16
November 04, 2007
understand the point people....amen
July 02, 2007
Angelina Jolie stick to your UN work at least there you are successful. Lady, STOP ACTING PLEASE. A Sad movie with Angelina's horrible accent to make it even sadder. Angelina go back to acting classes PLEASE do us all a favor STOP putting the public though you bad acting for another film.
June 28, 2007
one of the worst movies i have seen this year. don't believe the hollywood media BS that this is an oscar contender for angelina jolie. on par with that other flop she did with clive owen.
June 27, 2007
It is a good movie well describing the strong heart of a woman in a critical situation.
June 26, 2007
The acting in this was not particularly great. Angelina Jolie can't really carry a movie with anything but her looks, which were not emphasized in this movie. Furthermore, this plot just doesn't connect. It's based on a true story and if you find that story to be fascinating, you might like this movie. But if you don't know the true story inside and out, you'll find it difficult to get into this movie. Lastly, this movie is way too soon. The true story happened way too recently to really be considered 'historical' yet. So, this movie comes off as a current events piece rather than a story about a person. Overall, I'd say this. If you KNOW you're going to see this movie, t
June 25, 2007
Two Thumbs up!!!
June 25, 2007
Such a compelling film that has a lot of depth
June 25, 2007
I did find acting worthy of oscar. In fact Agilina was horrible. But the story was good sad but good.
June 25, 2007
Bad acting all round
June 25, 2007
I cannot believe people have given this film such a low rating - I saw it last night and thought it was absolutely fabulous - acting was superb as was the direction and the music. Emphasis was placed where it should have been, and the viewer walks out appreciating the hard work that went into finding Daniel, even though the results were unsuccessful.
June 24, 2007
Great movie. Angelina's performance was fantastic and very touching. Two thumbs up.
June 23, 2007
Very solid acting by the entire cast makes for a compelling film in this sad but very true story. The storyline is tangled in world where religious zealotry, government incompetence, media perception and bias, and the shady world of intelligence ultimately let the captor win.
June 23, 2007
A movie with outstanding performances, especially Jolie and the man who plays "The Captain". It does not move fast but I found myself hooked. Ms. Pearl is one tough cookie.
June 23, 2007
It was great. Very close to the book. Angelina was Oscar worthy.
June 22, 2007
sad! but a great movie . if you value quality cinema you should watch this one.
June 22, 2007
beautiful movie- angelina is amazing