A Perfect Getaway - User Reviews
Thank you for rating this movie!
Read your review below. Ratings will be added after 24 hours.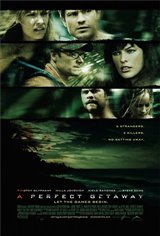 ---
Please rate movie 1 to 5 stars
Showing 1 to 34 of 34
January 13, 2012
very good movie it had lots of acttion in it
July 23, 2010
A pleasant surprise. Not quite the horror/scary flick they make it out to be be. More suspenseful than anything else. Once the action picks up, you're twisted into a surprise plot. Recommended.
February 28, 2010
not as scary as i thought but still good.
January 04, 2010
badly written, could've been a good movie.
December 07, 2009
By far the most under rated movie of the year. this is a very well written movie which delivers action, suspense and comedy. Definitely worth watching 5/5 stars
September 22, 2009
it is an ok movie, but it is not worth it to watch it at the teather.
September 17, 2009
It started slow but soon had me on the edge of my seat. A great movie.
September 08, 2009
This movie has alot of potential, it takes long before the movie picks up but when it does its thrilling. It has a suspenceful ending. The movie leaves you with many questions. Some parts just don't make sense. (3-4)/5
August 29, 2009
This movie sucks! Do not watch it!
August 29, 2009
This movie was so not what you think it's going to be. The ending part is so dumb, it's just waist of time and money.
August 22, 2009
Surprisingly very good! There are many very corny scenes but it all makes sense in the end. Definitely worth the price of admission.
August 20, 2009
A movie keeps your thought unclear until the very end, u will know know what happens next and its full of surprises! Definitely a good movie, way better than what the critics had rated!
August 20, 2009
we have seen this movie twice and have loved it both times; it really is a must see
August 19, 2009
must see, lots of action and suspense
August 19, 2009
Best movie of the year; a must see. Kept you on the edge of your seat.
August 19, 2009
A must see. Kept you on the edge of your seat. highly recommend.
August 19, 2009
great movie...a must see!!!
August 19, 2009
bad acting, bad story, bad everything.
August 17, 2009
Movie made no sense. Too much unecessary talking, only a few twists/ thrilling scenes, ending was horrible. The scenery was nice though.
August 16, 2009
Viewable but not recommended, not even as a rental. The acting was terrible. Scenery was breathtaking which saved the rating - 3 stars.
August 14, 2009
this movie sucked it made no sense and it took to long to get to the action and not for 14 year olds i swear if my dad wasnt there i wud nvr no wats going on
August 14, 2009
i have 4 letters for this movie and it starts with the letter s, figure it out.
August 13, 2009
The twist was a bit predictable if you've seen a lot of movies like this but it was still a really good thriller.
August 13, 2009
AMAZING! Best thriller this year!
August 12, 2009
This movie is terrible. The trailer is misleading - do not wast your time with this one!
August 10, 2009
the movie is under rated. theres great acting, good action, thrills and twists. Its one of the more realistic thriller movies iv seen in a while. Not cheesy at all. I highly reccomend this movie.
August 10, 2009
even though the ending isnt predictable...i totally predicted it....however it was very entertaining...i really enjoyed it and i love being right...LOL
August 08, 2009
loved this movie...an adrenaline rush..oh my god.. no boring moment..funny and scary.go and whatch it.
August 08, 2009
WOW this movie was awesome. i saw it with my friends, and it was amazing. very dramanic, and scary. the ending was crazy though. best movie ive ever seen. this is a movie that you MUST see!
August 08, 2009
Definately had its thrills and twists, although the cheesy moments can be found throughout. A good flick overall.
August 08, 2009
Not your usual thriller. A little slow in the beginning but, I think, worth the set up. If you've seen a lot of horror/thriller movies, like me, then you might figure out the ending after the first half hour but I would still say it's worth seeing.
August 07, 2009
Reintroduces the dying horror genre
August 07, 2009
Very well done. Hilarious, scary, witty, and the most original movie I've seen in the last 6 months. My only complaint is that it look about 20 minutes too long to get into.