A Walk to Remember - User Reviews
Thank you for rating this movie!
Read your review below. Ratings will be added after 24 hours.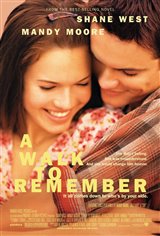 4.36 / 5
User Rating
Based on 16163 votes and 441 reviews
---
Please rate movie 1 to 5 stars
Showing 1 to 50 of 441
July 16, 2016
I love this movie, it made me cry
February 21, 2012
an amazing movie! adore mandy moore and shane west. a beautiful love story. wish it had a different ending. every girl should have a landon in their lives!
July 20, 2010
It was amazing i cried!
April 27, 2009
i luv this movie soooo much and shane west is extremely sexy!!!!!! if any one ever did the stuff for me that he did for her i would die!!!!!
April 26, 2009
the most beautiful muvi ever seen
April 16, 2009
I really love this movie hats off to nicolas sparks
January 11, 2009
i really love this movie very sad Mandy Moore was very good in this movie
November 28, 2008
This is a real love story...not fiction, real!
September 24, 2008
love it sooo much
September 17, 2008
i love this movie every thing about it is awesome ,expecially the sound track which i have is also great and even though it has a sad ending its still a great movie
May 01, 2008
I Love This Movie I watch it every day if I have the time
January 27, 2008
i love love love this movie Shane West and Mandy Moore are so great in this movie i loved it!
April 20, 2007
Simply beautiful! You get addicted ... Shane`s a dream!
April 14, 2007
A walk to remember is a good movie. Like a star in my heart, my eyes... Its really amazing....
January 27, 2007
this is such an amazing movie. sex=love? not according to this film, which is something highly unusual for hollywood and VERY AMAZING!! So nice to see a movie that`s clean and yet enjoyable! Mandy Moore is awesome and Shane West is amazing! Their chemistry is so great, it`s a shame they`re only acting! Much better than the book! 5 Stars!
September 09, 2006
It`s just magic... Je suis protestante évangélique, un peu comme Jenny, et je suis touché de se merveilleux film. La foi et l`amour, de beau grand mot réalisable.
August 06, 2006
a walk to remember is an awesome movie!!!! i loved it!!!
July 31, 2006
omgosh i loved this movie, it`s a great romantic movie with a twist i think Shane West was really great in this movie and so was Mandy Moore This is the kind of movie i will never get tired of and will watch forever although it is sad i love it
June 11, 2006
aWalk to remember =Woderful movie it affect me in a good Way and very very dreaming novel i like it very very very moch
June 07, 2006
a walk to remember was the perfect love story showing that true love does win out. it also made me cry alot.
June 07, 2006
i luv it altho it was changed cuz it was a bit diff 2 da book
May 25, 2006
I love this movie so much! Every time i watch it i cry soooo much! CHANE WEST IS SO HOT!
May 24, 2006
It is amazing, so powerful! Really really sad, cried for ages, and the romance is so convincing. Love the soundtrack too! xXxSarah
May 14, 2006
I LOVED THIS MOVIE!!!!! This movie is so inspirational and makes you think about life alot more. I think its just a great movie all around...DON`T BELIEVE THE CRITICS! I promise you this movie is not a waste of time to watch.
April 27, 2006
the movie is the best & im sure that their wont be any movie better than it eveeeer..........
April 21, 2006
OMG I love this movie!!!! It is so sad!
April 21, 2006
It is the best movie I`ve ever seen. It is so sad though Mandy Moore is so goood in it!!! BEST MOVIE EVER.
April 18, 2006
Yea i`ve never cried so much before either......but only cuz this movie sucked so bad. It was so cliché
April 13, 2006
It depicted what real love is; It is my all-time favorite movie of all time.
March 31, 2006
It is my favorite movie I want to meet a guy like that Mandy And Shane looke great together
March 23, 2006
awwwa sweet!!
March 17, 2006
OMG I have never cried so much! Ever!!! I love this film and will do untill I die! I think Its so sad and just really heartwarming. I love the soundtrack and the book (aswell as the film) I love it! xx
February 23, 2006
ive never cried more in my life
February 23, 2006
i think it is verrrrrrrry wonderful and magnificent !! in addition ,shane west is very charming and goood looking!!
February 07, 2006
a walk t remember is a wonderful film. It has drama, romance, and suspence. it is a beautiful story and the actors are great.
February 05, 2006
A film to remember, shocking, great, I love it,It is one of the best films I`ve ever seen, and the best lovestory I`ve ever heard about. It`s just fantastic. Actors, soundtrack, every single detail was great chosen and prepared. I loved the soundtrack, it made the film even better that it would have been without music.
February 04, 2006
my 15 year old daughter had me watch this movie on tv, and after seeing it, I immediately went on line and ordered it! This is one of the most beautiful stories I`ve ever seen. To see Landon transform and fall in love with Jamie is so touching, and the way he goes above and beyond to fulfill Jamie`s "list" of things to do, literally put tears in my eyes! Actually, I not only teared during this movie, I sobbed!!
February 03, 2006
it`s one of the greatest love stories ever made, but the best thing about it is that it`s not your typical teenage love it can happen in real life so is easy to relate to. And shane west is hot too.
January 17, 2006
Umm my friend jessica said she loves this movie and that shane west is sooooooo hawt!!!!!!!!!!! and i hate the word hawt and yeah umm it was a good show yeah ummmmmbye
January 14, 2006
this is the best movie ý`ve ever seen. it`s just amazing! the story, shane west, mandy moore and of course adam shankman! it "taught me everything about life, love & faith..."
January 12, 2006
great love story.
January 08, 2006
pure love is shown..
January 03, 2006
its the best lovestoty ever I JUST LOVE IT!!!!!!!!!!!!!!!!!And all the songs insid it
December 22, 2005
its amzing its my favorite movie well done shane west you are wonderful and u r soooooo cute
December 14, 2005
This is one of the best movies i have ever seen!! it makes me cry each time i see it! Shane West is soo hott in this movie too!! This has got to be on of my favorite movies!! And i love the song Only Hope! i love u Shane West!!!!!!! i love Mandy Moore too!! Even in this movie you are pretty! Ashley
December 11, 2005
just grrreaat!!!! i love this movie, not even close to cheesy but it`s more real.
December 04, 2005
It is the best love story I had ever seen.The love between shane and mandy in the movie was so pure.This movie is really a miracle of love.One can really fell the love in the movie.I was able to see the love in shane`s eyes.I was so involved in the movie that I put myself in the mandy`s character and was feeling every bit of shane`s love.
November 27, 2005
the movie was really good i watched it 200 or more times almost every night
November 26, 2005
i personally loved the movie is my favorite one and i wish someday i could meet shane and mandy i`ll loved to i hope you make another movie like this!