After Earth - User Reviews
Thank you for rating this movie!
Read your review below. Ratings will be added after 24 hours.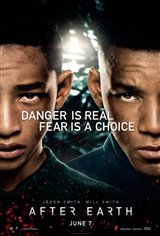 ---
Please rate movie 1 to 5 stars
Showing 1 to 50 of 91
July 19, 2018
Wretched film should've been called NEPOTISM: THE MOVIE.
August 21, 2017
I enjoyed the storyline.
July 06, 2017
After Earth: I loved it.
March 29, 2014
Will Smith is amazing in the role. Jaden is following in his dad's footsteps.
January 29, 2014
Will Smith's greatest movie ever!
January 27, 2014
I didn't mind the story and its meaning, but the acting wasn't very good as well as the visuals.
November 18, 2013
really good movie!!!!
November 08, 2013
Just awful.
October 31, 2013
this movie is so bad, terrible acting, terrible story, low budget, litteraly the worst movie ive ever seen
October 25, 2013
what a crappy movie and crappy acting from both smiths
October 25, 2013
Low budget movie. A bit of special effects. No plot.
October 18, 2013
the kid is so bad at acting!!!!!!!
October 18, 2013
basically just a dad-son conversation throughout the entire movie. Bad Bad Bad Bad Bad
October 18, 2013
one of the worst movies of the year
October 18, 2013
The kid can't act! Mono-expression!
October 18, 2013
Thank God I didn't pay for this movie! Would have been a waste of money!!
October 18, 2013
My wife and I had hard time staying awake. Was so happy when the movie was over. Terrible movie and bad acting
October 16, 2013
Those 5 star ratings must be coming from the Smith family because this movie is terrible.
October 10, 2013
Suneagle's Review 4*s. Wow!! I actually loved this movie. I was expecting it to be bad so my expectations were very low because of all the other bad reviews but this movie actually had everything you want in a great sci-fi survival dad and son movie. Great monsters, awesome action, cool sci-fi with a plot they could seriously build on. Acting was even good. I really don't understand what people are complaining about ?!! I was Very impressed. Listen don't miss this movie, rent it, buy it what ever you will enjoy it have fun. Father and son movie have fun!!
September 30, 2013
I want my money back .....WILL
September 30, 2013
JUST PLAIN BAD
September 10, 2013
Terrible! Terrible! Terrible! I love even mediocre sci fi movies, but this is terrible!
July 30, 2013
great movie
July 06, 2013
I agree with others that his is not a bad movie but the acting is horrible. Not the usual Will Smith performance. Came away with a gem though about how to look at fear.
July 01, 2013
I slept almost during the entire show. The movie was more between father and son with the father as the narrator.
June 28, 2013
The best movie of the year.
June 24, 2013
It's not a bad movie. It was quite enjoyable. I had been expecting like Avatar and this was not it. But the kid did a good job. Like a young Kurt Russell. And he's a kid. The movie is kind of like a Lassie. Wish he did have a dog to pet and talk to (and lose and find) would have made it better. But as it was, Some of the complaints are fair - they use a contemporary local accent instead of standard american-english or a more clever futuristic dialect a la Clockwork Orange etc. so Cheezy/lame not trying. But I loved the set design. Ship was great. Hints of Organic meshed with Inorganic. That's skin not toilet paper dude. And who doen't like a good trek against the odds? Learning
June 22, 2013
THIS MOVIE SUCKED BIG TIME FOLKS..THERE IS A REASON WHY CLOSE TO 50 PERCENT GAVE IT A ONE OR TWO STARS, IF I COULD GIVE IT A NEGATIVE 5 STARS I WOULD, TERRIBLE ACTING, TERRIBLE ANIMATION, TERRIBLE STORYLINE..JUST TERRIBLE...EHHEEHE
June 22, 2013
Terrible move, if I could give it a zero, I would, better yet, if you really want to be tortured, go watch battle field earth with john travolta, and then watch this move, and then get drunk, because brother your going to need the booze.
June 22, 2013
Yeah please dont even bother watching this movie. Seriously the folks who gave it a five or four star rating are either wil himself, or his most devoted followers. This movie was absolutely terrible, and a total waste of money and time..If i could give it a zero I would..will has lost his edge folks..
June 15, 2013
The smartest, most thought-provoking blockbuster of the summer. Young Smith is a real find.
June 15, 2013
Will Smith's best movie.
June 14, 2013
His kid is TERRIBLE! Their accents are lame and slurry. If I'd know it was an M.Nightshamalalalalalalman movie I'd have skipped it! UGH
June 14, 2013
Good movie I agree with bad acting but I liked the movie overall
June 13, 2013
This is the best movie in a long time.
June 13, 2013
Please save your money & go see a comedy.
June 13, 2013
Must be nice to have rich parents who can finance a whole movie for you...have Will's son ever got a role where Will did not intervene? ANSWER: NO!
June 13, 2013
Please save your money & DO NOT go see this. Way too boring for me.
June 13, 2013
BAD....BAD....BAD....did I mention this was BAD???
June 13, 2013
Yes, how come Jaden only gets roles where his parents are the money backers for the movie? Just shows you it's who you know...."ZERO" stars.
June 13, 2013
How could anyone give this more than 1 star?
June 13, 2013
I agree there should be a "zero" rating. If there was, this one would get it.
June 13, 2013
Funny how Will's son only gets roles Will's involved in.
June 11, 2013
Best movie of the summer by far.
June 10, 2013
It is not a bad review. Good show about bond and survival.
June 10, 2013
I think the problem was that it was hyped up. Not enough action and M. Night should stick to directing suspenful/thrillers. Or he might tare up a horror flick. Honestly the story is slow and then when the action starts your like that's it? Will stole the movie at the end. Man can make you tear up. lol