After the Ball - User Reviews
Thank you for rating this movie!
Read your review below. Ratings will be added after 24 hours.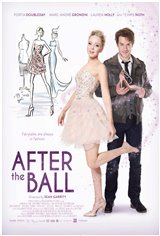 ---
Please rate movie 1 to 5 stars
Showing 1 to 50 of 76
August 31, 2015
great to see such a great little film made in Canada with Canadian talent behind the lenses!!
March 31, 2015
Cute romantic comedy, pleasant diversion.
March 19, 2015
Superior drama, inventive and engrossing. Based on the classic ballad by Paul McCartney & Wings.
March 18, 2015
Touching and often hysterical! Portia Doubleday is perfect and the evil sisters are hilarious!
March 06, 2015
I found this movie to be a refreshing twist of 'Cinderella'. I especially enjoyed the twin (male/female) roles she played...quite funny. It's interesting to watch a female posing as a male. The makeover was very good too, you almost had to take a good look to notice it was a female under all the makeup/clothes.
March 05, 2015
I saw this movie with my daughter, we loved it!!!
March 05, 2015
Charming and good family entertainment. A must see!
March 04, 2015
This movie was an entertaining and fun twist on a Cinderella story. A good movie for people of all ages.
March 04, 2015
This movie was fantastic and had a refreshing new take on the story of Cinderella with fairytales being in fashion. Some of the things about this movie that I really enjoyed seeing are the designs Nate created, the fact that Kate didn't have rags or lived in a castle, The Alien Sheek design which the stepsisters wore at the end of the movie, and how there was a different kind of shoe that fit Kate just right instead of the glass slipper that is always associated with Cinderella.
March 04, 2015
This movie was a good rom-com. Better then I had expected.
March 03, 2015
It was a cute movie. I think any lover of the fashion world would appreciate watching this movie. The movie was well-cast and the story believable. Very highly recommended.
March 03, 2015
Great for young teens, my daughter liked the movie
March 03, 2015
I didn't have any expectation before i go in the theatre to watch this movie simply because I think this kind of low budget film are all the same nothing special but it was really well made and good.
March 03, 2015
A delightful movie from start to finish . Finally a movie that you can bring your young girls and teenagers to without being concerned with content .
March 03, 2015
We enjoyed the movie! It showed people not to be greedy but be honest and you will go alot further in life. Thank-you Wendy
March 03, 2015
Fun movie. Good characters and a good storyline.
March 03, 2015
Loved the movie. Saw it with my 15 year old daughter and she enjoyed it as well.
March 02, 2015
Funny and entertaining
March 02, 2015
Very entertaining with a good cast, well acted and a modern day Cindy who can act and make you laugh. I enjoyed it and had a good time at the movies. 4 out of 5. Thanks for the ball.
March 02, 2015
We really enjoyed this film and recommend people so see it
March 02, 2015
I found this movie to be similar to others made in the past with very similar themes but new, trendier actors. It was fresh and cute, with the dilemma being unique in this case of Portia Doubleday's character wanting to be a designer in her daddy's clothing company but finding her clothing designs being stolen out from under her. So she assumes another identity..,I won't spoil the plot here, and with the help of her dear friend played by Marc-Andre Gagnon, she plots to get her clothing designs recognised.
March 02, 2015
Great Movie! Spilled my popcorn because we were laughing so much. We love a great modern Cinderella story.
March 02, 2015
A light hearted movie. We enjoyed our evening.
March 02, 2015
I took a girlfriend with me to see the move After the Ball. We both found it light and entertaining.... almost like a Cinderella story. It was refreshing to simply watch an innocent film about a young lady trying to find her way in life. Thank you for the opportunity to see the film! Tammy Stoffels
March 02, 2015
It's a nice fun film, Canadian film also (we need to support our industry). I like fashion also.
March 02, 2015
The fashion in the movie is great. The storyline was okay. I felt like this movie is best directed to a group of young adults or tweens.
March 02, 2015
I loved this movie! It was a great modern spin on a classic Cinderella story! Great underlying lessons like, be true to yourself.
March 02, 2015
It was a fun movie for a girl's night out. For a younger crowd though. Great entertainment...
March 02, 2015
My wife and I enjoyed the movie very much. It had it's funny moments and we both thought that it was very fairy tale like. I think a majority of people will like it.
March 02, 2015
fun, funny, enjoyable :)
March 02, 2015
Cute movie!
March 02, 2015
enjoyed the movie
March 02, 2015
Nice, fun movie. Light hearted
March 02, 2015
Enjoyed the movie. It was a funny and had a good storyline. I give it two stars.
March 02, 2015
It was a cute movie. My teen daughter liked it.
March 02, 2015
I love-love-love that movie!!! I love fashion, Mr. Big n Marc-Andre Grondin! So I was glad to get free tickets for this movie n submerge into world of fashion, intrigue n fairy tale. I enjoyed the way girls were dressed - cuz I'm a girl, I enjoyed funny moments n I really enjoyed that positive feeling that I got from this movie. The feeling that everything will be good for good people, even if they have to suffer n struggle a lot:-) Plus, it's a decent interpretation of a classic story n another funny variation on a cross-dressing from the best of motives. Me n my older friend enjoyed it like teenage girls:-)
March 02, 2015
I liked it because it had a different theme and not the often seen and heard swearing, sex and blood shed. It was a nice story to follow.
March 02, 2015
To my surprise I enjoyed the movie. I did not really know what to expect however, I got more laughs out of this film than I expected, which is always a good thing! Overall a feel good family friendly film. Great for young girls.
March 02, 2015
After the Ball was an enjoyable, romantic comedy. I loved the performance given by the main star, Portia Doubleday, I think her physical comedy was very entertaining, and I enjoyed the Romance and comedy in the movie, and it was a much needed escape from my day. I also enjoyed the fashionable outfits in the movie. I would recommend this movie to the young at heart.
March 02, 2015
This was a really cute production with the allegorical Cinderella story with a fashionable twist. The evil stepsisters, did a bang on job of dumb and dumber. The other cast did a stellar job too in what masked the weaker parts of the storyline. Nice to see so many Canadians participating in this Nothing to be sorry Bout, eh?
March 02, 2015
Such an absolutely adorable and empowering movie! Love love love it!
March 02, 2015
A thoroughly enjoyable update of the timeless Cinderella story. All the hazards of going out and finding your way in today's world that young women and men face told with warmth and humour. If CGI and murderous mayhem are your cup of tea be sure to miss this entertaining movie about relationships.
March 02, 2015
This was a fun film to watch! I laughed a lot at the antics that the lead female character played by Portia Doubleday, got up to as she portrayed both a man and a woman (Kate and Nate) in the fashion house owned by her father (Chris Noth). Portia brought a lot of humor to her role; and when more serious moments arose she was able to deliver the emotion needed to fuel these scenes very well also. The entire cast was very good and the fashion that was a major part in the film was captivating and made me want to rush out and buy some of the amazing creations from Le Chateau. The film was shot in Montreal and has a fast pace and lively story that moves rapidly along and creates a wond
March 02, 2015
Whimsical and fun movie.
March 02, 2015
a evening of fun light entertainment
March 02, 2015
I really did enjoy this movie. A great girls night out.
March 02, 2015
Cute spin on the traditional Cinderella. Loved the fashion and that it exist for you to buy!!!
March 02, 2015
I liked the movie and thought it was funny.
March 02, 2015
I very much enjoyed this movie! It was refreshing, mixed with drama, romance and comedy! Loved it!!!