Alice in Wonderland (In Disney Digital 3D) - User Reviews
Thank you for rating this movie!
Read your review below. Ratings will be added after 24 hours.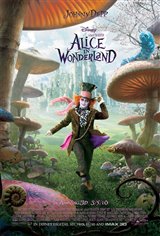 ---
Please rate movie 1 to 5 stars
Showing 1 to 33 of 33
April 02, 2010
The commercials and trailers basically gave most of the interesting scenes away. It was very very boring!
April 02, 2010
It was awesome!!!!
April 01, 2010
I absolutely loved this movie! It did not disappoint me one bit. It was clever and fun for everyone in my family.
March 31, 2010
The movie was boring, it almost put me to sleep.
March 31, 2010
It was ok. Kinda boring. But kinda interesting. 3d was absoluly horrible. Not good at all !! I had a headache all night after the movie. I do not agree with ppl saying it ruined the childhood version. Becuz I thought it jus gave it so omph. Overall a decent movie. Def shouldn't b in 3d tho
March 29, 2010
great movie. Johnny Depp was HILARIOUS. A MUST SEE AND CHILDHOOD FAVOURITE!
March 29, 2010
Awful how could they ruin my childhood favorite movie
March 28, 2010
Very Very Very Boring.
March 28, 2010
awsome i loved the movi the red queen was funny amazing i loved the fat boys in the movie
March 28, 2010
it is so so so bad
March 27, 2010
Great Disney movie, but I was duped into watching it in 3D. They obviously forced it to become 3D to cash in. If they really intended it to be a 3D movie, why was Alice's fall into the hole not in 3D?
March 27, 2010
Very clever effects, but it gave me a headache. A little too intense for little people.......
March 27, 2010
it was verry cool it is worth to see again !!!
March 23, 2010
This would be a 4 if i did not like the twist on the original story so much
March 22, 2010
Absolutely a must see! The visual is amazing and the acting was great. I really enjoyed sitting back and being entertained. Well worth the cost of admission.
March 21, 2010
great movie helena bonham carter really made the movie she was sooo funny!!! tweedledee and tweedle dum wer also great!! another hit from burton!! keep up the great work!!
March 20, 2010
i love that movie
March 20, 2010
What a disappointment!! To the other people who had seen this movie, they were obviously watching the original. What an abortion!!!
March 19, 2010
Great movie took kids age ranges from 5 to 15 everyone loved it Not scary but dark points and inuendo to keep the adults happy too.
March 14, 2010
Great movie, it was very entertaiing. Although, was suprised to see how many parents brought their very young children to see it...there were parts of it that I'm sure would be a bit scary for the younger kids.
March 13, 2010
The 3D was good as was the twist to the story (I'm not going to ruin it for those who haven't seen it) However, the 3D wasn't nearly as good and detailed as Avatar and the overacting was a bit much. Was a bit disappointed after spending nearly $40 for 2 people to see this in IMAX 3D
March 13, 2010
Awesome movie! It better if you see it in 3-D.
March 10, 2010
This is a definete 5 star movie on equal footing with Avatar. Everything about this movie is fantastic; the acting, the visuals, the actors, the story, the costumes, everything! Young or old, this is a must see!!! lochnesshampster
March 09, 2010
the only thing good about the movie is the fact that johnny deep is in it. If it weren't for him it would of been a total bust
March 09, 2010
I think it was the best moive ever.And my favorite one of the cast was Johnny Depp as the had hater because he was funny and scary at the some time I loved Alice In Wonderland!!!!!!!!!!!!!!!!
March 09, 2010
This movie has quite a bit of visual candy. Too bad it is a waste to go to the 3D version. The acting is great if you are just there to see Johnny Depp but otherwise lacks. If you are looking for a movie with energy, emotional pull, or originality you are looking for the wrong movie. I have not been dissapointed in a movie this much ever. I thought disney would actually step up to the plate and wow the audience, not waste talented actors names and time. Good movie for kids (4 star for kids entertainment) but i still recommend the original over this one.
March 08, 2010
alice in wasteoftime
March 07, 2010
really exciting and a "must see"!
March 07, 2010
It brings back some many memories of me watching the animated Disney version. I love Tim Burton and his creativity! Great movie!
March 06, 2010
Wow- what a beautiful blend of fun and fantasy. Do not miss this blockbuster.
March 06, 2010
its the only 3d movie since a christmas carol!!
March 05, 2010
The visual world this man has created is uncanny
March 05, 2010
Disney biggest 3-D movie since A CHRISTMAS CAROL!