All the Money in the World
Thank you for rating this movie!
Read your review below. Ratings will be added after 24 hours.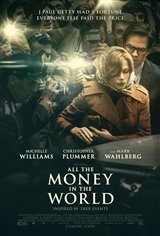 ---
Please rate movie 1 to 5 stars
Showing 1 to 24 of 24
January 14, 2018
Really interesting story, the movie was ok. Didn't love Michelle Williams accent - felt a bit fake - took away a bit from the movie from me. Maybe go on a cheap Tuesday
January 14, 2018
The ending was a bit Dramatic and I'm believable. Not sure if it reflected the true story I will have to do some research on that. I didn't care for Mark Wahlberg's portrayal of his character I normally like Mark but he was flat and this one
January 14, 2018
Brilliant! All the actors were amazing! The suspense thereout was done perfectly! Bravo!
January 13, 2018
The review that said they walked out midway because they didn't care about what they were watching...DEAD ON. This movie wasn't worth watching. Sorry I stayed.
January 11, 2018
Not nearly as good as I expected. Christopher Plummer was amazing in hs role, but the movie dragged in places
January 09, 2018
Excellent movie, mystery, twists and turns, excellent acting, it is a must see!
January 07, 2018
Great acting
January 06, 2018
The review that said they walked out midway because they didn't care about what they were watching...DEAD ON. This movie wasn't worth watching. Sorry I stayed.
January 05, 2018
Great movie!
January 05, 2018
I think Ridley Scott throws this type of film together to try and make cash for bigger projects. I walked out of this film halfway through, because I just didn't care about what I was watching. I warned you.
January 05, 2018
fast paced. interesting, teeth clenching
January 02, 2018
Wait for Spacey on DVD, it could be so much more satisfying, good movie .
January 01, 2018
Christopher Plummer was terrific as Getty, however Michelle Williams' acting lacked a depth of character. Same for Mark Walberg who is usually great. Had there been different actors matched to portray the characters, this movie would have been riveting.
January 01, 2018
Very suspenseful even knowing the outcome. A nail biter.
December 31, 2017
Christopher Plummer, who recently turned 88, is brilliant as Getty. He was a last minute stand-in for Kevin Spacey, and a far better choice. Industrialist, J. Paul Getty was the epitome of avarice and acquisition - more, more, MORE!! And he was notoriously frugal. Plummer captures all of this, but humans aren't cartoon characters, and we see, at times, a Getty who is uncertain, and even loving. Romain Duris was good as Kidnapper #1. Michelle Williams was ordinary as Getty's daughter-in-law, and Charlie Plummer was unimpressive as the kidnapped grandson. Markie Mark was credible as "security guy." It's a good film, well worth seeing...............84/100
December 30, 2017
Good Movie i enjoyed it
December 29, 2017
Christopher Plummer is fantastic, the camera, music, and the whole story - very well presented. Love it!
December 29, 2017
I really enjoyed the movie. Christopher Plummer was great, Michelle Williams less so, in my opinion.
December 29, 2017
It is very rare that I walk out of a movie. This was very bad. Spacey was lucky to get edited out.
December 28, 2017
Funny that the other people reviewing this movie liked Michelle Williams' performance - I couldn't stand it! Usually I'm a fan of hers, but her reaction to everything either seemed over acted or not natural (I would say the sound of your sons voice would bring you to tears or make you talk in a panic) I DID think however that Christopher plumber was a way way way better person to play the role rather than K Spacey. It also shocked me how many scenes the had to reshoot with Plumber- like over half the movie! I hope they release K Spacey's performance on a dvd extended version or something because I'd be so curious how different each scene turned out. Overall, very engaging movie! Would recommend.
December 28, 2017
Christopher Plummer deserves an Oscar!!!!!!
December 28, 2017
I agree, the movie is not completly historically accurate but the movie credits tell you there is some dramatic effect scenes in the movie. I agree, Michelle Williams' performance was outstanding. Her body language, gestures, her rage and frustration were accurate portrayals of a mother in that situation (of course people react different from one another in a similar situation). Even in the final scene, her facial expression lived up to the experience she suffered as depicted in the movie. Christopher Plummer was outstanding as J. P. Getty. No one else could have done this role better. Romain Duris was outstanding as a bad guy with a compassionate side, having to walk a fine line for his own safety and survival. The costumes supervisor was on the mark with the clothes of the time. The 1970s vibe came through. I recommend seeing the movie.
December 27, 2017
Enjoyed the movie. Michelle Williams does a remarkable job.
December 26, 2017
Not 100% historically accurate and jazzed up a bit for dramatic effect but it was a pretty good movie anyway .