Alpha - User Reviews
Thank you for rating this movie!
Read your review below. Ratings will be added after 24 hours.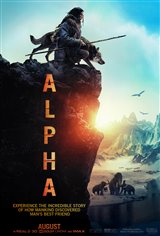 ---
Please rate movie 1 to 5 stars
Showing 1 to 37 of 37
January 04, 2020
The strong bonding of family, even 20,000 years ago, was well depicted. I really enjoyed the process of the wolf trusting then accepting Keda, and vice versa. If you love wild animals and the fascinating relationships they sometimes have with people, this movie is for you!
October 27, 2018
Why did it take him a life time to get back to his home they were just gone hunting ?
October 01, 2018
exceptionally well written acted and filmed. Highly plausible in every way,
September 18, 2018
Excellent movie .
September 08, 2018
Great! We need more movies like this one! It teaches values which most movies today do not.
September 08, 2018
Terrific movie for dog lovers...Subtitles should be mentioned, but it didn't bother me at all. Not at all like I expected, Which was great!!! May be to slow for smaller children. Probably 10 years and older. The reclining seats in this theatre were wonderful and so comfortable.
September 08, 2018
I liked everything.
September 07, 2018
Good movie. Nice story and the whole family can see it. So nice in this day and age.
September 07, 2018
This is an excellent movie. I would recommend to everyone I know. I'd give it over 5 stars if I could.
September 07, 2018
Very engaging. Loved this movie
September 07, 2018
Definitely the subtitles should be mentioned in the synopsis since this is rated for children. It alternated between frightening and boring for anyone under the age of 12. Agree it should be rated for 14 and over. Although it is a "fantasy" type film there has to be some believability or I lose interest. Both the scenery (although beautiful) and the plot line were just beyond any level of belief. Acting was good and some scenes were good.
September 06, 2018
I know to make it more authentic they used an imaginary language but my grandson doesn't read yet so we whispered the words. I loved the movie. Would like to see it in IMAX.
September 06, 2018
I loved the deep bond between the boy and the wolf. Also a very uplifting, surprise ending. Watch on a big screen. Cinematography wonderful.Plus sound effects.Go see it!!
September 05, 2018
Great movie! Wish I saw it sooner. Movie was amazing, acting was great and the story was fantastic! Wanting to see it again but in IMAX.
September 03, 2018
Great movie! Very well done, very enjoyable, loved the ending.
September 02, 2018
I gave my dog a huge hug when I got home from seeing Alpha. Great movie, great story, and I really enjoyed the surprise ending! Worth the money.
September 02, 2018
The photography is amazing! The story is very clever and any dog lover out there will love it!! It's not artificial and a bunch of cg, very refreshing in a world of movies full of fake scenes, It is a movie with subtitles.
September 02, 2018
i rate it a ZERO i took a special needs person who cannot read so we had to leave they should have said it was subtitled
August 31, 2018
I thought this movie was AWESOME.
August 31, 2018
Excellent. The story was sweet.
August 30, 2018
This movie was boring don't waste your time and money!!! I am tired of all the movies I seen so far we're ALL BORING AND A WASTE OF MY TIME AND MONEY
August 28, 2018
It was a cute, if fanciful, story. Especially if you discount the discrepancies, such as finding smooth river rocks on a prairie, finding dry firewood on a treeless plain. Also because it is subtitled, if your moviegoer is a young child with limited reading, you will have to narrate the entire movie.
August 27, 2018
Watch it until the end, a beautiful story about survival and friendship. Never give up!!!
August 25, 2018
Amazing movie... would love another movie like this. Such good teamwork in the movie!
August 24, 2018
Pretty good movie ,but I thought the friendship between the wolf and the main character should have been developed a little better . The trust between them came about too quick to be believable .But hey it's a movie not real life ,so enjoy it for what it is .
August 24, 2018
great movie - outstanding cinematography the subtitles did not take away from the movie -- I thought it actually helped. enjoyed it so much I will probably go again in a couple weeks and will buy dvd for sure
August 23, 2018
Loved it!
August 23, 2018
The subtitles. The WHOLE movie was subtitles. There were lots of families in the theater and the kids kept asking what was going on and why. The parents would answer them to try and keep them interested. The film was beautiful and the story good. But that was a major problem.
August 20, 2018
Disappointing, the film crawled at times and you really had to suspend reality to swallow some the happenings. Scenery and the wolf were great though..
August 19, 2018
Respectable movie and story, worth seeing. The cooperation and bond developed between man and wolf/dog where the sum of the parts is greater than the whole is intriguing. Its like an invention in technology that advances civilization.
August 19, 2018
Great movie
August 19, 2018
Good movie! My son loved it.
August 19, 2018
Amazing cinematography.....Characters were good. One noticeable flaw: some of the men were clean shaven. Would expect the men in ancient civilizations to have beards. All in all, truly enjoyed the movie. The bond between the boy and wolf was heartwarming.
August 19, 2018
So awesome. The cinematography and story was beautiful. Acting was great especially by the wolf and the young man. I was moved by the story and subtitles were quite readable and did not distract from the viewing experience. Filmed in Alberta. PG was a perfect rating for family viewing.
August 18, 2018
Rating of PG should have been PG 14. Had to leave, too graphic for a 9 and 11 year old.
August 18, 2018
Loved It. If you are not into subtitles then you may not like this movie, but if you are fine with reading subtitles and you are a dog person then you may just like it. I really enjoyed it.
August 18, 2018
Waste of money, the popcorn was ok though