American Assassin - User Reviews
Thank you for rating this movie!
Read your review below. Ratings will be added after 24 hours.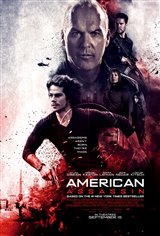 ---
Please rate movie 1 to 5 stars
Showing 1 to 50 of 62
December 06, 2017
Would have given this 5 stars if it hadn't strayed so far from the book. Overall though Rapp was exactly as I imagined and so was Keaton in the parts they played. Don't understand all the tree hugger remarks, what were they expecting to see?? My wife enjoyed the movie and hasn't read any of the books which unfortunately there will be no more as the excellent writer Mr Flynn has passed.
November 07, 2017
OMG..... many of you who watched this and made it a one star only because it was a action movie. what did you expect to see BAMBI? Don't go see a action movie, watch a cartoon . Those one stars are about politics and your own fear of reality . In case you haven't been paying attention this stuff has increased all over our wonderful country and the world. God bless all those people in Las Vegas, Texas and more but don't blame the action movie. If you want to blame the movie industry then blame the never ending movies that have kids telling off their parents , kids using the f--- bomb in almost every movie that has kids in it. And NO they don't promote terrorist acts, that's going to happen because they hate us. But it might keep you from burying you head in the sand and stay alert . Have a nice day
October 16, 2017
Not much can say, just average.
October 12, 2017
I liked this movie and I enjoyed it all the way through. The younger man stole the show. There was action throughout. The ending was not predictable. The opening terrorist activity scene was short. The Las Vegas shooter had been amassing firearms for quite some time, according to news reports. This is a good movie to see in a theater. I recommend.
October 11, 2017
Bad acting, to much violence that was unnecessary to the story. When will we see better stories?? Even M. Keaton was annoying. Walked out in fourth quarter of movie and sat in on American Made...much better movie.
October 10, 2017
Like the Mitch Rapp casting, great movie, I was worried they wouldn't be able to capture the feel of the book, but they did a good job. Fun movie
October 06, 2017
I will not allow my husband to watch this movie.
October 06, 2017
My husband and I plan to watch this movie....I think it is very unfair for people to get on there own "special/hate/love" ban wagon and give this movie an unfair rating. Feeling hurt and sorry for the victims of the Vegas Massacre But get real people...these types of movies have been around for decades...or just think twice before you give your kid or grandchild a toy gun...huh? the real problem is enforcing stricter gun control laws and banning the stock bump.
October 06, 2017
To all the victims who died in Las Vagas: R.I.P!!!!!!!!!!!!!! Laws should be implemented to stop people making movie teaching us how to kill innocent people for no reason.
October 06, 2017
Liked the books so it was good to see a movie adaptation. Michael Keaton was hugely entertaining. Overall good action flick. Ignore the trolls ; )
October 05, 2017
STOP KILLING PEOPLE!!
October 04, 2017
OH, My! Killing people?
October 03, 2017
this is a must NOT see
October 03, 2017
you shouldn't see this movie
October 03, 2017
Enough killing in this world already, we have to stop it
October 03, 2017
This is a Must See!
October 03, 2017
Yes, No more movie showing how to kill people, it is totally insane!
October 03, 2017
Can you guys make the movie showing how to love one another instead of killing each other?
October 02, 2017
Stop posting 5 stars to this movie. Please stop this movie showing in cinema immediately. It really brought the bad spirit and the horrible influence to what has happened in Vagas, USA. May God bless all the families who lost their loved one, relatives and friends in this crazy killing.
October 01, 2017
Nothing special, you should wait for the good one.
October 01, 2017
I Loved the action in this movie, well done!
September 30, 2017
Without Michael Keaton, this movie does worth a dime
September 29, 2017
As a Mitch Rapp fan - better than expected. Hope this will make a great series
September 28, 2017
Don't even mention Maze Runner by Dylan, piece of Garbage Movie that I have ever seen in my life so far
September 28, 2017
Enjoyed action scenes and past movies of Dylan .
September 28, 2017
Absolutely great movie. Action++ from start to finish.
September 27, 2017
Negative impact for those commercial 5-star reviews, Hope everyone is smart enough when they look at those reviews.
September 27, 2017
don't like the movie from the beginning till the end
September 27, 2017
Great performance by Keaton....
September 26, 2017
I enjoy the popcorn which is far better than the movie
September 26, 2017
very intense, good popcorn movie. Dylan O'Brien next action star
September 25, 2017
If you enjoy Vince Flynn/Mitch Rapp books, you won't enjoy this politically correct rewrite of the story
September 23, 2017
love the Mitch Rapp series.
September 23, 2017
Not as good as I think, just average movie, you can see a lot of these in TV
September 23, 2017
Lots of action, good acting, topical plot :great to see Michael Keaton --definitely ups the ante in any movie!! Fun to spend 2 fast-growing hours!!
September 22, 2017
Not my cup of tea!
September 22, 2017
I found this movie very exciting and action packed and if u r a Keaton fan you will love his acting as he he keeps it real. If you are looking for a nite out you will not be disappointed.
September 21, 2017
Lots of action: lots of violence. The plot was predictable as was the acting which was fitting for a movie whose entire purpose was the repetitious action and violence. It quickly became numbing and boring after a short while. In a word... awful. RAN
September 21, 2017
Glad to see Mitch Rapp come to the screen. Great job introducing this iconic literary character!
September 21, 2017
Any one that rates this movie 5 stars should have their head examine. It is your average CIA kind of movie with average shooting nothing especial there. The only good part of the movie is the ending that was the best part for me the rest was average. More like a one time view kind of movie.
September 21, 2017
OMG, why there are so many 5 stars for this average movie?
September 20, 2017
Michael Keaton kicks ass. Best scene telling your torturer all the mistakes he's making just to piss him off so he will try harder. A scream so to speak
September 20, 2017
I like action, adventure, and this was a triple dose. Exciting, fast paced...very enjoyable.
September 20, 2017
Pleasantly surprised, I had read some of the reviews. It was action packed, continuous action, and I'm a Michael Keaton fan. This young actor in the lead role could be the next action figure spy like Tom Cruise. Totally enjoyed it. Well worth seeing.
September 20, 2017
I don't like misleading reviews, waste our time to watch it.
September 19, 2017
I agreed that this movie is just an average TV Movie, save your money
September 18, 2017
From the long review that posted recently after someone mentioned about those 5 stars scores are too unreal like advertising, now it is really obvious that the guess from someone is right. Finally, a long review appeared which try to explain how good this movie is, it is so detailed that I don't think it was posted by the real viewers who did watch this movie, it should be more likely coming from the group of people who make this movie. Well done, guys! Hope everyone will believe what you are saying. I was intended to see this movie when I watched the movie trailer, but now, I am more believe that it will make me very disappointed if I am going to. Sorry to say that!
September 18, 2017
this move was very good!! Glad I went to see it!!
September 18, 2017
An average,at best,T.V.movie.