American Wedding
Thank you for rating this movie!
Read your review below. Ratings will be added after 24 hours.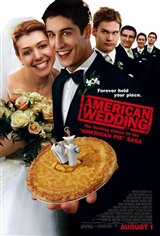 4.30 / 5
User Rating
Based on 48734 votes and 108 reviews
---
Please rate between 1 to 5 stars
Showing 1 to 50 of 108
November 19, 2007
ID SAY BEST OUT OF SERIES SOOO FUNNY LOL!
March 31, 2007
Stifler is HILARIOUS with his insults and acting!! Without him, this movie is a piece of crap
July 05, 2006
i loved it!!! the 2nd best of all the series,i coldnt stop laughing, the movies outrageous,and is a good romantic comedy1
May 03, 2006
GREAT MOVIE LAUGHED FOR HOURS
April 06, 2005
the funny movie of them all
January 07, 2005
Stiffler ruled this film. Although it is supposed to be about Michele and Jim, it ends up being Stiffler who comes on top with a hilarious performance. I tip my hat to the writers for making this film a great topping to the (wedding) cake. Too bad it`ll be destroyed with the upcoming American Pie 4: The New Generation.
October 16, 2004
OMG it was hilarious!
August 13, 2004
this was a hilarios movie u got 2 see this
March 22, 2004
Hilarious :) It`s hard to compare this with the past ones because I enjoyed all of them pretty equally. It was AAAALLL about Stifler though, you have to admit. Without him, it would`ve been pretty crappy. I still get grossed out when I think about parts like the shaving scene :X But a perfect ending for the trilogy :)
March 18, 2004
the movie i watched over and over again !!??!?!
February 22, 2004
Guess how many seizures I got watching this movie?
February 12, 2004
None stop Humor! A good movie when you just feel like relaxing and not thinking.
January 31, 2004
Totally funny!!!!!
December 16, 2003
The best this year!!!
December 16, 2003
The best this year!!!
December 09, 2003
it rocks
November 04, 2003
this movie rules!!!!
October 30, 2003
The people that enjoyed this obviously didn`t notice the drop in IQ points for Stifler. They might have well called this "Stifler" because that`s really what it`s about, and the alteration of his characters IQ was horrible. Few funny bits but mainly crap.
October 29, 2003
i thought it was great it was the funniest movie that i saw this year. I am buying it when it comes on video and dvd.
October 22, 2003
I had to endure two others before I finally got to one that was worth watching.
October 04, 2003
the best americain pie movie so far! would see again for sure!
October 03, 2003
this movie was a pice of trash
October 02, 2003
ITS THA BEST MOVIE EVER! PERIOD!
September 26, 2003
awesome!!! the best movie ever. not as good as the first 2 but totally funny! u haveto see it! its the BEST!
September 14, 2003
not a good movie at all. i had much higher expectations for the third installment of the american pie trilogy. stifler was over the top. they tried way to hard to make him funny. 2 stars. its a rent!
September 12, 2003
Movie was trying a little too hard to be funny
September 11, 2003
Oh-ho-ho...!!! Just see it!!! The best of the "trilogy"!!! 6 Stars :)
September 07, 2003
It was very funny. I like it alot
September 03, 2003
i think american wedding was the funnest most best movie this year other than BAD BOYS 2 i give american wedding 5 stars***** and i am going to see it again lol stifler is da man
September 02, 2003
Can you say FLOP?!? And what was up with Stifler`s laugh? Very annoying. DON`T MAKE ANYMORE IN THIS SERIES!!!!!!
August 29, 2003
i think this movie sucks
August 28, 2003
funniest movie ever!!!!!!!!!
August 27, 2003
the other two movies were better stifker is alot funny in the second one but is still the best actor in the final one the movie is still great..
August 26, 2003
omg THE greatest and funniest movie ever i was laughing SO MUCH!! its a great movie i hope they have more american WHATEVERS!
August 26, 2003
this movie was the WORST movie of the year... not funny, over acted, really crappy. Thank god for Uegene Levy, he was the only funny one. DO NOT GO!
August 25, 2003
Stifler was way more annoying then he was in the first two, but maybe that is what we think of our own `Stifler` when we meet up with him years after High School? VERY funny, in a pretictable yet oh so not predictable way!! 4 Stars...
August 24, 2003
Well done movie!
August 22, 2003
The first two where better but this one wasn`t all that bad... but hey, where was Tara Reed????
August 22, 2003
it was soo funny!
August 21, 2003
This movie was so bad we almost walked out. We liked the first two, but the material was just gross and pointless. Stiffler was way over the top, horrible in fact. Why they would make most of the movie about him is beyond reason.
August 20, 2003
It was funny but it was kind of dome, American pie was cooler then american wedding.
August 19, 2003
YOU MUST WATCH THIS MOVIE!
August 16, 2003
Dispite the fact that some of the characters(Jessica, Oz, Heather, Vicky, and of course Nadia)were no where to be found, this was still a great movie way better then the second, but still not as up to par with the first.
August 15, 2003
One word. Crap. This movie was discusting and not worth the money. I was not inpressed.
August 15, 2003
THIS MOVIE WAS THE BEST MOVIE EVA!!!!I LAUGHED THROUGH THE WHOLE MOVIE!!! THE FUNNIEST OF THE TRILOGY!
August 15, 2003
it wasn`t the same without all the original people in it. Stifler was beyond retarted in this one, he wasn`t even funny.
August 14, 2003
American Weddin is one funny movie..very hilarious and worth the money..this is a movie were u and da guys go just to have a laugh..8 out 10..great movie
August 13, 2003
this movie was HILARIOUS better than the other 2....great movie, if you liked the first 2 go see this one....i laughed the entire movie..!!!!
August 12, 2003
It was funny, discussting, unexpected.. the same usual thing. So, if you liked the first two, defenately go watch this one, because it is a nice ending for the triology. Otherwise, don`t waste your time.
August 12, 2003
Absolutely disgusting movie. Rude and crude with not one redeeming feature. We walked out.