Are We There Yet?
Thank you for rating this movie!
Read your review below. Ratings will be added after 24 hours.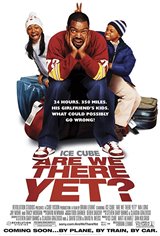 3.24 / 5
User Rating
Based on 1444 votes and 96 reviews
---
Please rate between 1 to 5 stars
Showing 1 to 50 of 96
January 27, 2014
This movie is an amazing experience.
August 05, 2006
Funny As Hell
April 12, 2006
i luv this movie im 9
February 16, 2006
I think Are we there yet? Was one of the most funniest movies I have ever seen.
January 13, 2006
i like this movie but the kids are bad i dont mean no harm but i would of beat there tail because that is not right how they did his car.
November 19, 2005
This movie was ok. The car was cool. Some parts were funny. I didn`t like it a lot, though.
August 01, 2005
i think this was awsome movie are we there yet rocks
June 28, 2005
I know this sounds stupid but I have a bet going with my husband on what airport and train station was used in the movie. Can you please help me I know I`m right. Thank You Tammy L., Portland Oregon Oh yea the move was Awesome!!!
June 13, 2005
i liked it very much, not only was it funny but also touching heart a bit! i like watchin kids movies, so it was nice :) i am a girl and i´ve got a lil bro who´s 2 years younger than me so we´re similar to the kids in this movie... haha
June 10, 2005
MOVIE ROCKS! People who like Hitch have to get a life!
June 08, 2005
This movie is soooooooooooo funni lol i love that movie... =) lol its da best movie i have ever seen! =P lol well g2g bye luvin this movie!!!
May 28, 2005
I think this movie was too mucc of a remake it`s been done before and it`s gottan boring besides that there were only a few parts that were relitivly funny and i think it was way to chessy little kids would love it though so this is just my opion I`d give it 2/5
May 23, 2005
Too much of a kids movie
May 20, 2005
i think this movie was sooooooo cheesy!
May 02, 2005
I love love love this movie. It`s romantic, enjoyable and it`s a great story line. It`s every thing a girl needs (out of a movie of course). I hope there will be a 2nd one !!!!!!!! From: Taylor M.
May 02, 2005
are we there yet is a wild halariuos movie.Familys will love this -jahvon
May 01, 2005
I think this movie was ok it could of been better though but i liked it and my friends thought it was okay but the best part of the movie was ice cube being in it !!!! ice cube rocks
April 01, 2005
This was one dumb movie, it was just a couple of bratty kids who were so annoying, ice cube was pretty cute though, other than that waste of money, we ended up walking out. P.S. Hitch was 10x`s better!
March 31, 2005
i thought it was the best movie ever, but my dad thought it was stupid as all get out.
March 29, 2005
i found the movie are we there yet funny and childish, it`s dramatic of little kids beating up uncle nick and uncle nick just has to love kids to belong in the family of 3 and now family of 4
March 28, 2005
this was a cute movie. the kids were funny and ice cube did a rather good job as well. it was a good family movie.
March 25, 2005
If you want to see this move then go ahead. It was mildly funny and had a good point. Only one comment: DO NOT PUT ALL OF THE FUNNY PARTS IN THE TRAILERS!!! If you do no one will like it. I sure did though!
March 19, 2005
This movie sounds god I know I`m late but I`m gonna see it now IT sound really good Can`t wait :o)
March 18, 2005
good movie really cute
March 17, 2005
I think ice cube is sexy hot bodilicious
March 14, 2005
this movie was off da hook yall should go and c it
March 13, 2005
This is a very bad movie but it does have a couple of good moments. I give it 2 stars
March 12, 2005
Best Action movie of the year! I never thought they`d make it! Good job!!! Can`t wait for a sequel. Are we there yet two :)
March 09, 2005
this was the stupidest move i have ever seen. thhhee whole entire movie there were in the car. it hurtss my headd bad
March 07, 2005
very funny!
March 05, 2005
This movie was pretty good. I wasn`t very keen on seeing it, but it was alright when I did. It was funny and the ending was okay. I`ve seen better but this would be a good movie to rent, not to see in theatres.
March 04, 2005
My 8 year old actually let out a whole hearted, right from the gut laugh. Kids laugh but not like this. I thought it was good, a little far fetched at times but what do you expect from a childs imagination. Good job.
March 02, 2005
All I could think was "Is this movie over yet?"
March 02, 2005
I thought it was alright i seen better movies even though there opld such as honey yeeaa wasnt to goood n kind of bored me!!!!!!!!!
March 02, 2005
Funnier than Hitch by a mile. At least all the funny parts are not in the previews.
February 28, 2005
I took my Daughter to "Are We There Yet", and the van next to us had small children in it. I think it could have been a good movie, but the script writers were "out to lunch." It was entirely inappropriate for children, and we left early as did others including the van next to us. It was a travesty to star those two super talented children in such a Chicken movie. They could have a great future, but to be cast in something this low class, so young, was a crime. The show stank!
February 27, 2005
This movie was frustrating to watch. ONLY a child would enjoy this film. Ice Cube, what have you gotten yourself into???
February 27, 2005
this show is awesome !!!!!!!!!!!!!!!!!!!!!!!!!!!!!!!!!!!!!!!!!!!!!!!!!!!!!!!!!!!!!!!!!!!!!!!!!!!!!!!!!!!!!!!!!!!!!!!!!!!!!!!!!!!!!!!!!!!!!!!!!!!!!!!!!!!!!!!!!!!!!!!!!!!!!!!!!!!!!!!!!!!!!!!!!!!!!!!!!!!!!!!!!!!!!!!!!!!!!!!!!!!!!!!!!!!!!!!!!!!!!!!!!!!!!!!!!!!!!!!!!!!!!!!!!!!!!!!!!!!!!!!!!!!!!!!!!!!!!!!!!!!!!!!!!!!!!!!!!!!!!!!!!!!!!!!!!!!!!!!!!!!!!!!!!!!!!!!!!!!!!!!!!!!!!!!!!!!!!
February 27, 2005
This show is one of the awesomes shows i have ever seen in my whole entire life LIFE I TELL YOU LIFE. This show is funny, cool, and lots of people watch it. If you people haven`t seen it well, what on earth are you waiting for ? go and watch it. C`mon people move it, move it your going to miss it and it is not my fault you are gonna miss it. You people are going to be SORRY if you don`t watch this show. C`mon move it you lazy dogs. So, what on earth are you waiting for go ahead and watch it !!!!! Oops, sorry about my language !!
February 26, 2005
It was da bomb!!!! #1 in Canada to me!!!!
February 26, 2005
Let`s say I`ll be nice in my comments: "No Comment!" too bad there is not a negative starr rating! I`d give it a minus 2 starrs!
February 26, 2005
For kids
February 22, 2005
that movie was the best even more then the son of the mask
February 20, 2005
it was excellent
February 20, 2005
i found the movie very funny. i would go see it many more times and i am for sure buying it when it comes out. it has to be one of the funniest movies i have ever seen. it is a good movie for all ages and funny so if u have not seen it go and see it. i think Nick (ice Cube) played his role good. seeing this movie will take you from a sad to a happy and laughable mood
February 20, 2005
THE MOVIE IS VERY FUNNY.
February 20, 2005
its the funniest movie i ever saw. om even going to see it again today its going to be the second time
February 17, 2005
A lot of good comments! More then "Hitch", Think I`ll see this movie.