Assassin's Creed - User Reviews
Thank you for rating this movie!
Read your review below. Ratings will be added after 24 hours.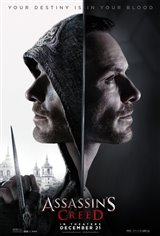 ---
Please rate movie 1 to 5 stars
Showing 1 to 29 of 29
March 24, 2017
Another shockingly good movie! I hesitated to watch it just because I wasn't sure it would be worthwhile. Fassbender is so diverse as an actor that he can truly make any character/film come to life. He and his fellow cast mates do an excellent job at making this wicked video game come to life. If you love action and sci-fi, you will enjoy this movie.
February 27, 2017
The year's best kept secret.
January 15, 2017
sheer waste of your time and money on Christian's theological garbage on this movie. It is no different from actual Christian's theology like, God the Father loves the killing the Son the Jesus for mercy and salvation, illogical believes and illogical movie.
January 13, 2017
Complete garbage. Stay away.
January 12, 2017
Action movie of the year.
January 08, 2017
Acting was good but the movie was garbage. I have played all Assassins creed games so I was very much looking forward for this movie. But i was very DISSAPPOINTED......
January 07, 2017
Very Good Movie. I read the reviews with people complaining and thought this won't be great but I wanted to see it as soon as saw the first trailer months ago. Forget the reviews, people always complain and as for the gamer's complaining the game is better etc well you cannot make them happy anyway. It is as entertaining as you expect a good action movie to be. Go see it and ignore the reviews. Myself and my wife went and we really enjoy it as it lived up to be the movie we expected it to be. Good action, great visuals, as always a great movie experience with great sound and big screen experience. I look forward to the next one.
January 07, 2017
If you liked the game you might not like this movie. The only good thing about the movie was explaining the true (?) origin if the Creed, but one can get that by a Google. The extra loud music helped drown out what little dialogue there was. SUGGESTION - Save your money.
January 06, 2017
I had limited knowledge of the game before watching the movie however the stunts were woundefully done. The actor portraying the main character did a very good job of it. My only qualm with the movie was getting use to the varying timelines.
January 06, 2017
Amazing movie! I only know a little bit about the games but I understood it and epic I'd go see it again.
January 05, 2017
Loved the game. Loved the movie. Great fun.
January 04, 2017
My 11 year old plays loves the video game so I took him and was pleasantly surprised that I actually enjoyed the show..can't wait for the sequel
January 04, 2017
Awesome showI must see.
January 03, 2017
Glad we went on Tuesday, wouldn't have paid full price. Cheaper than renting with Comcast, that's for sure.
January 02, 2017
The story is very weak and they could have written a fabulous story around the premises of the game.
January 02, 2017
The stunts were amazing and loved the adaptation of the video game t o movie.
January 02, 2017
Did some things that I like about it and some that I didn't, but overall, it was fine. Could have been better. Has huge potential for a really good sequel. I don't think I would bother paying to see this in theater though unless you're a big fan of the games. I recommend everyone to go into this NOT with the type of mindset like "Oh this is going to be exactly like the game and it's going to be flawless!" 2nd best game movie in my opinion. #1 still goes to Silent Hill. The critics who rate this are just f**king ignorant and still think that video games have no place in the film industry. This proves that they're wrong, not the best, but that's because of some things that they did wrong with it that could easily be fixed if given the chance and not effect the movie in anyway and would turn it into a 4 star movie.
January 02, 2017
My kid took me this movie and I thought it was so dumb, but I loved it.
January 02, 2017
Loved it.
January 01, 2017
A good action adventure movie. They blend the past and present in an interesting way. I really enjoyed the whole movie. Some of the acting was not as good perhaps but I was looking for the action of a game movie and I got what I wanted.
December 31, 2016
Great movie, lots of action and stunts, confusing toggling past and present mode with virtual reality.
December 30, 2016
Rocky Balboa was the perfect ending. Really wish they'd stop making these things.
December 29, 2016
Although the acting and effects were good. They barely overcame the almost non-existent story line. Overall... enjoyable to see. I would have waited for the DVD except for the 3d.
December 26, 2016
Well worth going too. Action sequences were very well done and how they brought past and present together. I recommend this movie.
December 24, 2016
Had tons and tons of potential to be a lot more, but it was a good movie overall and I did like that they used a lot of things from AC II (the best in my opinion). It has a lot of potential for a really really good sequel though. Overall I give it a 7/10.
December 22, 2016
Lots of action. I'm not sure if 3D was really needed though.
December 20, 2016
It's based on a video game so it's gotta be good.
December 16, 2016
Just like the video games. Was an amazing cinematic experience and I am sure to buy it once it comes out on DVD. I rate it almost as good as National Treasure but not quite as good. Definitely check out National Treasure 1 and 2!