Atomic Blonde
Thank you for rating this movie!
Read your review below. Ratings will be added after 24 hours.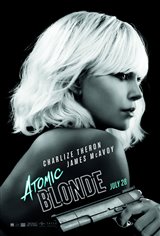 ---
Please rate between 1 to 5 stars
Showing 1 to 50 of 93
June 09, 2018
Very good movie.
May 10, 2018
This is not a movie with strong female character, this is soft fetish porn for submissive guys.
April 16, 2018
A surprisingly good movie that is perhaps a tad long, but is still a good spy cold war movie with fight choreography on par with the Bourne movies. Think if 'Hannah' had grown up.... Charlize Theron is brilliant as a triple-agent femme fatale who slaughters elite level spies left and right like lemmings, often in stiletto hooker boots and stockings. A good cast backs her up, and the pulsing 80's soundtrack make this a treat for the senses.
March 02, 2018
Silly like a newt after lobotomy. Charlize was cool in Mad Max, where she didn´t look like a cheap whore but like real kickass action heroine. This is exactly the opposite. Totally unbelievable even with consideration the genre. James Bond is over-the-top too but has some humour, so the cheesiness is enterntaining. This is just a cheap, stupid fetish porn with unlikable main character.
January 02, 2018
These endless 'women kicking ass' movies are getting tiresome. Not only are they totally unrealistic but many of them are nothing more than advertising for the cigarette companies. Sorry, no matter how hard this woman tries to look sexy smoking her brains out, it just doesn't work . bad movie, bad acting and bad story line.
December 03, 2017
This movie was terrible. Couldn't understand what was going on except the killing until the end. Movie Sucked.
December 02, 2017
the only thing that saved this movie was the 80s music. too much yip yapping that didn't move the plot along. fell asleep halfway in.
November 30, 2017
Way past its half-life Batman! I could only stay interested in the first hour because of the many clips of 80's music. A typical 'cloak and dagger/spy' flick. One hour in though, it picked up with a few pretty good fight sequences. The ending was supposed to be a shocker I think, but not really.
November 26, 2017
very good movie
October 17, 2017
Wait for it to come to TV. Not worth paying money for this one.
September 24, 2017
George Lucas was partly right with THX1138 - except that people WANT to buy violence and fantasy, there is no need for govt violence propaganda when so many people are willing to pay for it. At least better Bond films focused on a plot with good action, acting and techno - this movie spews violence and peddles lez porn just to seem hip & relevant as a poor substitute to actual plot and chrachter motives. what a waste of time & money...one star only becasue zero stars is not allowed
September 22, 2017
Excellent Jane Bond flick, awesome soundtrack, nice twist, good action. A fun romp. If you are looking for Shakespeare look elsewhere, if you love action escapism this is it.
September 10, 2017
Great popcorn flick!
September 09, 2017
Fantastic action movie with a great female lead too. Also, the soundtrack is so awesome. I hope they make more of these. I would watch them over the new James Bond movies any day
September 06, 2017
So out of character for Charlize Theron to make an action movie, but in a good way. She's the Bruce Lee of glam movie stars. Good story, riveting acting and non-stop violence. Wow! (and easy on the eyes) She's the female version of Tom Cruise. (without the nuttiness) Impressive achievement, l have a whole new respect for her.
September 06, 2017
Really enjoyed the plot. Lots of great action & good 👊👩fight scenes.
September 05, 2017
What a load of junk. I expect more from this cast!?
September 01, 2017
I enjoyed this - in spite of the negative reviews. Yes it was on the edge with some girl-on-girl (Shouldn't be an issue these days - right ?). Yes it had nudity and a lot of smoking scenes and yes it was very violent. But this was a hard core bond style action movie. You know, where the hero is indestructible and can take bullets and a beating and still kick butt and look good (ish) doing it. I agree the triple twisting dismount at the end was bewildering but it does open up to a series doesn't it?
August 30, 2017
This was my husbands pick and even he was disappointed and never really figured out the story line. As for me Charlize Theron is beautiful as ever, the shoes all through were spectacular but beyond that there was so much smoking I have to think it was sponsored by a cigarette company and very violent scenes after awhile I just shut down and started working on my to do list in my head....
August 28, 2017
I have to wonder who this spam guy is that puts all these movies as five star and goes overboard with the sales job. This is a niche film, not great not bad, but if you like this sort of thing you'll be happy, but if you're looking for a story, good acting, and a reason to remain seated, you're out of luck.
August 24, 2017
Relivin the MTV era a great action scene With Charlize Theron, Not over the top action realistic hand-to-hand combat with a good story behind ,love the eighties Setting !
August 23, 2017
Great actors & sound track.
August 22, 2017
Charlize Theron and Supporting cast are amazing. Lots of action. Amazing soundtrack and cinematography. <3
August 21, 2017
Movie was ok. Plot was confusing. Hard to follow but this is definitely better then the trash wonder women was. I would go see this over wonder women anyday of the week.
August 21, 2017
Thoroughly enjoyed this flick! Liked it so much I saw it again the next week. Excellent sound track, great locations in London & Berlin, non stop thrills, great action, with lots of twists!
August 20, 2017
Visually entertaining, great musical score, lots of intense action. Love the plot twists. Well done. Not my typical movie choice, but was thoroughly entertained - it was a rollercoaster ride from beginning to end. And, nice to see women in a such a gritty role. Yah!!
August 18, 2017
It's a stylish piece of porn that is suppose to uplift women because they can kick some ass but demeans them to perverted, grotesque cliche's who will use sex with men or women or dogs or whatever to win the day. Bad movie - bad!!!
August 18, 2017
And by "Trying to be men" you mean being the agent of their own destiny as opposed to being two dimensional fleshy eye candy for you to impose your manly narrative atop? Grow up. Woman are people. They speak, they have thoughts, and, sometimes they kick ass.
August 18, 2017
I don't get these comments..."women trying to be men"...? Anyway, it's an action movie, it's entertaining unless you are threatened by women...????
August 18, 2017
I agree another movie of women trying to be men. Lots of intense staring has replaced acting and talking. Hollywood has lost its direction.
August 16, 2017
Here we go again. Women trying to be men.
August 15, 2017
She is James Bond Hhheehhh Very powerful movie
August 14, 2017
Awesome! I had to see this movie a second time to tie up some questions I had. It was well worth it. And the music was terrific. I have a quiz question for you: Who ended up with "The List"? Was it MI-6, CIA, East Germans, West Germans, or Russians? You might want to watch it a second time. Well worth it.
August 12, 2017
I had a hard time to give it one star. Unrealistic, most of the movie was watching them drink vodka and smoking cigarettes, made me nausious! The movie was confusing and hard to follow the plot, fight scenes dumb. For example, a guy gets stabbed in the cheek with a set of keys, they get pulled out and no blood, a guy gets stabbed in the back of his shoulder with a big knife and he pulls it out, no blood. Come on now! I've seen many movies this year and this one is the worst by far! Don't waste your time or money going to see it.
August 12, 2017
Great action movie! Charlize Theron was amazing in it!
August 10, 2017
Twists out of a le Carre plot... great soundtrack... good action scenes... and you do need to pay attention to understand the ending
August 10, 2017
Really enjoyed this movie. Good story, great fight scenes and strong acting. Love John Wick you'll love this. Would see again and would definitely recommend.
August 10, 2017
MOVIE OF THE YEAR! girl on girl yes!
August 10, 2017
This is homage of great spy movies and John Wick-like action. Amazing sound track! Terrific action and fight sequences. Unforeseen plot twists. Truly depicts the feel and sights of Berlin at the fall of Communism and the toppling of the wall. Charlize Theron looks better than ever.
August 09, 2017
It isn't about paying attention. The script is terrible and hard to follow. It has a stupid ending. Don't listen to these people say you have to pay attention. It isn't worth your time and money.
August 09, 2017
Some good action and visuals, but the story construction was contrived and condescending.
August 09, 2017
Don't miss out by paying attention to the whiners who don't have the attention span to follow the Emoji Movie, much less an actual thriller. This movie captured the 80s perfectly, the soundtrack rocked, and the script, acting, and action were terrific! Go see this movie!!
August 09, 2017
Great movie and awesome soundtrack!! Have to pay attention to fully enjoy!
August 08, 2017
Excellent ! Enjoyed very much !I give 5 stars
August 08, 2017
Awesome. Loved the twists. Will have to see it again to get all the little clues. Definitely not a kids movie though. Listen to the 18A rating. Of you don't like seeing sex and violence don't go see it.
August 07, 2017
Lots of action. Great fight scenes.
August 07, 2017
Great movie. Great entertainment. My wife and I really enjoyed it. Being from that generation we loved the music. We read the reviews about it being hard to follow and honestly have no idea what people are talking about. Just a great action movie, Charlize Theron is fantastic in an action movie. She sold me. Wow she did a great job. As for James McAvoy he was very entertaining and made for a great movie. Don't be fooled by some reviews. It is a good action movie, like John Wick but obviously different. You won't be disappointed. 5 stars
August 06, 2017
Ugly movie, ugly story, ugly fight scenes. As a whole, good movie. Short period in the middle it kinda loses it's momentum, but it really picks up again and ends well. Kinda like John Wick movies but with a better script. If you don't mind extreme violence in movies, it's worth seeing.
August 06, 2017
Great movie. Great entertainment. A top action flick of 2017. Funny to read the other reviews. Honestly not hard to follow, of course not everything is laid out like your typical children's movie... some folks should just stick to Pixar...
August 06, 2017
The only thing good about this movie was the music.