Avengers: Infinity War - User Reviews
Thank you for rating this movie!
Read your review below. Ratings will be added after 24 hours.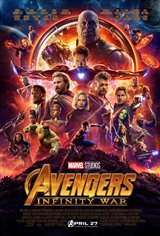 4.02 / 5
User Rating
Based on 1580 votes and 209 reviews
---
Please rate movie 1 to 5 stars
Showing 1 to 50 of 209
September 25, 2018
I loved it an explosion of action and laughs it is my favorite movie ever best movie in cinama
August 27, 2018
Great movie watched it back to back and loved it
August 26, 2018
best movie Ive ever seen. The adventure of all my favorite superheros will stay in my heart for a lifetine
August 20, 2018
Best of the Best! Seriously the juggling act of all the stars and giving them great lines and amazing scenes in the visual spectacle that is Avengers. 10yrs of waiting was completely worth it! Finally a villain with complete indifference to life and you felt he was actually able to succeed in his destiny and you actually believe that he believes what he is doing is right! Killmonger came the closest in his belief and resolve to make it happen, but Thanos, even though he's CGI, you forget about it and start to see his side!
August 12, 2018
some missing words in my review before, but all in all be a superhero fan not just a marvel or a dc fan and dont make negative reviews because your a fan of other superhero company
August 12, 2018
saw it for the fifth time with a friend it being his first time and like it that much more, it hard to say anymore because i put a review before talking about the movie, but it like no other super movie out their as the effects are off the charts, this would the second movie i saw five times on the big screen that and wonder women, and would of saw Avengers: Infinity War only four times but i want my friend to see it and glad i did
July 26, 2018
I am a huge Marvel fan, I loved the movie, Even tho Thanos is killed Loki, Vision, etc. I Want to see Avengers 4. The people who say the dislike this movie, then why did u even see the movie? Or they're D/C fans, Haters, your lucky that all the All the Marvel fans didn't see this or they (including me) will kick your butt! I am and always will be a Marvel fan 😍 #Marvelfanforever
July 10, 2018
I am a big fan of the MCU and I really liked this movie. Despite it's run time the film doesn't seem to drag on at all. The pacing is good, the action is good, Thanos was portrayed very well and the ending sets up what should be another excellent film with Avengers 4. Absolutely worth seeing if you are a fan of any of the other Marvel films.
July 07, 2018
Good story line,and action throughout the entire movie
July 02, 2018
amazingggggg
June 27, 2018
This movie was fantastic. It was so good I have seen it 3 times but the ending is disappointing but I can get past that. I would recommend this to anyone whether you are a dc fan or marvel fan. This was definitely way better then the other avengers and DeadPool 2. Go see this over DeadPool and then go see it later
June 26, 2018
The only people rating this movie bad are D/C fans because Marvels making look so bad its enough for them to cry. An outstanding movie, full of action and a great set up for the next movie in 2019. Its OK Justice league fans maybe they will hire some real writers and figure it in about ten years. Just don"t pretend this movie was bad.
June 25, 2018
I loved the movie, just the outcome makes me sad. I won't give away anything but many will be missed.
June 24, 2018
THREE TIMES A CHARM saw the avengers that right 3 times and loved it that much more, the only beef i would saw is how cheesy the ending was with Thanos and him waking a pool of water rather than that is full of action and good fighting scene, and the plot is pretty decent as it might be hard to watch for some with it being darker, i think that why a few people get it a low rating, for me i like Avengers: Infinity War for being different that any other super hero movie i have seen, and looking forward for the second part of this, but the one thing that strike me funny is 3/4 of the people left as their is a scene right after the credits at the very end, if u go see it dont leave until you see that clip
June 20, 2018
liked movie lot of action ending was in question
June 14, 2018
Loved this movie from the moment it starded to the end of it!!!! Fav part.....drax...why is gamora!!!!...😂😂😂
June 13, 2018
Why'd the f**k did they kill off all the heroes with one villain?! It ain't like Thanos is a god.
June 10, 2018
Lots of action, many Marvel characters together as 1
June 10, 2018
Great for half a movie. I Don't know why we have to wait a year to see the conclusion of the movie. Especially when it was filmed all at the same time. Maybe Christmas would have been a good time to show the second half.
June 09, 2018
Saw it this afternoon very good what I expected from an avengers movie
June 09, 2018
Excellent movie.
June 08, 2018
Did not live up to its expectations. :(
June 03, 2018
Excellent movie.
May 27, 2018
Excellent movie...I really enjoyed it. The ending leaves you hanging till the next movie.
May 26, 2018
Really enjoyed the movie - I have not seen any other avenger movies so first 30 minutes did not make sense to me but after that they new story line started coming together.
May 26, 2018
It was great
May 26, 2018
This movie was amazing. Im not a huge Marvel fan but this is by far the best marvel/DC movie out there.
May 26, 2018
This movie rating is totally inaccurate. 14.75% of people actually gave this a 1/5? What a joke, as this was on of the best movies I've seen in years. I feel some people just enjoy bashing popular opinions and being negative in society.
May 25, 2018
Thanos was bad ass and looked awesome. Really impressed with the cgi used, and amazing fight scenes/action sequences as usual. It sucks that the Russo bro's are done after Infinty War, but maybe they'll sign on to do more films. I could've sat through another 2 hrs of this movie, and feel they did an amazing job with all the characters used throughout.
May 24, 2018
Great movie! I can't believe people are actually giving this bad reviews. Do you not like a movie which provides great characters, action and humour? Maybe some of you need to watch the prior films to understand this whole storyline was leading up to this, and that they were all pretty much seperated before or after Civil War. Marvel does an awesome job again!
May 24, 2018
This one wasn't as great as the other Avengers movies. This one had way too many characters and even more villainous characters/creatures. I liked how in the other Avengers movies, they all worked together as one team and you felt that solidarity of the whole group working together in unison.
May 23, 2018
I can't to watch the sequel.
May 23, 2018
Visually, actually very dark. I thought something was wrong at first. Cinematically and story telling, wtf are you doing. Go watch the first Avengers and take notes. It did have action. It had Marvel characters. It wasted a lot of screen time and opportunities to impress.
May 22, 2018
This movie was an action pack movie.
May 21, 2018
The person that posted the same review twice and gave the movie 2 stars is an idiot. What does he/she know. He/she may work with special effects but has he actually done a real movie. This movie was AMAZING!!!! Every second of the movie was pure awesomeness. The action, adventure, drama, and romance was amazingly planned out. Awesome movie!!!!!
May 20, 2018
I am a special effects junkie so it is hard to disappoint me especially since I went to the 3-D version. The film was very dark. Poor quality film lighting. The 3D glasses made it even darker due to tint. The 3D was pathetic. Years ago 3D meant you were involuntarily ducking when things flew toward you and looked like you could reach out and touch. The real thing. Won't be bothering with 3D again. The story line was very dark with a very dark ending. The audio was poor. Lots of fast mumbling made even worse by those with accents. Couldn't discern over 50% of what was being said. Some "witty" lines attempted here and there but not well delivered.....mumbled. I gave it two stars for good effects and the hilarious leftist philosophy of Thanos ...control and destroy the population by any means in order to save the elites and the cockroaches from extinction....Had my eyes rolling and worth a few sardonic chuckles. This theatre has the best popcorn.....will give that a five star.
May 19, 2018
Good film, but is long, and needs an intermission, for bodily function relief (like opera),
May 18, 2018
This movie was unique. Funny and sad at the same time.
May 18, 2018
Don't really get what all the hype is about. Considering how long they have been hyping up Thanos, he has a completely nonsensical motivation and plan, leaving him as one of the lamest villains in a Marvel movie yet. The movie tries to be dark and serious, which only makes all the gags and jokes seem forced and very out of place. The plot is weak, mainly due to the poor villain and there being way too many characters. There is a giant plot hole involving the villain's main motivation when you consider what the infinity stones can do. The only good thing would be the action scenes, at least they are well done.
May 17, 2018
Amazing movie on IMAX.
May 17, 2018
I saw this twice and definitely worth it. The ending is still terrible. Definitely know how the next one is going to play out. They will take out Thanos and get back the other characters that he took out. This should have ended during the first movie not the second
May 16, 2018
This movie is absolutely amazing. Hands down best marvel movie yet.
May 16, 2018
This movie was super fun to watch.
May 16, 2018
Pure entertainment with deep star power. If you follow the Marvel Studio movies at all, you will appreciate the immense imagination and creativity of this movie. For a long film, time passed very quickly. Every scene was action packed and in many cases "amazing." Knowing a little bit about the characters is helpful. The sound was a tad low during character dialogue, otherwise, a winner all around.
May 15, 2018
It was full of action, laughter and sadness. I saw it twice.
May 15, 2018
Captain America changed a lot in this movie, I did not recognize him so much until he talked. This movie was fantastic.
May 15, 2018
I don't know who or how they are going to stop him but the sequel is going to need Superman to save the world.
May 15, 2018
I am sure our superheroes will back.