Babel - User Reviews
Thank you for rating this movie!
Read your review below. Ratings will be added after 24 hours.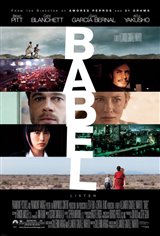 3.65 / 5
User Rating
Based on 2260 votes and 128 reviews
---
Please rate movie 1 to 5 stars
Showing 1 to 50 of 128
January 18, 2009
It needs concentration but shows how tiny innocent events separated by thousands of miles has consequences. It is dark but life is not all sweetness light.
May 25, 2007
Tributefan: Well, the story tells everyone what's going on in the other world around us. This are the reality what some people had go through in their life. Some parts were disturbing. And they really needed to put some subtitles cause almost half of the movie was not in english. They didn't also need make the movie that long. 3.0 / 5 stars
May 19, 2007
really negative story. it is pretty slow for this kind of a movie.
May 15, 2007
One of the most intense and heart-grasping of films I have ever seen. Quite possibly the greatest movie ever made.
March 17, 2007
The was "T.H.E. ABSOLUTE WORST" Movie I have EVER seen. I think you`ve hit rock bottom Brad and my guess would be thanks to Angelina. You not only went way down on the scale in your choice of women...you`re ability to get good movies has obviously suffered. I will think twice before I ever see a movie with you in it again. Shame on the producers of this movie too! It was just horrible.
March 09, 2007
Nice movie...
March 06, 2007
Not worthed 2:30 hrs of my time .If I want to see some thing that boring , I`ll watch TV . A ral waist of money / time / energy . Action is slow , confusing with limited interest .
March 03, 2007
I found it had some good points but over all I didn`t like it .
March 02, 2007
Great that someone worked so hard & the results were EXCELLENT...Hollywood has a huge influence on many....would like to see a lot more movies with positive msg. for all ages, especially the youth...Brad Pitt as usual outdid himself.
February 28, 2007
interesting movie - although I will a bit dissapointed after all the hype. The movie is well acted adn directed, but not nearly as good as Amoros Perros - the director`s previous movie.
February 23, 2007
ok movie. Brad Pitt was not a major character as the oscar nod leads us to believe. Even his acting was average, nothing extraordinary. Now I saw the movie once...... and it was certainly enough. Will never become a classic.
February 22, 2007
Amazing and so well done! Rivetting from beginning to end. All the actors were fantastic, and culturally, it was very interesting! I want to see the movie again, reminds me somewhat of the movie "Traffic", with a different storyline...
February 19, 2007
Amazing!!
February 17, 2007
Although I didn`t think this movie was any good AT ALL, there were a few scenes that I thought were brilliant. For example, the MM scene was culturally delicate, yet strangely erotic. I`ve already booked a flight for Morroco. Bring on the boys!!!
February 14, 2007
I found this movie to be dark and disturbing.
February 13, 2007
I found it to be quite interesting. The actors worked really well, especially the foreign ones. Cate Blanchett is always a great actress. Brad Pitt is surprisingly good in this movie. It becomes a bit boring in the middle, but it goes back to normal after a while. A must-see!
February 10, 2007
Absolutely great movie. Intense from the beginning to the end!
February 01, 2007
What a great movie!!! Not your typical Hollywood craps! Finally someone put their heart in their work instead of thinking solely about box office!
January 31, 2007
It caught me the attention from the beginning to the end. People from 4 nations (American, Mexican, Japanese and Moroccan) are going to be connected by one event. The language is going to take place in the story. It is an opportunity to know more about these 4 different cultures. Don`t expect a final message. Basically It is an intense and very entertaining movie.
January 31, 2007
wast of time this movie is so bad over half of the theater got there money back don`t wast your time.
January 27, 2007
great movie Brad Pitt is great in this movie -Gaylene Smith
January 26, 2007
i like the movie and actre
January 26, 2007
When one knows what Babel means in bible story, it is understandable that we were in a Babel like situation in that movie. Excellent performance by the local actors (I think they are locals). Great movie. The lady babitter was so real.
January 24, 2007
Abslutely loved the movie! Very thought provoking, a need to know what happens next to all the characters.
January 23, 2007
Once again, films that are nominated or actually win oscars are at best questionable. Don`t waste your money on Babble. The connection in this film is: dumb people.
January 22, 2007
I can see what he was trying to do but it was just dumb. My leg fell asleep and i wished i was my leg.
January 21, 2007
should be spelled babble i really regretted being the third couple to walkout on it
January 20, 2007
Una buena película.
January 17, 2007
excellent from start to finish!!!!!!!!!!!!!!!!!!!!!!!
January 03, 2007
If you hated the film, you missed the whole point. Some scenes were unecessarily long and could have been trimmed to make it a tighter story and the plot could have been a little cleaner - but still an excellant commentary on issues relevant to the world today. Even simpler, it shows perfect strangers are connected, especially in the global world we live in.
December 26, 2006
Absolutely the worse movie I have seen. Boring, dragging, disconnected and too long.
December 26, 2006
OK ALL THESE THING ABOUT CONNECTION AND ALL, I AGREE IT IS REALLY DEEP BUT IT WAS NOT PROTRAYED CORRECTLY AT ALL IN THIS MOVIE. FOR THAT, GO SEE CRASH!!!! I FOUND IT UNMEANINGFUL. GO SEE BLOOD DIAMOND AND PERSUIT OF HAPPINESS PEOPLE, WAY BETTER MOVIES!!!
December 23, 2006
If you want, go and see the movie as some people like it! To me, it is ridiculous to make a film which ONLY shows people, regardless of their age, who always make the most stupid mistakes that turn catastrophic! I know there is stupidity in the world, but I`m sure it`s not the whole world...and I don`t even get to the biased view the movie has.
December 21, 2006
Extraordinary! It makes us think of the global issues surrounding us and get to the root of it. This film has a lot of substance.
December 19, 2006
it was realy realy good. You have to be mindless, if you think it`s boring.
December 19, 2006
BORING!!
December 13, 2006
only thing that`s worth mentioning about this movie is that it helps the audience realize some of the "problems" people face around the world. And that people`s emotions are the same when challenged by troubles but the quality of problems vary day and night. And the key to all these problems lies with the quality of communication, despite all the languages and the means to communicate, people do not communicate with heart but just words that fades behind close doors. But if you don`t already know this problem exist in our societies, then chances are, this movie really sucked; however, if you have already realized this issue, then this movi
December 11, 2006
GREAT ...GREAT MOVIE!!!! INTENSE !! IT MAKES YOU UNDERSTAND HOW WE ARE CONNECTED IN THIS WORLD AND WHY WE ARE "SPECIFICALLY CONNECTED IN "A" CERTAIN WAY" (feelings, behaviour, communication, rules, love, patterns etc...every aspect of life! is in this movie and very well put together by the director!)...VERY DEEP!
December 06, 2006
Great movie! Really makes you think.
December 04, 2006
A waste of time, and a waste of money. Talk about a disjointed fiasco! The worst movie I have ever seen, next to "The Making of an American Quilt"! A waste of the talents of Pitt and Blanchett. I am left with only one thought... "What were they thinking!!!" The film was unnecessarily violent, and the editing so bad that it was hard to follow. Were it not for the actual visual differences, such as Hispanics (and lots of Mexican flags), and the Asians (lots of Japanese), and the Arabic language (desert scenes), one would be t
December 01, 2006
Intense, gripping, plausible and a movie that accidently promotes gun control and legal immigration in the USA. Pitt was good but not an Oscar worthy performance. The Kids stole the show.
November 30, 2006
Interesting from start to finish...great!
November 28, 2006
We found the movie violent (hard to watch at times) but intriguing, however, it left us with questions. For instance, how did the deaf Japanese girl fit in? What was in the letter that she gave to the policeman? Did the Japanese girl`s mother shoot herself with the same gun? Would love to hear your views.
November 27, 2006
GENIUS! Never fails to amaze me.
November 26, 2006
Very good movie. I loved it.
November 24, 2006
I am thrilled to see that I am not the only one who thought this movie was a JOKE. Wrenching pain and suffering, with scenes I couldn`t even watch...who needs this? Why did Brad and Cate fall in love again only after she was peeing in a pan??????????????
November 24, 2006
Pretty bad. All 4 of us wanted to leave after 30 min. We stayed but all agreed that it was a waste of tme. I wouldn`t even advise renting it.
November 24, 2006
well it really suited it`s name i could say, bable on about nothing at times....I could have spent my money else were if i knew it was going to be boaring movie.....