Bad Moms - User Reviews
Thank you for rating this movie!
Read your review below. Ratings will be added after 24 hours.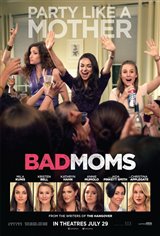 ---
Please rate movie 1 to 5 stars
Showing 1 to 49 of 49
January 20, 2019
Mila Jovovich has really changed, hardly recognized her!
January 20, 2019
Thank you! :) As a crazy busy hockey mom to a 7 yr old, I needed a laugh & would love to do what those bad moms did in the movie.
November 15, 2017
FUNNY MOVIE
November 12, 2016
Was a pretty good movie, but would have been better without the use of the word "f-----g" 50,000 times! Really turned me off!
November 05, 2016
Liked the story and funny enough but Kathryn Hahn's character was far too vulgar and crude, which spoiled the movie. Also, too much unnecessary sexual content. Could have been a much better movie. What a contrast to The Light Between Oceans which I saw earlier in the week. A beautiful film without the filth of Bad Moms. Think twice before seeing a movie titled Bad, such as Bad Teacher or Bad Grampa as well as Bad Moms unless you like bad language or crude sexual references.
October 21, 2016
This was so goddamn f*cken funny i could stop laughing A+
October 17, 2016
I thought this movie was going to be ok after watching the trailer. This movie proved me wrong. It was funny and good. The cast was ok.
October 07, 2016
Eh - not great, was expecting it to be funnier
September 10, 2016
Stay home and watch a rerun of Modern Family...you will have a much better evening than seeing this movie!!!
September 05, 2016
Not funny in any way. Just plain silly. Too much sex talk that lost its humour quickly.
September 05, 2016
This movie surprised and delighted! Bound to become a comedy classic, Bad Moms is well-written, laugh-out-loud funny and has become one of my comedy favourites! Mila Kunis is great, and the supporting actresses are all hilarious together. A lot of funny one-liners that had me in stitches. It is somewhat vulgar, but watching with your girlfriends, it becomes even more funny. A must see for 2016 summer laughs.
September 04, 2016
I am a mom and. Grandma, I loved the movie! Too much swearing but not anymore than a lot of other movies. Very funny script! Must watch for all moms..and dads
September 03, 2016
This movie is hilarious. My friend and I laughed the whole time. Great movie about friendships and the struggle of real moms today. Good girls night out movie for friends that are moms.
September 02, 2016
Fantastic night out! The whole audience was laughing with us non-stop! A must see for any mom!
August 30, 2016
As a single mom i can totally relate lol
August 29, 2016
Didn't appreciate the vulgar language, the nudity and the disrespect toward men. I think they could've done better. Not my bag.
August 28, 2016
ABSOLUTELY HYSTERICAL. I saw this movie with a childhood friend and our adult daughters (we are 44 years old and our kids are 19). We laughed the entire time. YES, it will offend you if you are easily embarrassed by sexual humor or can't handle the word f@%k, and I myself was actually shocked at how many times the word was used. But I have to say that we found it highly entertaining and definitely left the theatre happy. If you need to laugh at the stress of modern day parenting, WATCH THIS MOVIE!!!!! (Only bring your kids if they are adults).
August 27, 2016
Could have been a good movie, but was terrible waste of a good cast. The point could have been much better (and just as funny) without gratuitous swearing, vulgarity and nudity. Big disappointment. One star (only because a vote is required
August 21, 2016
If you enjoy vulgarity and raunchy humor-- you will like this! I don't.
August 18, 2016
I am a male and i saw BAD MOMS with another buddy. Movie was sold out and there was a small handful of males in the theatre. BAD MOMS was funny, but the highlight was viewing the movie in a theatre full of mostly females that let go of their 'prim and proper' inhibitions go 15 minutes into the movie. Wow, the FEMALE AUDIENCE became roudy and loud with jeers and laughter, that viewing BAD MOMS became a Raucously Fun Experience One other occasion did i experience an audience genuinely get into a movie, and that was a midnight viewing of Terminator 2 back in 1991. Now, I have another rare viwing experience with a mostly FEMALE audience, that my 2016 BAD MOMS viewing experience surpasses my 1991 T2 viewing experience. it was a good summer movie [with GREAT viewing audience] that gave me an excellent night at the movies.
August 16, 2016
HILARIOUS!!! I went with two of my sons & my husband, we all laughed our a _ _ es off ... through out the entire movie!!! (vulgar shmulgar...c'mon?!!) Well done!!!
August 16, 2016
It was hilarious
August 16, 2016
Loved the humour! From one spectrum to the other - all moms of that generation can relate. Makes you want to go to the grocery store ;) Girls - and moms - also want to have fun..
August 14, 2016
As others have said, there was way too much vulgarity! It was a cute storyline that I'm sure many moms can relate to & it may have actually been a good movie without all the raunchiness & swearing every minute. Definitely not suitable for teenagers! I'm a 40+ mom and can handle an occasional F-bomb, but this was ridiculous! I'm just glad I didn't ask anyone to come with me & that I had a free ticket to see this movie! On a positive note, I enjoyed the acting by Mila Kunis & Christina Applegate.
August 11, 2016
One of the worst movies I have seen in my life. I am almost 57. Too much vulgarity, empty humour and a waste of my money. The trailers were misleading, showed little of what the movie is about.
August 11, 2016
absolutely loved it...laughed hard the entire time. Agree shouldn't be 14 A. If you are on a girls night with other moms...come to this movie
August 10, 2016
Very funny! The whole theater was laughing. If you have a sense of humour, you will like this :)
August 09, 2016
absolutely bloody awful - not one single laugh - maybe a mediocre harrumph once - stay away - don't even bother with the rental - you will be disappointed.
August 09, 2016
Saw this last night and it made me laugh...isn't that what we all need in this stressfull world we live in
August 09, 2016
Stick your finger in a light socket...a lot funnier and likely a bit less swearing...save your money...AVOID
August 09, 2016
If you are into a lot of swearing and poor acting...see this movie
August 08, 2016
Funny parts to the movie but quite predictable overall. Martha Stewart cameo was the funniest part of the movie. However this movie is most definitely NOT suitable for kids under 18. I don't know who nowadays decides movie ratings but this movie should be rated 18+, the language and certain topics are not suitable for young teens!
August 07, 2016
Boring. Nothing new. Save your time and money.
August 06, 2016
People have commented that it was the funniest movie ever, honestly, they don't get out very much. Total waste of time. A teenager could have written the script. Unnecessary language and innuendos. They let young teens into this movie and they don't really need to know this much at such a young age. Totally inappropriate for anyone under 18.
August 05, 2016
Thought this movie was hilarious. Funniest I have seen in a long time. Come on people you had to know it was going to have bad language & be pretty crude based on the trailer. Loved it!
August 05, 2016
I thought it would be better considering who was in it.
August 05, 2016
Totally hilarious! Definitely not intended for anyone under the age of 18 or those offended by explicit sexual language.
August 04, 2016
Not sure why there are so many negative reviews. Have talked to many who thought the movie was very funny. I thought it was great!
August 04, 2016
This movie was a pleasant surprise! Very funny yet had a lot to say about how children are being raised today! Nice night out with my daughter of twin girls!
August 03, 2016
They should pay You to see this...even then a total waste of time...no need for the language
August 02, 2016
Super funny
July 31, 2016
Very predictable storyline. Language was awful and totally unnecessary.
July 31, 2016
Not clever comedy, just a bunch of women who seem unbelievable in their roles as mothers trying to shock the audience with vulgar raunch. Waste of time, waste of money, waste of talent!
July 31, 2016
A real letdown after Independence Day: Resurgence. 0.5/5
July 31, 2016
Laughed out loud for entire 101 minutes Smart, funny, sensitive, current, relevant. Every couple w kids will love this film. Best movie I've seen all summer!
July 30, 2016
Loved it . Funny, funny
July 30, 2016
Hilarious movie. A must see foe moms
July 22, 2016
Saw a preview tonight and laughed so hard I cried!! There were some extremely funny scenes and a theater full of moms clapped during some scenes. It was just as funny as Bridesmaids! Lots of profanity and stuff that was hilariously inappropriate. Loved it! All of the leads were funny and held heir own. Maybe Mila Kunis will get ore comedy roles after this-- she was perfect !