Bad Santa 2 - User Reviews
Thank you for rating this movie!
Read your review below. Ratings will be added after 24 hours.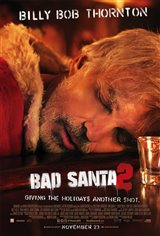 ---
Please rate movie 1 to 5 stars
Showing 1 to 14 of 14
February 25, 2017
Hilarious, Billy Bob is a great actor. OK it's vulgar but hey, it's comedy and it's funny, viewer discretion advised.
December 17, 2016
Adult movie, obscene and taught but very funny if you can stand the dark comedy genre.
December 11, 2016
You will either love it or hate it. No mlddle ground here.
December 06, 2016
it was vulgar and disgusting but hilarious and believe it or not it had a warm and mushy side. If you haven't seen the first one ,you will be totally taken back and some what shocked by the language and the sex. I can't wait for Bad Santa 3.
December 04, 2016
Was the most disgusting and vulgar movie I've ever gone to see. I'll bet every dollar I have that they set a record for cursing in this movie. Dropped the f bomb alone probably 500 times. The actors literally couldn't say two words without injecting some type of vulgar language. Total waste of money.
December 03, 2016
Didn't see the first one, but super disappointed in this one. Parts of the story line didn't make sense, or connect. Other parts were totally disgusting and vulgar. Didn't even find it funny, as was so turned off.
December 03, 2016
Saw the first one and liked it. t his one sucked
December 03, 2016
Never the first. But hilarious, worth checking out! BBT never dissapoints!
November 29, 2016
Laughed till I could not breathe.
November 28, 2016
Watched 5 minutes on line...Total waste of time...
November 27, 2016
Just another sequel failure. Did the actors not read the script before they signed up?
November 26, 2016
it is good
November 26, 2016
Just as funny as the first one if not funnier ????
November 15, 2016
Liked the first one was good