Bad Santa - User Reviews
Thank you for rating this movie!
Read your review below. Ratings will be added after 24 hours.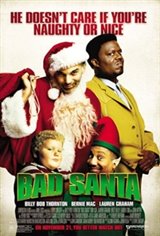 4.18 / 5
User Rating
Based on 3082 votes and 59 reviews
---
Please rate movie 1 to 5 stars
Showing 1 to 50 of 59
May 30, 2006
Rubbish- not funny, not interesting, not well acted, --- painful to watch.
February 08, 2006
Bad Santa is, with no doubt, the best Christmas movie ever made, or, at least, seen by me. And I can asure you I`ve seen quite a few, not that I find particular interest in them, but I watch a lot of films on every subject. Billy Bob Thornton`s performance is outstanding; Brett Kelly has got a future; as a mather of fact, the whole cast is excellent. It is a great comedy to watch, especially for teen-agers and adults, not quite suitable for young children.
January 21, 2006
Best santa-movie ever ....
March 14, 2005
this is the worst comedy i`ve seen. very disgusting too much swearing and it is just not funny. it might have just been the unrated version that was perverted but i am sure the normal bad santa was just as gross. i agree with some1 elses comment they said i`d give it no stars.well i would give it no stars as well
March 10, 2005
it was wonderful, u could have added more parts of the tall, cute, blond boy!!!!!!! He is soooooooooo cooooooooooooooooooooooooooooool, r there backgrounds of him?????? But the movie was fabulous and very, very funny indeed!!!
December 25, 2004
I couldn`t finish watching it- it was so stupid and crass- people that think its funny? I question the validity of their critiques- were they written by someone that was in the movie? Someone that wanted to fool you into watching and paying for this drivel?? Don`t bother- the laughs are way,way,way, too few and far between to make this an entertaining movie. Billy Bob was typecast...disgusting, foul...and what was the point? Yeccch-I would truly give it NO STARS-for NO entertainment value. DON`T waste your $.
December 24, 2004
This is the worst film I have ever seen. The humour is pathetic, the maker evidently thought that foul language equals laughs - no redeeming features, a waste of money.
September 15, 2004
Bad Santa the Video game
August 28, 2004
funny movie.great actors, hope it insipres sequel
June 05, 2004
I am so confused at where exactly the writers discovered these jokes but I must say I am very happy for whatever torment they suffered that made them so deranged because the movie was unbelievably funny, the funniest I have ever seen.
May 16, 2004
THE 3 B`s AWESOME MOVIE
April 10, 2004
this movie was so damn funny billy bob is the most cracked out person ever he was perfect for this role
February 11, 2004
Bring on "Bad Santa 2," and it will set box office records. For those who were offended by the movie, remember this line from the movies character, Marcus: "It`s a joke. An adult joke. You know for adults." Well, this movie is for adults who like jokes. I`m writing this in February 2004, and I`m still trying to buy the movie on DVD. Does anyone know where I can buy several copies! Five stars, cast and crew!
January 23, 2004
One of the best American-made films I have seen in a long time! I just about bust a gut laughing as I left the theatre. My wife thought I had totally gone off the deep end; I couldn`t stop laughing. BRILLIANT!!!
January 16, 2004
BORING!!!!!!!!!!!!!!!!!!!!!!!!!!!!!!!!!!!!!!!!!!!!!!!!!!!!!!!!!
January 16, 2004
I could not stop laughing at the wierd jokes and hijinks used by BBT & (LATE) John Ritter.
January 09, 2004
My God! This is the best holiday film in the history of film. The `F` word was invented for films like this. It needed Snoop Dogg though.
January 06, 2004
great comedy, one liners that never end, just make sure you are going with very open mind and be ready to laugh. BBT was wonderful as washed up Santa - oh those poor kids
January 05, 2004
Go in with the right frame of mind (don`t be looking for "values" and all that) and this is one of the funniest movies ever. This is a very dry, dark kind of humour. The fact that his behaviour would normally be considered offensive and wrong is supposed to be the punchline. Lighten up peeps... it`s supposed to be taken with a grain of salt.
January 03, 2004
Huge amount of foul language used in odd places... in other words... one of the funniest movies of the year.
January 02, 2004
DISGUSTING! If I don`t like a movie I will bear with it to the end, but this is the first time I have ever left a movie and asked for my money back.
December 31, 2003
Good Movie. It had its laughs. Go watch it.
December 30, 2003
i thought it was funny and good i likes it alot.
December 19, 2003
A movie for adults that finally trumped Christmas Vacation. I laughed through it start to finish.It is definitely on my buy list.It helps to have a bit of a pessismistic/dirty sense of humour.Not for the Prudes.Great supporting cast as well.
December 18, 2003
It`s totally lame.
December 17, 2003
Bad Santa was the foulest most disgusting movie Ive seen in a while and Im recomending it to EVERYONE!
December 16, 2003
a piece of junk!
December 16, 2003
This is the best Christmas movie ever!
December 13, 2003
Different, but definitely worthwhile. I would recommend to friends who have a good sense of humour.
December 13, 2003
Bad Santa is a funny dark comedy and should be marketed as such, so that people know what to expect. This movie was rather shocking, but if you are not put off by rancid crudeness, it was one of the funniest movies I have seen in years.
December 12, 2003
This movie is great. I can`t believe that this gem slipped through the scensors. Who ever let it through deserves a medal. Thank you. I also can`t believe that anyone who went to this movie knowing about it`s content would find it to be a bad movie. If you don`t like this Kind of movie, don`t go to see this kind of movie. Did you even see the previews or television commercials? I guess not.
December 12, 2003
best movie ever
December 12, 2003
This is one of the funniest movies you will have a chance to see in your lifetime so what you waiting for get to the theatre quick!
December 12, 2003
How dare anyone compare Bad Santa to It`s a Wonderful Life??? The later is a classic that has values of all kinds in it that Bad Santa ripped apart. I love comedies but this one was just plain sick! `The` 4 letter word that kept being thrown at the kid should not even be allowed by the sensor board! Who`s not doing their jobs?!!! We only stayed because it had to get better right? Wrong! Waste of money!
December 11, 2003
wow...great movie.......funny as hell......not recommend for children...but for adults and teens go ahead...go wit friends...great stuff really....9 out of 10..must c ....story is weak but the comedy makes up for it...
December 11, 2003
This movie is the worst ever. It puts a damper on your holiday spirit. Not even that funny... he would be better off doing a movie with a smaller part! This movie should not be one you waste your money on. I would never see it again. What garbage and a terrible waste of holiday time, money and film!!! Don`t see it!
December 11, 2003
Bad Santa is my favorite christmas movie of all time. It is right up there with "A Christmas Story" and "It`s A Wonderful Life." An absolutely brilliant movie. I never stopped laughing. Anyone who says it is bad, need to learn to appreciate humor!!!!
December 10, 2003
Come on - a Santa that gets so drunk that he pees himself - twice!!! What kind of garbage is that?????? Swearing up a streak at a kid to boot? - what`s so funny about that! Terrible movie! Couldn`t pay me to watch it again!!!
December 08, 2003
As long as you know going in that it is sick and wrong in just about every way possible, you will not stop laughing until an usher pulls your empty popcorn tub from your fingers.
December 08, 2003
This movie is GD hilarious. I almost busted a gut. Billy Bob is an awesome angry santa. This movie has it all. solid holiday flick, good story, tonnes of laffs!!!!
December 08, 2003
Funny, with a couple of laugh-out-loud parts. But it`s definitely not for everyone. Typical of the Coen-brothers and Terry Zwigoff. An absolute, definite must for fans of their characteristic offbeat, dark-humored movie genre.
December 07, 2003
god it was so funny i cracked up so much they should make a bad santa 2
December 07, 2003
waste of time and money
December 06, 2003
BAD SANTA!!!....GOOD MOVIE!!!!
December 05, 2003
The movie was very funny , however in some parts of the movie it was just over done. (A good laugh)
December 05, 2003
It should be called just plain old bad because that`s what it is. Bad Santa starts out slow and does not improve. Wait for the video and even then, make sure you get it cheap.
December 04, 2003
funny and the funniest movie I have seen in awhile a little crude but a good movie
December 04, 2003
Really, really, really funny...must watch
December 03, 2003
We thought the swearing in this movie was ridiculous especially using it on the kid and it wrecked the whole movie for us. Almost every comedy part revolved around a certain 4 letter word and I`m sorry, that`s just not funny. We were really disappointed and will never watch it again and don`t recommend it unless you love `language`!