Bad Teacher - User Reviews
Thank you for rating this movie!
Read your review below. Ratings will be added after 24 hours.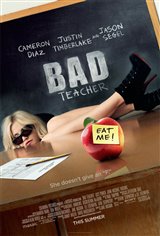 3.27 / 5
User Rating
Based on 3620 votes and 857 reviews
---
Please rate movie 1 to 5 stars
Showing 1 to 50 of 857
November 19, 2014
Diaz is a little long in the tooth for these type of vehicles. Her role in the upcoming ANNIE is much more age appropriate.
June 11, 2012
i liked jason segel but cameron diaz and justin timberlake ... ugh! the story sucked. guys will enjoy the car wash scene, however.
November 27, 2011
If you take this movie seriously, you will hate it. Instead, love Cameron Diaz as she gives everything to her role as a despicable human being and appreciate the camp. It's hilarious if you let it be. You may soon be rooting for this bad teacher for the sheer entertainment value she provides.
November 24, 2011
Hope actors didn't get paid much for it !!!
November 20, 2011
It wasn't a bad movie. It had it's moments but don't think I'd buy the dvd.
November 07, 2011
AWFUL!!!!!!!!!!
November 04, 2011
No Point to this movie, she was a b*tch and f*cked s*ht up
October 31, 2011
Not very good...I'd rather be in math class than watch this again.
October 27, 2011
good, entertaining
October 26, 2011
bad movie and bad morality message
October 25, 2011
Thought the movie was boring and a complete waste of time. I think I laughed once.
October 25, 2011
Annotation and trailer for the film involves the development of competition between two teachers. As a result of a must win. In this it was possible to conclude the description of this comedy, because of something interesting or original, this comedy does not. There is Cameron Diaz, revolve around a few characters. Game actors like Cameron, as minor characters rather mediocre. In this life and working conditions of character and behavior of actress Elizabeth Cameron is slightly different. It turns out that the tenacious lion behaves very like a king. A lot of leniency. But this could close your eyes, if unremarkable script. Fairly average and not a joke-valued points. Although by
October 21, 2011
Bad Teacher....Bad movie.
October 20, 2011
had moments. Overall, ok
October 20, 2011
Don't waste your time on this one
September 28, 2011
Good few laughs through the first half! Choice. Then, meh - degenerates to soft and lame. Tiger does not change its stripes I say. Did Harvey Keitel become the Good Lieutenant at the end? Heck no! Bad teacher could have been brilliant if Diaz had carried on in a blaze of Bad glory.
September 20, 2011
Do not watch this movie, get more humor watching my girlfriend cook eggs in the morning.
August 09, 2011
Not bad. Some really funny moments. Cameron's great to watch.
August 06, 2011
Funny, but predictable.
August 04, 2011
Really enjoyed this movie, very funny.
August 04, 2011
Funny but a bit slow.
August 04, 2011
Cameron Diaz plays Cameron Diaz..Is anyone else sick of her?
August 04, 2011
This was a poor attempt..hope Cameron can bounce back!
August 04, 2011
I really enjoyed it! Justin Timberlake was surprisingly awesome
August 04, 2011
Money could be spent on a better movie. This was crude and silly.
August 04, 2011
This is such a great movie for pre-teen ages and up. It has good comedy and great actors.
August 04, 2011
I didn't really like this movie, I thought it was crude and could have been better.
August 04, 2011
terrible and bad...need I say more?
August 04, 2011
Funny bits in Trailer only - rest of the movie was rubbish.
August 04, 2011
It was a pretty funny movie .. Cameron Diaz is a REALLY good actress ... she's very versatile and can play various types of roles. Really liked it and would definitely recommend it to others
August 04, 2011
big disapointment, didnt laugh once in theaters. If you saw trailer and laughed then don't go see this movie because besides the smirk in one place thats all i got. Better luck next time.
August 04, 2011
This movie was just "alright." It was funny but not that funny. I very much disliked the little screen time Jason Segel had, as he was the reason I went to see this movie. Cameron Diaz and Justin Timberlake's roles were not the greatest, I didn't quite believe them.
August 04, 2011
Better than I thought it would be
August 04, 2011
pathetically horrible movie!
August 04, 2011
all the funny parts were in the trailer
August 04, 2011
hilarious!!!!really F-U-N-N-Y :D
August 04, 2011
i fell asleep on it terrible movie wasnt for me
August 03, 2011
Cameron Diaz was funny, she should do more comedies.
August 03, 2011
didnt meet my expectations,
August 03, 2011
really bad movie..nothing but a waste of time.
August 03, 2011
Horribly bad..nothing went right in this movie!
August 03, 2011
Funny movie!
August 03, 2011
cameron diaz is one bad teacher!
August 03, 2011
Terribly BAD..Not enough worth the 1 star!
August 03, 2011
i think that this movie was very predictable but it was still a little funny at some parts. i would give it a 4/10
August 03, 2011
It was better than expected but was by no stretch good. Jason Segel was awesome! His character was the only real character in the movie. Cameron Diaz really fell flat for me. It was funny and cute but not going to win any awards
August 03, 2011
I loved it, thought it was hilarious, light funny movie
August 03, 2011
If you have seen the trailer..stop and don't see the movie..you have seen it already!
August 03, 2011
not bad but not great either
August 02, 2011
I like Cameron Diaz as an actress and she played this part well. A good laugh.