Beauty and the Beast - User Reviews
Thank you for rating this movie!
Read your review below. Ratings will be added after 24 hours.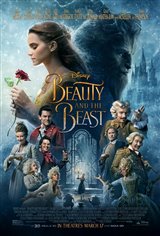 3.22 / 5
User Rating
Based on 1540 votes and 201 reviews
---
Please rate movie 1 to 5 stars
Showing 1 to 50 of 201
October 08, 2019
Political correctness above all... If you want roles for black people, make a movie inspired by African myths. And gay stuff doesn´t belong to movies for kids, they don´t understand it.
October 24, 2017
GARBAGE & HORRIBLE & BORING & 0 STARS
July 21, 2017
Love , love , love this diamond of a story. Brilliant and enchanting. Perfection. I watched it three times and could view it yet again because it's that freaking cool.
July 13, 2017
One of the best movies I have seen in a long time no cussing no sex it was just like watching one of many of disney classics of a lifetime it was like a total remake of the animation I sat down in the theater with my teenage daughter and my daughter who is almost thirty and her four daughters and enjoyed every minute of it
July 12, 2017
Loved this film, superb casting choices!
June 14, 2017
This was a really good movie! Although it was similar to the original I feel like the new songs were unneeded and made the move longer than it should have been.
June 13, 2017
Did not like it
June 13, 2017
Not too bad. I was skeptical but I ended up enjoying it. Pretty faithful to the original Disney cartoon. Lumier was funny, did NOT expect Scottish actor Ewen MacGregor to be doing a french accent animated roll.
June 10, 2017
Fran Drescher and Timothy Dalton make a wonderful romantic comedy team. 5/5
June 10, 2017
absolutely beautifully done movie. loved the characters, the acting, the setting, the storyline. and the costumes alone should win awards in itself. feel privileged I got to see it in 3d in the theatre before it went to dvd.
June 09, 2017
Soo good, best live action Disney yet!!
June 09, 2017
Ugh. How does Emma Watson keep finding acting work? She's terrible! It's like she mistakenly went into a woodshop class instead of acting school. Does she have a competition with Kristen Stewart to be the worst actress ever?
May 27, 2017
Pretty much a shot-for-shot remake of the animated film. Emma Watson once again proves how dull she is. The inexplicable commercial success of this film and The Jungle Book prompted an announcement from the Disney Corporation that all of their classic animated films will see live action remakes. Ugh. Give yourselves a pat on the back, people. You're killing cinema.
May 25, 2017
Good movie. :)
May 14, 2017
I love the songs, the movie was awesome!!!!!!!!!!
May 13, 2017
I can't wait when the movie comes on DVD.
May 13, 2017
Was long and boring. The animated version was so much better.
May 12, 2017
We had fun watching this movie. :)
May 12, 2017
Emma Watson's "I love you" to the beast should be the most important line in the movie, but it's so passionless, so flat, that it feels like a throwaway line. She seems to believe that whispering such a major line makes it meaningful and sensitive, but I see that device as simply avoiding any emotion at all. Loved Josh Gad's humor, though. Movie overall: I'll take the animated version any day. Who can forget Angela Lansbury in that one?
May 12, 2017
As others have said, this movie lays a giant egg, largely because the performances are so wooden (I'm looking at you,Emma Watson). Also, the darker tone the filmmakers attempted to imbue this with felt forced and only added to the wrong turns that sink this feeble fable. Hopefully Disney will fare better with Ariana Grande as The Little Mermaid. 1 star is much too generous for this bungled production.
May 12, 2017
The movie was good. The music and the backgrounds. Love the details.
May 12, 2017
I agree 100 percent with one of the reviews. ........ZERO CHEMESTRY BEETWEEN THE 2 LEADS!!!!!!! I have both 2 disc special edition and Platinum anniversary edition animated at home....the emotional content in those gives me tears every time I watch them.... But not one single drop in the real version......and Emma Watson does not give the animated Belle any justice at all .....she seems so " staged acting ".....not the right choice for the role.....sorry Emma....I love you as an actress...but what a flop in this one...you should have taken the emotional side in the animated version.....it would had been so much more poignant. ......way to much hype on this one.....so disappointed. ...hurray for Lumiere lol??
May 12, 2017
Thought it was good. ...I just think that it could have been a little more oriented toward the character showing a little bit more connection between the two of them.....to me the affection from belle could have been a little more powerful then it was especially in the end scene when she Says " I love you " to the beast....I cried in the animated version more then the real version on that particular scene......awsome special effects though...."be our guest " was phenomenal....emotional content. ...3 .5....the rest.....stable 4
May 11, 2017
It is very good movie. The first scene was superb, then adventures and the last scene. It is feel good movie. I have seen it more than 8 times now. I still can't get enough. I think i will still see it more before it theatrical ends.
May 06, 2017
Best movie of the year so far. :)
May 02, 2017
The movie was great.
May 01, 2017
My husband and I saw this. Well done, i have seen the play but this as a movie was well done. A must see.
April 30, 2017
Saw this a couple times. I only do that for the best movies.
April 27, 2017
AMAZING! LOVED IT!
April 24, 2017
This movie Beauty and the Beast is very very good
April 22, 2017
I THOUGHT IT WAS FABULOUS, SO WELL DONE , AM GOING TO BUY IT WHEN IT COMES OUT ON DVD. THE ACTORS AND ACTRESSES WERE PERFECT AND THE COSTUMES WERE SO DEAD ON TO THE ANIMATED MOVIE WOW. IT IS AND ALWAYS WILL BE A VERY EMOTIONAL FILM FOR ME. YOU HAVE TO SEE IT! I THINK THAT IT SHOULD BE HIGHER THEN A 5--I WOULD GIVE IT A 10!!
April 22, 2017
loved this movie, better then i expected.
April 21, 2017
Amazing movie. :)
April 21, 2017
Our family had a good time watching this movie.
April 20, 2017
the singing was terrible, the 3d was disappointing, the story was poor, the special effects were poor. I was really looking forward to this film, what a waste of time.
April 19, 2017
I loved some of the music and the beautiful backgrounds. Funny story.
April 19, 2017
Emma Watson was amazing as Belle
April 18, 2017
The wolves looked no so great. They needed look more like wolves. The dresses were amazing. I did not like the adding of a book of travel anywhere you want to. The movie overall was great. Hoping to see this in Disneyland next time we go.
April 18, 2017
All gloss. The ennui was oppressive. Don't believe the hype.
April 18, 2017
We had a good time. :)
April 18, 2017
Very funny movie.
April 18, 2017
Very overdone with the manic animation, which takes away from the simple beauty of the story. Also didn't like several inferences of gay couples; can't we just leave the sexual innuendos out of kids movies.
April 17, 2017
Wasn't a big fan of the movie but it was OK. I give it two stars.
April 17, 2017
We loved it.
April 17, 2017
The animated objects were very amusing. I had a good time watching this movie.
April 16, 2017
Exquisite moviemaking!
April 16, 2017
Impressive
April 16, 2017
Okay but not as good as "Megaforce"
April 16, 2017
Good job with the movie.