Bee Movie - User Reviews
Thank you for rating this movie!
Read your review below. Ratings will be added after 24 hours.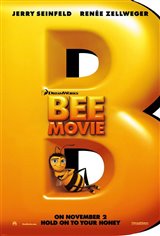 2.86 / 5
User Rating
Based on 1325 votes and 71 reviews
---
Please rate movie 1 to 5 stars
Showing 1 to 50 of 71
March 29, 2009
this movie was a success in the making and it was awesome
January 10, 2009
Worst movie that i have ever seen.it was such a waste of ten dollars.you do not want to see the bee movie.dont waste your money on it.
January 08, 2009
worst movie that i have ever seen. it was such a waste of 10$.if there was a 0 as the rating i would give it a 0 star.you never want to see the bee movie.0
June 20, 2008
man this movie is stoking it was awsome
June 13, 2008
this movie is so hailarious
June 01, 2008
this movie is fantastic i would give it an a+
May 30, 2008
it was hailarious
May 23, 2008
Great movie, decent, funny, and inspirational, great for the little ones!!
March 29, 2008
i loved this movie because it was so so funny
March 17, 2008
This movie started out OK at the begining but then the rest went out the door. It's a terrible movie and I would not even recommend anyone to rent this garbage. I'm a fan of Jerry Seinfield but after watching this movie, I think he should stay retired and don't attempt to make any more movies.
March 17, 2008
It's the YELLOW-est movie ever. Bees GALORE. Great for kids and for the young at heart. 4****s
February 18, 2008
Not that funny. Boring in a lot of parts, but I could see some kids liking it. I thought it would be more like Toy Story - where it is for children and adults. Jerry Seinfeld WHAT WERE YOU THINKING!
February 03, 2008
It was great but they showed all the funny parts on the comercials so they wern't funny when I saw the movie. But the story was great!!
January 12, 2008
My 2 year old grandson loved it
January 08, 2008
Sexy and fun.
January 07, 2008
Slow and boring.
January 07, 2008
I expected a much better movie. It was very bland and slow moving. There were some cute parts. Wait for it to come out on video. I was a little embarrassed for Jerry Seinfeld and thought he wasn't impressed either when I saw him promoting it.
January 02, 2008
Best Movie Ever Totally worth taking the whole family to Absolutely Hilarious I'd see it over and over and over and over again and again and again and over again
December 23, 2007
A Huge Dissapointment
December 16, 2007
It Was Very Boring The Humor Was Dry And The Movie Had No Point
December 08, 2007
Bad for kids
December 08, 2007
It would be better if you bring the little kids if they like funny movies.
December 08, 2007
It very funny ,but boring
December 03, 2007
Not as good as i thought it would be with seinfeld in it. the jokes are a bi t two corny but i am sure kids 5 to 8 will enjoy it
December 03, 2007
Amusing, but not as funny as I had hoped.
November 28, 2007
it was pretty good, but i forget the story pretty quickly. By the time i needed to write a review for the movie, i forgot what the main character's name was called. This movie doesnt especially stand out like I expected it to be. But if you got kids, bring them to watch it!
November 21, 2007
Very funny and entertaining. One of the more pleasent movies to watch with your children in 2007.
November 21, 2007
it was awesome it was funny and at least it was a smart movie and a good movie for all ages if you haven't seen it see it you missing the fun!
November 21, 2007
I thought it was good - It shoulf be at least 3 out of 5. and it made perfect sense. WATCH THE MOVIE ITS GOOD !!!!!!!!!!!!!!!!!!!
November 19, 2007
I took my granddaughters - 5 & 3 plus myself and my daughter and we all had a good laugh. It was great, remember this is for kids and families - no shooting or blast things apart and that is what makes it great. Plus if you listened carefully, there was a few lines for adults too. For those you thought it was stupid, I guess you just don't enjoy life, do you? Put a smile on your face and enjoy this beeeutiful movie.
November 18, 2007
Very entertaining movie for kids young and old. I like the inclusion of the social conciousness in.
November 18, 2007
It was one of the best movies I ever saw!!!!!
November 18, 2007
It is really nice.
November 17, 2007
The Kids enjoyed it and so did we ( Parents ). A good movie to watch when it comes out on DVD...
November 16, 2007
it is a silly movie
November 14, 2007
hilarious!
November 14, 2007
A Bee-utiful movie!
November 13, 2007
HILARIOUS!!
November 13, 2007
Cute movie. great for Kids!
November 13, 2007
The sexiest animated movie of the year!
November 12, 2007
awesome +5
November 11, 2007
A great rainy afternoon family movie. A few laughs for the adults if you listen closely.
November 11, 2007
My grandson who is four years old loved it!! Isn't that who should love it? He laughed and giggled and even wiggled with delight, so, I say that means it is good for kids and so is GOOD!!
November 11, 2007
WORST MOVIE I HAVE EVER SEEN IN MY ENTIRE LIFE. JERRY SEINFELD SHOULD QUICK ACTING THAT WAS HORRIBLE!!!!!!!!!!!
November 11, 2007
This is almost the best movie I have ever seen in my life. It was so funny my dad laughed before anyone else in the movie theatre. It's so funny I will probably ask Santa Claus for it. Grace age 5
November 11, 2007
boringgggggggg
November 10, 2007
Perhaps Seinfeld's kids will like it but anyone not a child won't. Terrible. Stay away.
November 10, 2007
It is a great movie for the whole family,It was funny to watch and it tells a lot about bees'live