Benedetta - User Reviews
Thank you for rating this movie!
Read your review below. Ratings will be added after 24 hours.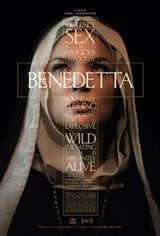 ---
Please rate movie 1 to 5 stars
Showing 1 to 14 of 14
December 13, 2021
Horrible movie. Just depressing and sad.
December 09, 2021
What a blasphemous movie. The enemy is at work.
December 06, 2021
Seriously, you guys are ridiculous. Go watch Veggie Tales if you need a safe space
December 06, 2021
Blasphemous... not a Christian or Christmas movie. Don't waste your precious time.
December 05, 2021
It will harm you if you watch it ,. It's meant to bring pain in people's life. Please stay away
December 02, 2021
This FILTH should not even be rated its less than 0. The makers and viewers of this garbage WILL face God's wrath sooner or later plain point period. Repent get down on your knees and ask for forgiveness before its too late. God and His Most Holy mother will NOT be mocked.
December 01, 2021
An abomination! Remove it from the movie selection.
November 27, 2021
Just NO!
November 27, 2021
Burn this movie!!!
November 27, 2021
May God have mercy on those who see it!
November 26, 2021
This is Below Rating... The work of Satan...BURN IT....with all his other filth....
November 26, 2021
Its meant to hurt souls .. the producers know how this will destroy many souls and that's there goal. Why else would they make a film so evil. It's against the truth. It's not ok for any human to view this film no matter what the age.
November 26, 2021
This movie should not be seen.