Big Miracle - User Reviews
Thank you for rating this movie!
Read your review below. Ratings will be added after 24 hours.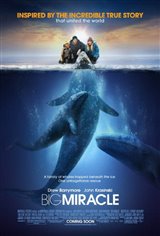 ---
Please rate movie 1 to 5 stars
Showing 1 to 21 of 21
May 20, 2014
Cute and Sad. Drew Barrymore was so beautiful.
May 24, 2012
beautiful filming
May 24, 2012
good movie for the family.
May 23, 2012
such a cute movie!!
May 23, 2012
excellent true story movie, goes to show how corporate can really get involved.
May 22, 2012
entertaining movie
May 22, 2012
good movie showing the plight of whales.
May 21, 2012
feel good sunday aft.
May 19, 2012
ohthismoviewasreallygreattoseeireallyenjoyedit.
March 18, 2012
much better than expected; it was interesting to see how so many people (and other groups) of various background had reasons for being involved even if they were normally conflicting. worth the see. i enjoyed it.
February 27, 2012
this was a great movie...very family oriented...
February 26, 2012
i love this movie. it is really a beautiful story that happened when i was 11. i really want to get the book about the movie.my mom and i thouroughly enjoyed this movie.
February 23, 2012
rilly good movie went to it with my wife thought it would be a sappy movie but i didnt think it was
February 18, 2012
great.we all need to help one another once in a while
February 11, 2012
a really warm and fuzzy movie..loved it! the whole theatre was cheering the whales along! the only thing i was wondering throughout was how come they couldn't light a fire beside the holes to keep the ice from freezing up?
February 11, 2012
i really enjoyed the movie but kept wondering how come we didn't see any breath condensation, if they were that far north?
February 07, 2012
excellent movie!!!!
February 04, 2012
i thought it was a great movie, something you can take the whole family too and enjoy it together!
February 03, 2012
pretty boring and predictable.
January 06, 2012
Beautiful story!!!!