Bride Wars - User Reviews
Thank you for rating this movie!
Read your review below. Ratings will be added after 24 hours.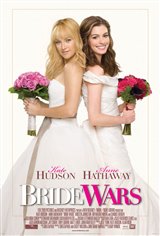 ---
Please rate movie 1 to 5 stars
Showing 1 to 50 of 60
July 20, 2010
I thought it was pretty good but predictable it sorta got boring at some parts though
June 20, 2009
it sucked big time
May 25, 2009
you got to be kidding, this movie and the girls that like it are what's wrong with society......worst movie ever! If you like this movie you have only 1 option in life, living alone in a house full of cats
May 20, 2009
I think this was a really good movie and it was a great movie to watch with your sister and her friend..:)
May 04, 2009
Predictable, but okay. 4 stars!
May 02, 2009
too much of a chick flick news flash: not for guys!
May 01, 2009
Such a cute movie to watch with your best friend!
May 01, 2009
great movie to watch with girl friends, I had a lot of fun!
April 15, 2009
Love it!Great movie for you and your friends!You will have a good laugh.
March 31, 2009
Cute! Reminds me of me and one of my best friends trying to get ready for our weddings!
March 30, 2009
it was a great movie, it was funny,near the end kind of sad but it was really good !!
March 23, 2009
This movie is extremly funny. I would recommend it to all of my friends.
March 21, 2009
This movie was terrible! I love girlie movies and this was extremely boring and completely unrealistic.
March 19, 2009
OMG this movie was really good but 27 dresses was better. Not by alot just a little.
March 14, 2009
awesome movie!!!!!i rate it 5 stars!! i loved it so much!!! awesome! best movie ever before.
March 13, 2009
terrible!!!
February 20, 2009
OMG! I freaken loved this movie sooooooooooo much. It was amazing! SSOOOOOOOOOOOOO good. It made me cry. No, Im not kidding, I cried soooooo hard for this movie. I gave it 5 stars because there wasnt an option of 100 stars. pffff come on. there really should be
February 19, 2009
I usually enjoy watching chick flicks but this movie was nothing to get excited about at all. Save your money .. The title of the movie pretty much says the whole story line of it.. two brides fighting because their wedding day is booked on the same day.
February 16, 2009
It's not bad. Your average chick flick.
February 15, 2009
This movie was not good. Not good at all. Very stupid.
February 08, 2009
SOO CUTE. My friend cried
January 30, 2009
I love this movie! I gave it 5 stars. It's funny and light-hearted, which is just what I was hoping for. I am a big fan of both Hathaway and Hudson. I am so glad they were paired together! It's the perfect movie to get the girls together and see! =)
January 26, 2009
This is not very good. I gave it two stars because I like the two main actresses. I felt the material they gave them was sub-par. I think the screenwriters missed out on a lot of fun and meaningful opportunities by sticking to trite crap.
January 26, 2009
BEST MOVIE EVER!! 5 stars
January 25, 2009
Can't wait to see it!
January 25, 2009
hey its roxy again, i loved this movie it rocked but was not good as hotel for dogs.i als think anyone that doesn't like it just thinks it is cool to not like this movie.gtg ttyl xoxo roxy
January 24, 2009
I love Kate Hudson. This is the first movie I've seen with Anne Hathoway where she actually appears to be a dramatic actress. Great chick flick for the girls night out.
January 22, 2009
I the movie is awesome!! LOVE IT!!! WOOT and its funny!!
January 20, 2009
Well it was uh...AWESSOME I loved it woahhhhhhh
January 20, 2009
AMAZINGG!
January 19, 2009
I knew this movie wouldn't be great but my friend wanted to go, so I reluctantly joined her. I had no idea that it could be THIS BAD. OMG!!! Shallow, self-serving, and predictable. The only "slightly humorous" portions were shown in the ads. I would be embarrassed to be associated with it in any way.
January 18, 2009
this movie is hilarious!
January 16, 2009
Exactly what it's advertised to be ... light, funny, predictabe, happy ending and all. Loved it. If you like Miss Congeniality, you'll love this one,
January 16, 2009
i though the movie was great.. it was very funny and it even made me cry... i loved it and i would watch it over and over again..
January 15, 2009
Was pretty good, enjoyed it...even my bf laughed and enjoyed it. Only thing is some of the stars could have used just a little more weight to look healthy...
January 15, 2009
I loved this movie!! Great movie to see with girlfriends or moms.
January 15, 2009
This movie was hilarious. I think it's safe bet to assume those giving it a bad review are single ,jealous or both! haha!
January 15, 2009
If you're going to watch this movie..dont expect too much and u'll probably end up liking it. I think because I thought it was gonna be sooo good.. I came out saying.."It was just alright!"
January 14, 2009
Terrible. Don't waste your money. Stupid, boring, typical and I'm a recent bride! The writers/producers could have done so much more with this script!!
January 13, 2009
the movie was amazing
January 12, 2009
stupid and dull, I was bored and disappointed. i am amazed there are so many good reviews. what's wrong with people?!
January 12, 2009
Not to be confused with "Star Wars," "Bride Wars" is a winsome romantic comedy for guys and gals alike. 5/5
January 12, 2009
Even better than 27 Dresses! Twelve out of twelve stars!!!
January 12, 2009
This movie is amazing!
January 11, 2009
waste of money and time. dont go,people, u'll regret it
January 11, 2009
AMAZING movie! Loved every minute of it!
January 10, 2009
IT WAS A EXCELLENT MOVIE ABOUT BEST FRIENDS. IT WAS VERY FUNNY AN EXCELLENT MOVIE
January 10, 2009
Great movie for a girls night out ... lots of laughs
January 10, 2009
very cute movie!!! two thumbs up!!!
January 10, 2009
great movie