Changeling - User Reviews
Thank you for rating this movie!
Read your review below. Ratings will be added after 24 hours.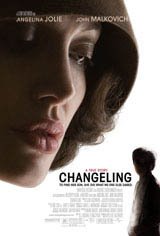 ---
Please rate movie 1 to 5 stars
Showing 1 to 50 of 73
April 27, 2012
a tad slow, yet entertaining movie. jolie is better than usual.
March 25, 2009
I was not surprised by the excellent performance of Angelina Jolie in this movie. I kind of expected this. The movie itself is outstanding as well. Just want to say to all people who feel sorry for Jennifer Aniston: "DO NOT". I believe Jennifer looks just like nothing comparing to Angelina's talent. Brad made the right choice by leaving that still crying nobody Jennifer who can not move on with her life. Brad chose a great woman and a great actress instead.
February 21, 2009
beautiful story. heart breaking and powerful. Jolie makes this a hit!! Superior acting. Fantastic film bringing a true story to life!
February 20, 2009
I loved this movie
February 20, 2009
The vote for the best actress goes to Angelina Jolie. Did you remember Tomb Raider or Wanted ? Isn't she a brillant actress to play action movie and drama like this one ? She's one of the best of our times !
February 20, 2009
AMAZING MOVIE! SO SAD!
February 18, 2009
very good- sad story
February 18, 2009
this is so bad
February 08, 2009
This movie was excellent! Angelina Jolie's Performance blew me away... This woman deserves an oscar for her performance in this movie. Loved this movie.
February 07, 2009
One of Angelina's best performances. The story is so sad overall.
February 06, 2009
what happened Clint?
February 03, 2009
my theory is Angelina should stop while shes ahead or shell star in something like Saw 52
January 30, 2009
pointless
January 24, 2009
i thought this was a movie that you could find out everything from the trailor. I didnt expect it to be SO GOOD, yet very disturbing. I LOVED this movie and believe it should recieve Best Picture Of The Year; a definite own in my collection! 5 stars:)
January 23, 2009
she was a good a actress but since she got involved with her boyfriend and trying to have or adopt so many children lost her career. no matter she might achieved Brad but also gave Jen a wonderful and a better future.I pernonally belive what comes around goes around and we all been in love no matter how old.I would never pay a penny for her movie or Brat's because of what they did to Jen.Don't get me wrong even if they are the best movies
January 12, 2009
i hate Angelina Jolie. if i was a cop and i saw Angelina i will grab her and slap her in handcuffs.
January 01, 2009
Another fine picture.
December 31, 2008
it was alright wasnt the best
December 26, 2008
1. Angelina MUST win an Oscar for this 2. People expect the movie to be sad, which it is - but they dont expect how disturbign it is. VERY disturbing. 3. If youre a mom, bring a bunch of kleenex. I saw so many middle aged women crying their eyes out.
December 19, 2008
I loved the movie!!! It is disturbing, but it is definitely worth watching. Jolie is just wonderful in it - I wouldn't be surprised if she won an Oscar for playing Christine.
December 19, 2008
Why Clint Why??
December 11, 2008
oscar worthy! ...best picture ...best actress disturbing, but excellent.
December 06, 2008
This movie was awsome! It was really sad and scary in a way, but still a great interesting movie. It might get you in tears. If you didnt see it yet, trust me you will love it!!
December 06, 2008
A fantastic movie. Jolie really gets into her character as Christine, and is outstanding.Excellent plot and thoroughly entertaining. Well done!
December 04, 2008
great movie i ever saw!!!
December 04, 2008
Wonderful! See it in 3-D if you can!
December 02, 2008
This movie was, excellent! I don't know what to say... I enjoyed it sooo much. Angelina Jolie is Magnificent! Totally recommend this movie!
November 29, 2008
smart people's moive....not for idoits..
November 25, 2008
I just saw this movie on Tuesday and OH MY GOD THIS HAS TO BE MY MOST FAVORITE MOVIE OF ALL TIMES. This movie was astion packed and portrayed beautifully. Very emotional and unexpecting. Save your pennies for a must see movie, you will not be disappointed. The trailers do not even show the best parts!
November 24, 2008
excellent
November 23, 2008
One of the best movies ever!
November 22, 2008
Amazing. Unbelievable. Disturbing. Compelling. One of the best I have truly ever seen.
November 22, 2008
slow at the beginning but it picks up, not a bad movie at all just need to sit through the beginning.
November 21, 2008
Amazing in every aspect of the word
November 21, 2008
The Changeling was an amazing movie. The whole thing was filled with drama right from the beginning to the end. The acting was absolutely amazing as well, I don't want to give anything away but one character really had me gripped to my chair, he was so realistic and creepy..I honestly couldn't get his image out of my head. The movie is disturbing and it was hard to watch at some points..but I understand it is a true story and the shocking moments really delievered what it was suposed to do.. I don't know If I can watch the movie again, but I am glad to say that i have seen it. Worth watching.
November 17, 2008
Touching movie for any parent. Worth while movie long than you think and surprised how fast time goes by.
November 16, 2008
One of the best movies ever viewed. Each and every moment held you captivated. Can't believe it's a true story.
November 16, 2008
Academy award winner!
November 15, 2008
Compelling and chilling story, Jolie's performance was absolutely phenomenal. The movie's worth all the hype.
November 12, 2008
disturbingly wonderful! acting remarkable! a must see movie worthy of an oscar nomination! Don't wait to see it on DVD it's worth every penny!
November 12, 2008
This movie was absolutely incredible. Watching Angelina Joli was SO REAL. SHE DID AMAZING, alon with everyone else. Every single part and character in this movie was played to "T". When this movie finished all I noticed around me were people with thier jaws still open, some wiping tears, including myself! \The theater was silent. From my point of view it was the best movie i have ever seen. Every emotion you can think of, at some point in this movie was felt. THIS WAS A MOVIE WELL DONE!
November 11, 2008
angelina is super and the movie is excellent.
November 10, 2008
My vote goes to Best Picture Of the Year
November 09, 2008
We need more quality movies like Changeling. Excellent movie it should get few Oscars.
November 08, 2008
Disturbing, with good performances.
November 08, 2008
really good movie, had everything (humour,drama,suspense,emotional) ending was a bit disappointing but nonetheless was very well made!
November 08, 2008
Amazing true story of courage in the face of evil power and corruption. Great acting. I will remember this movie for a long time - best movie I've seen in ages.
November 07, 2008
This movie was Incredible! I love it! Angelina Jolie is truely amazing in her performance! Never a dull moment in this movie... But it is also very heartbreaking.
November 05, 2008
Amazingly predictable, corny, typical woman fights the evil establishment thing seen of Lifetime TV channel, I actually walked out early. DUMB
November 05, 2008
Clint Eastwood delivered! Jolie was good and Canadian Colm Fiore looked and acted about as sinister as anyone ever could. The period depiction was marvelous. Had any of the drama been toned down it would have taken away from the entertainement value. After all, it is a movie folks so relax and enjoy. signed....GWH