Charlotte's Web - User Reviews
Thank you for rating this movie!
Read your review below. Ratings will be added after 24 hours.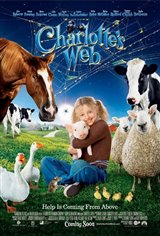 ---
Please rate movie 1 to 5 stars
Showing 1 to 39 of 39
November 02, 2007
I went to see it with my little brother to kill an hour or so. I was the oldest kid there. And, wow. I read the book, watched all the animated movies and everything. I knew what happened, but this just made me cry. A lot. It was really bad... Me sitting there bawling, while a whole bunch of five-year-olds stared at me... But, it was cute.
April 19, 2007
Wonderful story about finding the beauty in everything and everyone.
April 09, 2007
charlotte web is a good moive and it good for kids.love it.
April 05, 2007
I am a little tired of seeing Dakota Fanning in everything, I dont want to see or hear her.
March 28, 2007
i love the book better but the movie is good too
March 18, 2007
loved this. As a kid I read the book at least 20 times and loved the cartoon version. I loved sharing this story with my kids, a true classic story.
March 12, 2007
I think it`s just like the book! It totally rocks! I thought it totally rocks!
February 16, 2007
The whole family loved this show!
February 04, 2007
It was really cute! But, Dakota Fanning is my age, 13, if you can believe it, and she plays a little kid. I DO NOT like her, but the animals were adorable! Especially Wilbur!
January 27, 2007
I woudent say it was a good movie but in this movie id say Dakota Fanning was impresive
January 26, 2007
Boring!!! Rent the original version as this one will put you to sleep!
January 21, 2007
I thought the movie was great!
January 16, 2007
It is a well made movie.Entertaining for all ages. Draw back, it should have only been released as a dvd.
January 13, 2007
It`s good. I have the same passon for animals as Fern does. I rate it a four star movie.
January 05, 2007
Best movie ever. I absolutely loved it.
January 02, 2007
This was a GREAT movie! It is very true to the children`s book and handled in a charming fashion. A MUST SEE for the whole family!
January 02, 2007
it is one of my favourite movie. can you believe that a 24 years old girl can feel so touching of a kid movie?
December 31, 2006
favorite book, favorite movie as a kid...loved it!
December 29, 2006
Great entertainment for any one. Some very funny quick one liners throughout...
December 27, 2006
I know, it`s not what I think, it`s a fun filled movie for all ages to watch.
December 26, 2006
like the movie. should watch it . great for kids and adults
December 26, 2006
good family movie but was slow at times - my 6 year old did enjoy the movie though
December 23, 2006
My 8 yr old loved it!
December 19, 2006
Great children`s show. Mom enjoyed it too.
December 19, 2006
A friend of mine and my two children aged 8 and 5 went to see this movie. I thought it was one of the best family movies we had seen in a long time. There was no foul language...even questionable. There was no violence. No big super heroes (unless you consider some of the farm animals heroes). All of us loved this movie.
December 19, 2006
The movie is great. The voices are so convincing that it seems to bring the animals to life. I took my 78 year old mother to it and she loved it. 4 stars Great for all ages
December 17, 2006
good but i cant find out who is who! P.S. the book is at least 10, no 20 times better!(the movie was good the book ROOLZ)
December 17, 2006
The movie stays close to the original. Its a bit slow at times, but the CG is really well done. a good clean family film for the holidays.
December 17, 2006
WHY OH WHY DID I TAKE MY KIDS TO SEE THIS
December 17, 2006
If your going to watch this your better off seeing the cartoon ver.
December 17, 2006
can I get my 2hrs back
December 17, 2006
Charlotte`s Web`s Wilbur makes Babe look like a Babe-y, get it?!! Of course we can`t forget our beloved eight legged friend Charlotte, she gets her props. This epic tale of love and loyalty is a sure winner for the best picture for the Oscars. I look forward to watching the sequel when he goes to the city.
December 17, 2006
nothing beats the P.I.G
December 16, 2006
awsome ww want Charlott WEb 2 to come out.!!!
December 16, 2006
waste of money
December 16, 2006
Templeton and the crows added a lot of fun. It was a feel good funny movie. Not real deep. Very enjoyable - Eric Jordan Victoria, B.C.
December 15, 2006
Not Fun, very upsetting.
December 15, 2006
The book is so much better
December 15, 2006
Iam very happy becouse this movis is special and diferent thank you .Oprah and evey one .good loock Happy Christma and New Year