City Island
Thank you for rating this movie!
Read your review below. Ratings will be added after 24 hours.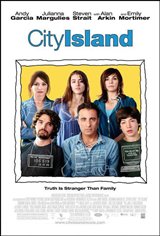 ---
Please rate between 1 to 5 stars
Showing 1 to 32 of 32
July 15, 2011
A very good film about family, regret and dreams...loved the performances by the entire cast, especially andy garcia...a true hidden gem of a movie.
April 12, 2011
Surprisingly sweet, funny and highly entertaining. One of the better familiy dramedies I've seen in a long time. Garcia is brilliant in this flick. Good performances by supporting cast as well.
March 25, 2011
Cute and loveable movie - - Andy Garcia is simply great in this role as an aspiring actor/parole officer trying to keep his family together. Lots of laughs.
January 28, 2011
Cute and funny - very enjoyable movie about family relationships and problems.
November 04, 2010
A very entertaining family drama - a true hidden gem of a movie.
October 29, 2010
A very good, entertaining dramedy. Love teh cast and story. Every character in the film is so unique, they are all memorable.
October 29, 2010
A very charming little mvoie about family life, family expectations and family secrets. I loved the performances by everyone inthis movie, especially Garcia's. A very entertaining and enjoyable movie.
July 22, 2010
Finally! A film worth Any Garcia's actting chops. Very entertaining dramedy with a superior script and excellent supporting cast.
July 21, 2010
Great script and wonderful cast set this film above most other summer dramas. Its nice to see Andy Garcia take on a role suitable for his talents. Supporting cast shines in this funny, heartfelt drama.
July 20, 2010
This family dramedy features the work of some fine New York actors.This film has a dysfunctional family and each member has a secret;but,the secrets are mostly mild and comedic rather then ghastly and life-destroying. Andy Garcia and Julianna Margulies(who seems to become more beautiful as she ages) are wonderful as the parents. This is one of the few movies where the art and craft of acting is examined.After secrets are revealed;there is much tears and laughter. So,what we have is a great date movie. What an antedote to a summer of mostly putrid hollywood films!
July 20, 2010
Andy Garcia puts down the gun and picks up some major kudos for this one. Well acted script dealing with lies and the family that keeps them. Supporting cast is top notch in this very entertaining slice of life.
July 18, 2010
Not exactly a 'sidesplitter' when it comes to comedy - but it does have it's moments.
July 16, 2010
Good writing and good performances.
July 16, 2010
I liked it alot
July 15, 2010
Great comedy in just the right doses. City Island is a relief from all the mediocre (comedy) Hollywood flicks of this year. Andy Garcia is definitely in his element.
July 13, 2010
Andy Garcia the highlight of this movie.
July 11, 2010
A funnly look at the workings of a family acted finely by its cast.
July 10, 2010
It is an extremely dead-pan comedy and hilarious. The odd-ball stories of a normal average-day family!! Go see it!!
July 08, 2010
Funny and endearing, who thought Any Garcia could play a sympathetic character. Supporting cast is top notch in this heart warming and funny film.
July 08, 2010
Surprisingly good. One of those movies that you don't expect much from but which is sharply written, well performed and put together well. Andy Garcia reminds us that he should be doing bigger pictures than he is.
July 07, 2010
Well acted film with Garcia finally playing someone with substance. Supporting cast is equally entertaining in this well scripted dramedy.
July 06, 2010
Nice change of pace for Garcia, this film boasts a decent cast and good script. Not your usual gangster fare, but well worth checking out.
July 01, 2010
Surprisingly funny and very wel acted. A sleeper of a movie.
June 30, 2010
mostly uninteresting except for Arkin who does steal the film once again.
June 30, 2010
not worth seeing. Depressing and boring
June 30, 2010
Nice change of pace film for Andy Garcia and Julianna Margulies. Alan Arkin almost steals the show, but not quite. Good story, although somewhat unbelievable, keeps entertaining throughout.
June 29, 2010
tone down the mouths in this movie ! headache
June 29, 2010
Fine acting and decent story line make this a film worth seeing. Andy Garcia is at his "non-gangster" best here, with a supporting cast that does not disappoint.