Collateral - User Reviews
Thank you for rating this movie!
Read your review below. Ratings will be added after 24 hours.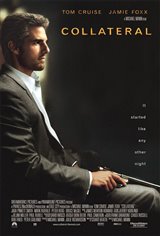 4.11 / 5
User Rating
Based on 6799 votes and 159 reviews
---
Please rate movie 1 to 5 stars
Showing 1 to 50 of 159
April 14, 2022
It held my attention but didn't add up to much.
November 05, 2010
A very, very good movie. Cruise does a great job playing the bad guy in this film. Fox also gives a stellar performance. A very intense, well crafted movie.
June 14, 2009
Tom cruise kills for an hour in the movie, Jamie Foxx plays the wimp who doesn't stand up for himself. To top it off it's on two DVD's what a waste of time.
January 27, 2009
An amazing film directed by the brilliant Michael Mann
June 02, 2007
Good to see this back in theaters!
June 01, 2007
A slick,fun fast pace thriler with many unexpected twists and turns
August 07, 2006
Tom Cruise and Jamie Fox have amazing chemistry. Cruise plays a believable role of being a "HITMAN" and Fox was amazing in his role. Amazing movie that draws you into these two interesting characters!
May 31, 2006
Movie was non stop prolly one of toms best actings...even though an old man
January 22, 2006
What a boring movie.
January 20, 2006
It was ok, not what I expected.....which was alot more action
December 22, 2005
Terrific!!
December 19, 2005
This is by far the most underrated movies of all times. It is one of the few movies today that is not commercialize with explosive and violence that mesmerize the audience to stay dumbstruck in their seats. It¡¦s the script and the flawless acting that holds the movies together. For more then half of the movie the character is in a cab, however the conversation between the two leave you with a punch. Max: ¡§You met him once and you kill him just like that?¡¨ Vincent: ¡§ What? I should only kill people after I get to know them?¡¨ The ending forces you to judge your morals and your philosophical standard. This is a movie that puts shame to
December 04, 2005
OMG!!! Really good movie!!! Tom Cruise and Jamie Foxx played sooooooo good!!! Very intense!!! Soooooooooo good!!! Defintely worth 5/5!!!!!!!!!
October 01, 2005
Tom cruise and Jamie Foxx remind us something. Their brilliant actors.
May 15, 2005
excelent movie....best movie of the summer
April 17, 2005
Forget Foxx...what about Tom Cruise? Unbelievable that Oscar continues to elude him. Ann
March 01, 2005
Very suspenseful and gripping. I was on the edge of my seat for the ending. Tom Cruise and Jamie Foxx give powerful performances.
February 27, 2005
Suspensiful and extremely thrilling. One of Tom`s best works, and Jamie`s too. They were awesome in this one.
February 12, 2005
I will never forget Jamie`s expression as he sees the assassin waiting for him at the cab after the shooting in the club. And Tom astonish me with every new character he plays (sometimes seems to be).
February 01, 2005
Collateral was fantastic. It was nothing short of a brilliant performance. Cruise`s role in this films was awesome. Foxx has now forever shed his comedic skin and turned into a brilliant serious actor. This was one of Cruise and Foxx`s best films. The dialogue in this film was stellar, it was the best that I heard in a while. I was quite flabbergasted when I saw the meticulous work of the cast and crew. I cannot say enough about the dialogue, and Michael Mann`s directing. I really took on to it. Ruffalo did a fantastic job, in which I had never seen him in a film before, but he did a fantastic job in this film, as the role of Fanning.
January 15, 2005
Terrible ending
January 13, 2005
I thought this movie was very unique. The performance and story line was very well inhance and unlike any other movies i`ve seen the message behind it was very presented. I give collateral five stars.
January 06, 2005
I gave it 4 stars; performances by Cruise and Foxx were 5 stars but the story was only 3. It was a bit too slow for the first half, the last quarter was suspenceful. A good renter after the kids go to bed.
January 02, 2005
I thought Collateral was awsome.It was really cool and the acting was excelent. Truly a must see!
December 30, 2004
very good movie. Wonderful performances -- especially Jamie Foxx who has become a star with this movie and "Ray".
December 26, 2004
if tom cruise were not hot, I would have given it negative stars
December 19, 2004
this movie reminded me of the smell substance found in the oustide pig pen
December 16, 2004
AMAZING. Foxx is becoming a great actor. Even Cruise is good - which is rare
December 15, 2004
Great stars...highly ridiculous. Can`t see even Superman performing all of this in one day.
November 27, 2004
superb acting
November 23, 2004
With the exception of the onscreen chemistry between Foxx and Cruise, it was a very weak movie
November 13, 2004
I love Jaimy Foxx and Tom Cruise but I just don`t think they were right for this movie.
November 07, 2004
collATERL STUIPD MAKE A MOVIE CALLED LOST THE MOVIE
November 03, 2004
Clever and original. The script was refreshing, well acted and good action. B plus.
October 19, 2004
I loved it. A great study of human nature. Tom and Jamie are so good.
October 14, 2004
gotta give credit to michael mann. amazin thriller, love tom cruise`s acting. Great to see him back after a long time in a strong role.oscar up for grabs???????
October 08, 2004
Worth the $7.50...most movies aren`t...five stars.
October 06, 2004
I liked the suspense of what would happen to Max, would he free himself from the threat of Vincent? Was there any way he could stop what was happening? It kept me on the edge of my seat and Tom Cruise played a convincing, menacing bad guy, able to have a pyschological hold over Max. More of the same please !
October 05, 2004
Great mix of character development and action. Very suspenseful and well written.
October 03, 2004
Though it DID lack some of the action I expected, it made up for it with EXCELLENT acting, a well-crafted plot, and well-shot action sequences (the ones that were there, that is). It doesn`t make a huge difference if you see it in the theatres or at home. And even if you don`t really like Tom Cruise (i`m not a huge fan) you`ll enjoy this movie. Jamie Foxx is fantastico, as usual. Kudos, Michael Mann! A smart action film well worth seeing.
September 30, 2004
Too much talking, Needs more action. The most exciting part was the last 15-20 minutes. I do not recommend it.
September 30, 2004
Collateral wasn`t very appealing to me when it first came out and I am dissapointed that it I was right. The story wasn`t interesting and there was mostly just talking. The actors were the one thing I enjoyed, they seemed to know what they were doing and had a lot of expression. Though I still didn`t enjoy this film.
September 27, 2004
A beautiful example of perfection. Excellent plot, great acting (Especially by Jamie Fox, and Tom Cruise), and keeps you on the edge of your seat! The climax was in this case definatly the most exciting part of the movie! Brilliant!
September 25, 2004
Best movie i`ve seen in a long time. it was so sad and some great acting!!! it was amazing. can`t wait till it comes out on dvd cause imma buying it. besy movie since pirates of da caribbean. strongly recommended.
September 18, 2004
Good plot, great acting but overall I don`t recommend seeing at the theatre. Would be best to wait until it comes out on video. Tom Cruise is great! I found the movie long and boring. After seeing the Bourne Supremacy I expected more action. I didn`t like the ending. I was left with an unsatisfied feeling. My friend and I at the end asked each other "that`s it?"
September 18, 2004
This movie was just OK. The beginning was too slow, but it did pick up. Cruise looked awful - maybe he was meant to. Good acting. Too long I thought - lacked an inventive ending - left me hanging.
September 11, 2004
This was a really great movie, and I haven`t seen one this good in a really long time. I left thinking about when could I watch it again. For those that think it`s boring you probably suffer from an attention problem. It was extremely interesting and worth going to the cinema for.
September 10, 2004
This was a very interesting movie. For all of you who keep asking why Cruise was using a taxi instead of just renting a car.. were you even watching the movie? If you followed the story and the dialogue of the investigators, it should be really obvious and in fact is part of what makes the movie interesting.
September 10, 2004
Great movie. Good pace and fantastic character development. If you`re looking for constant action and cheap thrills, go see Anacondas or something.. you`re in the wrong theatre.
September 07, 2004
This movie was terrible. I have no idea why they bothered making it. It seemed completely pointless. Why the hell didn`t Tom just rent a bloody car?!!?!?! He could have saved himself a lot of hastles and money. Don`t waste your mony or your time.