Dawn of the Dead - User Reviews
Thank you for rating this movie!
Read your review below. Ratings will be added after 24 hours.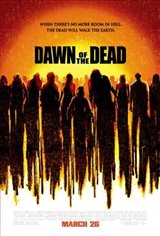 4.39 / 5
User Rating
Based on 14882 votes and 120 reviews
---
Please rate movie 1 to 5 stars
Showing 1 to 50 of 120
October 24, 2016
Pointless and not scary. Romero's original was about a depraved consumer culture run amok. What better example of that than pointless movie remakes? The fact that this was even remade indicates that the makers of this film either couldn't grasp Romero's none-to-subtle theme or were too greedy to care.
January 21, 2007
Great movie, I liked it a lot, I heard part 2 is in talks, I hope they make part 2
April 05, 2006
extremly well done.
December 25, 2005
Movie is explosively good, I was hoping there would be part 2,Please make part 2
July 10, 2005
I loved this movie! I`ve seen it at least 10 times (I lost count). It has a great cast, great story and wicked zombies. The fact that the zombies run is freaky! It was wonderful to see great Canadian talents like Sarah Polley and Jane Eastman. Michael Kelly is hot and I hope to see him in more films in the future. I totally recommend this movie to everyone.
April 28, 2005
THIS MOVIE IS INTENSE
February 01, 2005
For all of those who commented that you never find out how the zombies were created... Why would that make the film any better? You know exactly as much as the characters in the film know. All any of these characters could have would be vague theories. Besides, if you look at Romero`s original works, the only one in which an explanation for the zombies is given is the original... and these days that explanation is laughable, at best! Any explanation would alienate some group of viewers due to ethical, religious, scientific, or other beliefs. Watch the film, and get immersed in what is happening. You don`t need writers spoon-feeding ever
January 20, 2005
I thought thies movie was very intense.
January 18, 2005
this movie was absolutley horrible..not funny, no beginning or ending...worst ever
January 08, 2005
I LIKED IT !!!! you can read what other people post but don`t believe them. this is an awesome remake.... i was reading others opions and how it doesnt have a beginning.....well, did the original? no it didnt, they kept the story very much alike the original but... where are the biker gangs ?i suggest seeing ther original movie first just to get george romaros original idea of the movie then compare this one to it.
January 05, 2005
This movie by far captures a form of reality that no other zombie movie has. Homage to the origional in alot of aspects but still a stand alone movie. Ving and Sarah rock!! Thank you Zack S.
December 31, 2004
IT NEEDS TO HAVE A BEGINNING!!!...WHERE DID THEY COME FROM?...WHAT HAPPENED TO MAKE THEM THAT WAY!!!!!
November 10, 2004
By far the most excellently done zombie film ever.
November 08, 2004
EXCELLENT! A complete joy to watch.
November 04, 2004
Dawn of the dead was a freaky zombie movie. I only wish they explained how it all happened, it sucked the fun out of it now knowing. You can`t create a movie without explaining the main plot in it. Regardless, the makeup was great, it was really creepy and I enjoyed it.
November 01, 2004
I thought that this movie was awful i mean zombies can not run because they`re stupid to put it bluntly , i mean people come how can you be scared of a "horror" movie with no scary parts in it.
October 27, 2004
A good zombie movie, but still bad in general.
October 19, 2004
Hi, I have seen the movie "DAWN of the DEAD" en he`s great, i`m normaly never shared of horror but this movie is just TO scary for me!! I love it! kisses, Pascalin.
October 15, 2004
George Romero has to be the most kickass originator of zombie movies. I could watch this movie a million times over!
September 27, 2004
Excellent movie. The only negative is the plague that creates the zombies is never explained. Just go along with the premise and you`ll enjoy the ride. Also, wait for the credits to roll so see the "real" ending.
September 21, 2004
I thought Dawn of the dead the orignal was totally better ,but this one was less boring,there wasnt enuff blood and guts.They should have had a better ending.
September 04, 2004
good movie
August 29, 2004
WOW! I DIDNT KNOW THIS WAS A CANADIAN MOVIE! AND IM CANADIAN AND PEOPLE LOVE THIS FILM. but sry to say i dont =P
August 28, 2004
Horror movies usually makes me laugh, they just never scare me. But this is the first that hit a nerve! It`s about basic human survival under the worst circumstance. It just gave me the creeps...AWESOME! Good acting. Cool FX . And great direction.
August 07, 2004
great remake!
July 17, 2004
This was an excellent movie & I`m 67 years old. I didn`t really wan`t to go but my grandchildren persuaded me to take them...Otherwise, they couldn`t have gotten in because it was rated "R"....One of the fastest moving action movies that I`ve ever seen(with great music, hunor,acting,& direction...Whoever this director is, he`s got a great future.....Ed
July 12, 2004
Dawn of the Dead (2004) is obviously superior to the original. People hate the fast zombies. Some say they are impossible. The truth is zombies in general are impossible. Slow or fast. In order for the human body to achieve mobility, the body must have blood flowing through it. Romero established the fact that zombies didn`t need any of their internal organs to move. Just their brains, but the muscles in the human body cannot work without blood and oxygen getting to them. The only way blood and oxygen would be able to get to the muscles is if the heart and the lungs are operating. The lungs fill the blood with oxygen and the blood is pumpe
June 12, 2004
Great movie, however it could have gone on a little longer.
May 17, 2004
Dawn of the dead was an amazing movie. I mean, you don`t see horror movies like this. Most get 1 star or 2 stars. This one, however ahd good acting,awesome effects and an awesome movie
April 24, 2004
This movie was great. It`s good to see a zombie movie where it actually shows what would happen if you woke up one morning and their was zombies all over the place. I mean who would really worry about things like "How did this happen?" or "How can we stop this?" it`s an actual SURVIVAL MOVIE. That is what most people that didn`t like this movie understood. If all of the sudden an special ops team from the military would show up and distroy all the zombies (which is probably what some people were waiting for) THEN this movie would have sucked.
April 24, 2004
zombies were super argressive, it was well done
April 24, 2004
zombies were super argressive, it was well done
April 17, 2004
One word can be used to describe this movie...Perfect! Perfect is exactly what this movie is. I don`t remember watching a better portrayal of a zombie movie ever. Right from the beginning you start thinking this is awesome and it just continues right to the very end. (stay after the credit starts...trust me) Overall I think this is going to be a classic horror movie and you should spend $10 to see it.
April 12, 2004
One of the better horror movies I`ve seen in a long time although a little too depressing.
April 08, 2004
kinda got a little carried away with the goriness of it all.. especially near the end. had the potential to be great, but blew it.
April 08, 2004
This movie was amazing! I watched the one from 1978 a few years back and enjoyed it, and this movie was just so much better using todays technology and explensive malls, lol. Cant wait to see it again!
April 04, 2004
It was like 28 days later only, 200 times better.
April 03, 2004
best movie i have ever seen
April 02, 2004
most awesome movie ever.
April 02, 2004
Intense, funny, and entertaining!! Loved it.
April 02, 2004
It`s Zombies, and it works. If suspense, gore and a little light comedy is what you are looking for, then check it out - you won`t be disappointed. However, if you are going on a date, I`d move to something lighter.
April 01, 2004
This was the worst movie I have ever seen - besides Cabin Fever... You never find out how the "monsters" got their illness and the ending made the movie an even bigger waste of time. Sorry - that is my opinion. Seemed low budget and bad acting did not help. Waste!
March 31, 2004
better then cabin fever
March 30, 2004
Great movie...loved the comedy....loved the gore....LOVED THE MOVIE...gotta see it again
March 30, 2004
If you liked the original you`ve gotta love this! Fantastic, absolutely fantastic!!!
March 29, 2004
Dawn of the dead, the title says it all, this movie was dead. No life to it at all. Let the classics be classics, trying to re-make the originals should not be done. This re-make was full of more gore, than the original, and I think that was the whole intent of the re-make. Save your money, and rent the original you will have more fun with it than this horrible re-make.
March 29, 2004
Dawn of the Dead was one of the best movies I had seen in a long time!! I loved it by far!!!!!!
March 29, 2004
there were some pretty funny bits in the movie, it was scary at certain points in the movie, but it wasn`t too scary
March 29, 2004
It was a GREAT movie. I agree....28 Days Later, done the right way! I definitely recommend Dawn Of The Dead! First time a movie made me jump, yelp and clutch my boyfriends arm.
March 29, 2004
Good soundtrack.