Death Wish - User Reviews
Thank you for rating this movie!
Read your review below. Ratings will be added after 24 hours.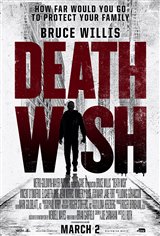 4.66 / 5
User Rating
Based on 6164 votes and 103 reviews
---
Please rate movie 1 to 5 stars
Showing 1 to 50 of 103
July 27, 2018
It's not even good trash. Eli Roth is simply not capable of making a good movie. He sucks.
June 29, 2018
I am a fan of the Deth Wish series and I am glad that they rebooted this series. I found that a Doctor vs Architect career change was a good one. A Doctor can be more inventive when it comes to getting vengeance. The story does not move as well as the original and I did not like the whole superhero aspect was too much like unbreakable. That is why I rate it at 4, not a must see, but it was fun to watch. Bruce did a good job. Charles was better if you compare to the original. Still, I hope they do a Death Wish 2 that takes the character to a new frontier, let exploits the knowledge on the human body a bit more!
June 09, 2018
Bruce you'll never be has good has Charles Bronson
March 29, 2018
Very predictable, nothing new here, fill in the blanks rerun of previous films.
March 24, 2018
Easily exceeds, without trying, the two most overrated shows of the year.
March 24, 2018
I usually like Bruce Willis in movies like this but it was so average. Everything was predictable, add some gun control political dialog to the script, the end. Yawn.
March 23, 2018
Charlie Bronson would be proud. Bruce Willis was great!
March 22, 2018
You get what you'd expect from this fine remake.
March 22, 2018
Quite well done.
March 22, 2018
Movie was too long and the plot was weak.
March 22, 2018
The movie probably would much better if they used another actor? He was not quiet right on this new role.
March 22, 2018
Stunning achievement. I can hardly wait to see these removed.
March 22, 2018
Best film of the year in its category.
March 22, 2018
Incredible movie.
March 22, 2018
Best reboot ever!
March 22, 2018
Way better action movie than the big hyped ones.
March 22, 2018
Best action actor of the past decade.
March 22, 2018
Can't wait to see the sequel.
March 22, 2018
Great plot for an action thriller.
March 22, 2018
Awesome action.
March 22, 2018
Willis is brilliant.
March 22, 2018
A five star effort all the way.
March 22, 2018
My new favorite show.
March 22, 2018
Best of its class.
March 22, 2018
Great movie!
March 22, 2018
Awesome story.
March 22, 2018
The entertainment value is five stars and the quality is about high threes to four.
March 21, 2018
As Bruce Willis said in another of his movies that spawned a franchise, Yipee Ki Yay.........!
March 21, 2018
Another remake of Charles Bronson's movies, The Mechanic, was done well, as is this. Looks like they'll run thorough all the best ones. Enjoy!
March 20, 2018
The original was very dramatic. The remake is terrific as well.
March 20, 2018
Having not seen the original, I can't comment on the "remake". But as a "new" standalone movie, it was very good. Don't know why everyone is so negative on it. Willis played a slower paced character, but it was overall entertaining, decent story, and action. The con wasthat it was a little predictable. But I guess it depends what you're looking for. Seeing this movie having no background references, I thought it was overall very good. Nice to see a movie without all the CGI nowadays.
March 20, 2018
how is this movie doing bad at the boxoffice comparing to black panther. This is 1000 times better
March 19, 2018
Liked it! Everyone overwhelming agrees with a whopping 4.35 score that this is an entertaining movie.
March 19, 2018
Terrible movie.
March 19, 2018
Pretty good show. I see that around 84% agree with that assessment.
March 19, 2018
This was not a good faction movie. I prefer the older Western movies where the actors knew how to play their roles.
March 18, 2018
Would highly recommend this movie. Please don't listen to these other so call critics...they don't know a good movie when they see it. This movie will keep you on the edge of your seat. Great acting. Elizabeth Shue and Bruce Willis had great chemistry. A....ALL THE WAY!!!!
March 18, 2018
Sometimes people just want to watch a good old fashioned action movie like this. I note that the two most hyped movies scores together don't equal this one. LOL!
March 17, 2018
You get pretty much what you would expect of this movie.
March 17, 2018
Nope. The acting was terrible. This is problem with some reboots. Some reboots works others no at all.
March 16, 2018
If Star Wars and Black Panther can be hyped far beyond their merits then this entertaining but not great movie can as well.
March 16, 2018
Not the same grit and intensity of the original. The director should have worked harder at making you feel Willis's pain, and increase your hatred towards the evil-doers; making the payback so much sweeter. But, that didn't happen.
March 16, 2018
Very shallow uninspired remake. The acting was horrible and the chemistry between the characters was even worse. Willis and Shue looked like brother and sister trying to fool everyone they were married. Even the slide into vigilante hero was poorly developed. This was simply not good. I hope they don't do the sequels.
March 16, 2018
Please not more reboots from this story.
March 16, 2018
The plot of this movie was boring.
March 16, 2018
Save your money. This was a bad reboot.
March 15, 2018
excellent movie! We much need law and order!
March 15, 2018
Boring movie