Don't Be Afraid of the Dark - User Reviews
Thank you for rating this movie!
Read your review below. Ratings will be added after 24 hours.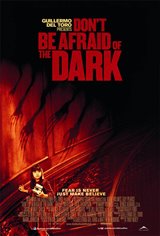 ---
Please rate movie 1 to 5 stars
Showing 1 to 30 of 30
June 03, 2012
pretty scary haunted house movie, keeps your attention till the end.
June 03, 2012
pretty scary haunted house movie, keeps your attention till the end.
June 01, 2012
this movie sucked. it wasn't scary. not like what the trailers made it out to be.
January 16, 2012
PLease don't waste your money on this. Just horrible
January 16, 2012
Overall this movie is good. For anyone that doesn't really know the old tales of Fairies or the orgin of the Tooth-fairy then this movie might seem a little odd/far-fetch. But overall a good story but not a movie that will give you nightmares just keep you on your seat.
January 09, 2012
I acutally fast fowarded it to get some good sceens and for the movie to be over.
January 08, 2012
Not a horror !!! More like a fantasy / Harry Potter type movie. Don't waste your time or money.
October 02, 2011
not good at all worst horror movie i've seen in years just so dark and horrible actors not scary at all. and they this a "horror" movie? more like a comedy... stealing teeth really...
September 22, 2011
This was one of the worst comedies I've seen and the plot made the story a little scary.
September 15, 2011
I thought the storyline was good but the movie was too dark all the way through....and even during the day scenes were greyish...it was kinda hard in parts because it was too dark to see what was going on....definately could have been better!
September 07, 2011
It is boring movie
September 04, 2011
Too many inconsistencies and illogical actions that made you aware that you were watching a mediocre movie.
September 01, 2011
Didn't enjoy the movie at all. Wasn't scary at all. It was more funny than anything.
August 31, 2011
Horrible movie. Worst storyline ever, does not explain anything. Highly recommend not wasting your money on this movie!
August 31, 2011
Horrible... more of a comedy than a thriller/horror. the evil scary things are a foot tall -__- and lmao the guy who died at the beginning... his name was Black Wood.... i cryed of laughter
August 31, 2011
I LOVED THIS MOVIE. GREAT CAST MEMBERS.
August 31, 2011
This movie was funny and not scary at all. It had all the usual horror movie cliches.
August 30, 2011
oh my god! i am horror movie fan, but this is just so bad!! how could they even produce it, should have listened to reviewers... wanted to leave after 15 min, little creatures like ninjas jumping with knives and screw drivers, funny...
August 30, 2011
OMFO.................PLEEEASE DON'T WASTE YOUR MONEY.....ALMOST A JOKE....MAKES ZOOKEEPER LOOK LIKE OSCAR MATERIAL. I'M JUST SAYING.
August 29, 2011
Very stupid movie , not scary at all just stupid ..
August 29, 2011
Was this supposed to be a horror flick? Could have fooled me!! I didn't expect much going into this movie but what I got was absolutely nothing... no scare no thrill no suspense.
August 29, 2011
If I could give this a negative I would... horrible movie... explains nothing not scary no suspense .... stay home save your money pick another movie
August 28, 2011
Terrible film. When you live long enough, you can smell a rat within minutes - terrible film!
August 28, 2011
horrible,boring,silly, waste of time n my life having watched it. They should refund everyones money
August 28, 2011
it was a bit slow but gotten a lot better at the end.
August 27, 2011
I screamed so loud. great fun
August 27, 2011
Awesome horror movie
August 27, 2011
All I can say is that this is an amazing horror movie. Kept me on the edge of my seat the whole time. MUST SEE IT or else they will eat your teeth.
August 26, 2011
This was such a great horror movie. Deff the best of 2011.
July 24, 2011
I'm out of league here. Too much brain power on disaply!