Dunkirk - User Reviews
Thank you for rating this movie!
Read your review below. Ratings will be added after 24 hours.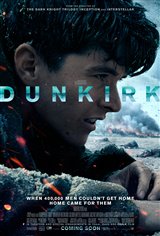 3.47 / 5
User Rating
Based on 592 votes and 197 reviews
---
Please rate movie 1 to 5 stars
Showing 1 to 50 of 197
April 21, 2018
The soundtrack was so annoying that I couldn't finish the movie.
March 08, 2018
This movie was great. All of the people who say it was boring, lack an imagination...
January 26, 2018
He is amazing!
January 26, 2018
The most reasonable and lyrical film.
January 02, 2018
I thought the the original Dunkirk released in 1958 with John Mills and Richard Attenborough was much, much superior and portrayed both the breadth and depth of what was both a disaster and a triumph infinitely better than this.
December 23, 2017
not what i expected.
October 30, 2017
... boring, slow, ... goes no where ... the French heroine is in full makeup, with blonde streaks .... duh !! ... she goes from 1 word of French ... "merci ... to an English accent ... bad bad bad
October 12, 2017
Great movie. Very intense. Christopher Nolan at his best!
October 07, 2017
I found it to be severely lacking, Sad to say the original footage from the day outstrips this movie. Not worth watching for the price they want.
September 25, 2017
Missed the mark on many levels disappointing after all the hype.
September 25, 2017
Boring
September 24, 2017
Not as good as you would think very slow not a typical Chris Nolan show at all the history was good but still not a saving private Ryan or fury
September 22, 2017
Great!
September 19, 2017
Rezy says.... not the greatest could have watched it at home . Giving it a what evs
September 18, 2017
Historically correct,of you don't understand then you don't know history or were asleep in class when taught
September 17, 2017
This was a sad attempt to be like saving private ryan. This was not a good movie.
September 12, 2017
When the Brit plane with no working prop spent 10 minutes gliding through the air and was able to shoot down a fully functional German aircraft...well, nuff said.
September 11, 2017
The suspense, hopelessness and fear were palpable. One of the finest movies I have ever seen. Minimal dialog,
September 10, 2017
Don't be expecting your standard war epic. There are three main story lines that precede at different paces, depending upon the location (on the beach, on the water, in the air) of the characters involved. Superb story-telling, incredibly intense.
September 09, 2017
This was a complete waste of time and money.Disjointed with no story line at least none that I could find.
September 09, 2017
Well made. Not your "Hollywood" usual crap. Very close to the real thing.
September 09, 2017
This movie was just bad! No real plot and it just skipped around allot. Doesn't real explain what was going on much. It was a real story but not well delivered.
September 08, 2017
This movie was okay, even though a little hard to follow in the beginning.
September 08, 2017
Not factual, not the complete story!
September 05, 2017
No history. Little dialogue. Simply jumps from scene to scene of noise and chaos. Possibly Hollywood's idea of modern art.
September 01, 2017
Well written movie, but lacked a strong central theme. The acting was fair to good. Several of the scenes were worthwhile. Worth seeing on TV/Netflix, but probably not worth the price of going out and buying food drinks at the concession stand. There could have been so much more focus on truly heroic characters that t6he warm and fuzzy feeling felt unearned at the conclusion of this film...
September 01, 2017
Absolutely amazing ... for a movie with little dialogue the time went so fast and I was mesmerized by how the movie was chronicled from day 1 to the end. Loved it!!!
August 27, 2017
Total gratitude for those willing to risk the danger of rescue and what it took to save those men. I thoroughly enjoyed this movie as a female and lover of history.
August 27, 2017
This film missed the most significant aspect of the Dunkirk evacuation: the mobilization by ordinary Englishman of everything that could float in order to get the troops off the beach. Some attempt was made at this in the film, but it was by no means the most important. In fact, I'm not sure what was important in this film.
August 27, 2017
Great depiction of history
August 26, 2017
All I could think of, after the movie had ended, was what happened to all the small craft? If you watch the movie there were no more than 20 of them. Young people leaving the theatre were repeating the same statement "what's the big deal?". To get a better idea of what I'm talking about, I suggest viewing the Academy award winning film Mrs. Miniver . This story is about the rescue 330,000 men. Do the math, can you imagine how many leisure crafts that takes. well then it seems someone is unable to.
August 26, 2017
Strange - looks like our educational system has failed us miserably; anyone who gave this movie a one star must have failed history; this was one of the most important moments of WWII - even in failure, the Allies went on to destroy Hitler & his band of thugs .......
August 26, 2017
People do not understand that what the Allied forces learned from this mistake went on to D - Day victory & the annihilation of the Nazis! Great movie ......
August 26, 2017
Very correct historically ....
August 25, 2017
My family and I couldn't understand the words and worse, the movie switched wildly around with no cohesive context. In addition, the soundtrack was far too loud and not adjusted for speech level of the actors. Every time something was said by the actors the soundtrack remained at unedited loud levels and played over the speech audio. My wife and I asked each other constantly,"what did he say? " This is the worst job of editing a movie I have ever seen. We finally walked out on it because it was an unpleasant "battle" to interpret the story line.
August 24, 2017
You EITHER..loved it or hated it..based on reviews ..hmmm I was in between ..you absolutely have to read up on the History ..before you go or you will be lost as I was..An Amazing Miracle!! But very little explanation of how the really rescued these 400000.men..the main characters i thought were not developed..hard to UNDERSTAND..it went back and forth between plots..imax was nice but loud FOR me it lacked Cohesiveness ..there was no flow..historically I guess good..but it lacked .Content...
August 24, 2017
From what I have read, it is very realistic. I definitely thought it was an interesting cinematic experience.
August 23, 2017
Showed the history of the Battle of Dunkirk as best could be done.
August 23, 2017
Great movie depicting the history of those who fought for our freedom!
August 23, 2017
Very good movie - read the history on Dunkirk & see this movie ...
August 23, 2017
A true description of history - very moving!
August 23, 2017
To the person who said it's not interesting and hardly any dialogue is wrong. I saw the movie. Action speaks for itself. These brave men saved our lives. Brave civilians for risking their lives for their fellow men. I cried for the ones who died for us. May they RIP
August 23, 2017
This movie is meant for men. It missed the mark for me. I love war movies but this one had an odd time jump between the characters and it makes you confused the whole time. Men will enjoy it as there is lots of shooting at things. Very little dialog to also help with the story line. Personally not a movie I enjoyed and don't understand the appeal towards it. Ladies, let your man go to this one solo and you go to another movie. Or wait till it's out on DVD.
August 22, 2017
Not much dialogue. No drama.
August 22, 2017
Focused almost entirely on the worst, snivelling, morally-bankrupt characters. Minimal depictions of men of integrity and honor. Entirely annoying, pulsing soundtrack better suited for a SciFi flick. Terrible acting. Yawn-worthy portrayal.
August 22, 2017
Boring. Felt more like a history channel documentary. Girlfriend fell asleep during the movie.
August 21, 2017
If you haven't seen this movie yet, go out and see it. The unwavering human Spirit grips you and the pounding musical effects make this one you should see on the big screen or Imax. The human element when confronted with war and survival and how we extend each other help in a time of need. It brings back my grandfather who was there and I loved the Churchill speech in the newspapers at the end. Absolutely loved it.
August 20, 2017
"Dunkirk" is based on a historic event but somehow Hollywood failed to produce a central story-line as it entirely lacked story-line clarity and cohesive flow. Meaning, if you got up to use the bathroom and returned to ask your neighbor, "What did I miss?" You'd probably get a blank stare.
August 20, 2017
Saw it on the IMAX , really added to the experience. Great war flick ! Loved the fighter plane scenes !
August 19, 2017
Was not what we expected. We are adamant movie goers, but forgot most of this movie within three day, except for the planes.