Eat Pray Love - User Reviews
Thank you for rating this movie!
Read your review below. Ratings will be added after 24 hours.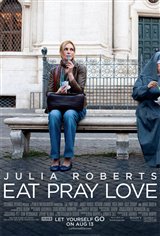 3.78 / 5
User Rating
Based on 1454 votes and 424 reviews
---
Please rate movie 1 to 5 stars
Showing 1 to 50 of 424
July 27, 2021
Eat Pray Love is a horrific period piece starring the terrible Julia Roberts who is a horrible actress and a horrible person. Here she plays a monstrously self-absorbed psychopath who takes a year off to go on a "spiritual journey". Psychopaths don't go on spiritual journeys. A movie where the villain is the main character and we are asked to root for her. Not a chance! What a spoiled monster! Eat Pray Queef is a film will no moral compass. And anyone who thinks that Roberts is a good actress would probably have their heads explode if they saw someone with actual talent. Roberts is a black hole.
March 20, 2013
this is woman's life.
June 27, 2011
What a wonderful story of self-discovery! I really enjoyed this movie, Julia Roberts was great in the lead role.
January 11, 2011
I absolutely loved this movie. I cried a lot and I related to a lot of it.
January 11, 2011
Though was expecting more, still enjoyed it.
January 09, 2011
I though it was a great movie as usual Julia Roberts captivates the screen.
January 06, 2011
I enjoyed the movie.It was a little slow getting started but Julia Roberts played the character of Melissa Gilbert quite well.
December 24, 2010
For me this movie was very real, so I loved it, cried like a baby.
December 23, 2010
WE enjoyed the movie.
December 14, 2010
The movie was slow until Javier came on the scene. I liked the ending. The overall movie was good, especially the ending. I did feel hungry after the movie. She certainly made eating look enjoyable.
December 06, 2010
pictures are just beautifull!!!!!!!! grest life, great movie !!!
December 02, 2010
this movie was terrible. i found it slow and boring and did not at all live up to the hype that it created. instead i would reccomend "under the tuscan sun" it has the same premise and is a much better movie.
November 28, 2010
Loved this movie- felt the relationships lacked a bit of history at first, but then realized it really wasn't about the relationships; it was about her indiviuality. Definitely going to give this a buy, and watch it again a day after the first viewing.
November 26, 2010
beautifully shot movie, fantastic scenery, lovely characters. made me want to travel again.
November 25, 2010
Cute and romantic!!
November 23, 2010
loved it,
November 22, 2010
Loved this movie..the cinematography alone is worth it and I have always enjoyed Julia Roberts quirky sense of humour ,comic timing and beautiful smile.Seeing her introspective portrayal of a woman in search of herself was an evening well spent..This film made me want to travel again:)
November 21, 2010
cute show
November 19, 2010
It's a good self-discovery film :)
November 18, 2010
thumbs up
November 18, 2010
inspiring
November 17, 2010
Loved the book-Liked the movie.
November 17, 2010
Great enough that I would like to see it again.
November 15, 2010
Really good movie with a lot of real life advice. A bit slow in beginning iwth Itlay, and India, but Bali part was the best and beautiful scenery. More form a spirtual perspective, romantic and thoughtful, much better than I thought it would be
November 15, 2010
good romance movie i recommend
November 14, 2010
Such a great chick flick!
November 13, 2010
Great music, great scenery, I enjoyed it.
November 13, 2010
I love Julia Roberts but the movie was overhyped and a bit of a letdown. Still the scenery was excellent but the movie was a bit slow in spots. I would rent it.
November 12, 2010
solid travel film
November 12, 2010
loved it
November 12, 2010
I just love the whole concept of the movie. I wish I would've done something like Liz when I had the chance before getting married and having children!!
November 11, 2010
Good movie well acted.
November 11, 2010
I read the book which was fascinating page turner as for the movie I was thrilled Julia was playing Liz's character but the ending was no where near as exciting as the book.
November 10, 2010
Julia Roberts at her best. If you are a traveller,even an armchair traveller you will love the scenery, the music, the exotic foods and the very interesting experiences of a woman open to new ideas and life experiences.
November 09, 2010
Julia Roberts never fails to entertain us--worth a see!
November 09, 2010
This movie is a proof positive that women are people as well as men are. That is to say that "assists to lower ( and they need to be lowered)society's "un-realistic expections" and demands on women. Society (and many men) seem to have expect that women live a life of "martyrdom and self sacrafice" for their children and/or their husbands and this movie helps people (men) realize that women are people too. That is to say that women have the same needs anyone (not just men). Needs like affilliation, comradery, success and money, accomplishments and rewards. How "idiotic" not so surprisingly for me, that people are!
November 09, 2010
Loved Music and Julia Robert was splendid as usual
November 08, 2010
A totally inspiring movie that brings the book to life. Beautiful costumes by an awesome L.A. designer.
November 08, 2010
Chick flick.
November 08, 2010
If Liz Gilbert were a man, we would pillory her for abandoning her spouse, and taking off with another. This is Hollywood, so it's all okay. The film leaves little to recommend it on a moral basis.
November 07, 2010
I absolutely loved this movie. I think it deserves a 5 star rating.
November 06, 2010
Great scenery and music.
November 06, 2010
I enjoyed this movie.I like anything with Julia roberts in it.
November 05, 2010
Lovely scenery but rather predictable storyline
November 05, 2010
I love this movie. you can't go wrong with julia roberts. julia is a wonderful and great actress
November 04, 2010
terible movie
November 04, 2010
makes you want to eat, pray, love as well. nice feel good movie.
November 04, 2010
Loved it.....love Julia Roberts!!!!!
November 03, 2010
Loved it!
November 01, 2010
If you love Julia, you will love the movie. It is a sweet romantic movie. Great for a girl night out. Pizza dinner first, and then enjoy the movie.