Elizabeth: The Golden Age - User Reviews
Thank you for rating this movie!
Read your review below. Ratings will be added after 24 hours.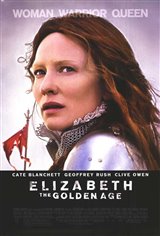 3.95 / 5
User Rating
Based on 1466 votes and 28 reviews
---
Please rate movie 1 to 5 stars
Showing 1 to 28 of 28
June 30, 2008
This movie evokes the political atmosphere of the Elizabethan age very well. You did not know who to trust so you were alone. Imagine being the queen. Not able to trust her advisors, enemies everywhere. Well acted, and very well scripted.
February 11, 2008
Wondrous; Cate Blanchett is perhaps the only man who could have pulled this off.
January 08, 2008
Cate Blanchett gives one of his finest performances in this sweeping historical bio-pic.
November 17, 2007
Guys be warned - chick flick!..and slow at times. All in all not a bad movie but a bit overrated.
November 17, 2007
I did not enjoy this movie as much as the first. The movie's plot slowly built towards the issue of the Queen's struggle with her emotions and desires and the pending war with Spain. It built for so long that I was wondering what was in store for us long suffering viewers. The end came swiftly and disappointingly amidst a sequence of hurried scenes. Were the film makers short of funds when they threw together the scenes depicting the famous battle against the Spanish Armada? Who were those few people our hero on horseback was yelling to while God seemed to be fighting their battle for them in the Channel? I was confused and disappointed in the end and I suspect the director and producer were
November 05, 2007
AN EXCELLENT PERIOD PIECE, WITH SOMEWHAT STUDIED AND PRETENTIOUS CINEMATOGRAPHY, BUT WITH AN EXCELLENT ENSEMBLE, AND SOME FEROCIOUS ACTING. GROTESQUELY EXPLICIT, IT REMAINS A COMMITTED AND CONVINCING FILM, AND A WORTHY SUCCESSOR TO THE FIRST BLANCHET VEHICLE.
October 30, 2007
Cate Blanchett definitely deserves an award for her incredible performance in this film. The costumes were amazing!
October 27, 2007
Enjoyed the film and don't understand the negative comments.A good historical movie with no basis in fact.A good time waster.
October 24, 2007
You will enjoy this movie if you are a history buff but it is hard to follow unless you know something about the era. It is helpful to have seen the first 'Elizabeth' movie. Costumes are amazing and the plots and intrigues of the 'Mary affair' is very well done. Excellent portrayal of Elizabethan life.
October 22, 2007
Clive is a delight to watch... anytime....in anything... I kept waiting to be pulled into the story but it never really happened. I was never engrossed or invested in the outcome. It was entertaining... but not fantastic.
October 19, 2007
Loved Cate acting, but misunderstood why the director had so many scenes unfocastest and blury. I was not my taste that. Warning there are many blurry shots in this film. Acitng was fabulous by all.
October 18, 2007
A marvelous balance between what little we do know about what is now known, (and quite rightly), as the Elizabethan period and trying to find the humanity in the woman who was one of England's greatest queens. Ms Blanchett does an incredible job. I'm breathlessly waiting for the next segment.
October 16, 2007
Enjoyable "period piece",not historically accurate but well acted and worth the admission price.Good job by Kate Blanchette.
October 16, 2007
good flick
October 16, 2007
Sure to become a camp classic!
October 16, 2007
It's obvious a great deal of money was spent to bring "Elizabeth: The Golden Age" to the screen, but it's all-too-obvious it's a MAN playing the title heroine. This is supposed to be an historical drama, people, not "The Crying Game..."
October 15, 2007
Beautiful movie all around. Very well acted, though the story was a but thin and not quite as engrossing as the first Elizabeth, still an excellent follow up.
October 15, 2007
As to be expected, it was not as good as the first one. But the way the critics were putting it down, you'd expect something god awful. Go in the movie with that expectation and it will end up being a pretty satisfying film. There were some unnecessary scenes but Cate Blanchett's acting was all worth it. And sometimes, just sometimes, you wished Clive Owen would stop talking.
October 14, 2007
terrible movie, should go right to dvd
October 14, 2007
Brilliant Movie! Cate is fantastic! A Must see for Elizabeth lovers!
October 13, 2007
Cate Blanchett is awesome and stunning in this movie! She embraced her role as Queen Elizabeth completely. The rest of the characters played their part well, too. I highly recommend this movie. This is more for the mature crowd.
October 13, 2007
Kool Movie
October 13, 2007
excellent !
October 13, 2007
Absolutely fabulous. Director Kapur does not disappoint. Cate Blanchett and Geoffrey Rush are outstanding, as in the first 'Elizabeth'. Clive Owen's part as Sir Walter Raleigh is excellent. Must be viewed atleast once on the big-screen!
October 13, 2007
Be sure to bring along a good book.
October 13, 2007
Captivating movie! Enjoyed it immensely!
October 12, 2007
A real snoozer...and Cate Blanchett is a man.
October 12, 2007
awesome movie...sit back and let history entertain and envelope.